Dear readers:
A Torch Against the Night by Sabaa Tahir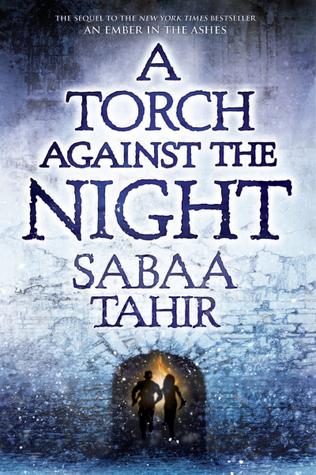 Goodreads synopsis:
Elias and Laia are running for their lives. After the events of the Fourth Trial, Martial soldiers hunt the two fugitives as they flee the city of Serra and undertake a perilous journey through the heart of the Empire.

Laia is determined to break into Kauf—the Empire's most secure and dangerous prison—to save her brother, who is the key to the Scholars' survival. And Elias is determined to help Laia succeed, even if it means giving up his last chance at freedom.

But dark forces, human and otherworldly, work against Laia and Elias. The pair must fight every step of the way to outsmart their enemies: the bloodthirsty Emperor Marcus, the merciless Commandant, the sadistic Warden of Kauf, and, most heartbreaking of all, Helene—Elias's former friend and the Empire's newest Blood Shrike.

Bound to Marcus's will, Helene faces a torturous mission of her own—one that might destroy her: find the traitor Elias Veturius and the Scholar slave who helped him escape…and kill them both.
There are so many words I could use to describe this book.
Yet I find myself with my hands on the key board not moving.
I sit here and I question how it will be possible for me to summarize this book that made me feel…
Feel….
FEEL.
That's it I have figured it out.
A Torch against the night by Sabaa Tahir was a beautiful-sad-gut wrenching-hope filled-scary-insane-joyful-intense-suspenseful-amazing-tear worthy-yell worthy-cuddle up into fetal position not wanting to move until the next book comes out-kind of book.
In short, I LOVED IT.
What I liked  ADORED
Pages 1-452 :The whole book
The characters: I just cannot get enough of these characters. Laia is whom I identify with most. She is wonderful, loving, tender and stubborn. She has flaws, she has strengths and she always finds her courage in times of desperation and defeat.  Helene is my inspiration. She is fierce, talented, bold yet compassionate, loving and loyal. (so, so loyal–sometimes far too loyal) These lovely ladies are very family orientated something of myself that I see in them. Then there is Elias. Elias Veturius. THE COMPLETE PACKAGE. Sweet, funny, caring, thoughtful, merciful, hot-headed, just really hot Elias. *Could there be a more divine creation?* Then there is Harper Avitas. A very interesting man, whose past is very mysterious up until the end when there is a huge bombshell. And I Mean HUGE. The commandant just needs to die. She needs to die. She should have died in this book. But certain characters are ever so merciful. We also get to see more of Darin and Afya, so those were two very good bonuses!
The world: The empire is such an amazing world. their politics and government system although very cruel is very interesting. I also loved how we got to explore surrounding lands like the tribe lands and *cough* a very mysterious forest *cough*. It felt like I was actually travelling with them through the sands and snow.
Magic: MAGIC! There is more of it in this one!
Romance: Not too much but just enough to keep me satisfied. I do not want to give away too much BUT I will say I have high hopes for my ship. AND I see huge potential for a second ship which  I really hope happens! *crosses fingers*
Maps: I loved the maps at the beginning and end of the book. They were very informative and helped me keep track of where the characters were.
What I disliked
NOT APPLICABLE
RATING: 5 / 5 shiny and bright stars
Overall, yes I thoroughly enjoyed this book. It has amazing action moments and fight scenes. It has epic and insane plot twists and reveals that will haunt me forever. Many characters die. I lost count. (It just adds to my tremendous heart break) The ending is so unbelievably utterly perfect. Unfortunately the third book does not come out until 2018. 2018! Why Sabaa, why? Regardless I know I will rereading these again soon. There is a reason this series and author is on my Favourites list.
Do I reccommend it: 100000000000000000000000000000000000000000000% yes.
Happy reading!
-Rendz