Greetings readers!
Today I am partnering with the fabulous, Sha @ Book Princess Reviews to bring you a buddy read review! We decided to Buddy read The Last Namsara by Kristen Ciccarelli. A fitting choice as it is Canadian YA and we are both Canadian and we love dragons.
Thus I dub this buddy read (and a near future one)…
THE CANADIAN DRAGON TALES BUDDY READ
*if you do not know what Dragon Tales is please google and educate yourself.
Sha and I absolutely adored this book. Sha *literally* devoured the book within 6 hours. Less than a day! I myself am quite a slow reader, but boy oh boy if I had had the time on my hands I probably would have swallowed this one too!
The Last Namsara (Iskari #1)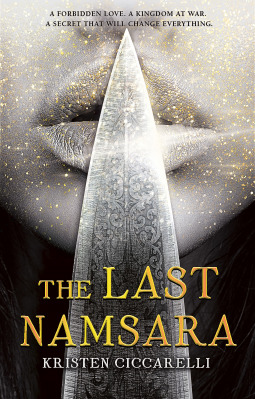 Author: Kristen Ciccarelli
Pages: 432
Release Date: October 3 2017
Publisher: HarperTeen
Format: Hardcover
Genre: Fantasy
Goodreads Rating: 4.15 (of 2,043 ratings)
In the beginning, there was the Namsara: the child of sky and spirit, who carried love and laughter wherever he went. But where there is light, there must be darkness—and so there was also the Iskari. The child of blood and moonlight. The destroyer. The death-bringer.


These are the legends that Asha, daughter of the king of Firgaard, has grown up learning in hushed whispers, drawn to the forbidden figures of the past. But it isn't until she becomes the fiercest, most feared dragon slayer in the land that she takes on the role of the next Iskari—a lonely destiny that leaves her feeling more like a weapon than a girl.

Asha conquers each dragon and brings its head to the king, but no kill can free her from the shackles that await at home: her betrothal to the cruel commandant, a man who holds the truth about her nature in his palm. When she's offered the chance to gain her freedom in exchange for the life of the most powerful dragon in Firgaard, she finds that there may be more truth to the ancient stories than she ever could have expected. With the help of a secret friend—a slave boy from her betrothed's household—Asha must shed the layers of her Iskari bondage and open her heart to love, light, and a truth that has been kept from her.
---
BUY IT!
Amazon CA| Kobo | Audible | Abebooks | Alibris | Indigo.ca | WorldCat
---
***
Asha lured the dragon with a story.
It was an ancient story, older than the mountains at her back, and Asha had to dredge it up from where it lay deep and dormant inside her.
She hated to do it. Telling such stories was forbidden, dangerous, even deadly.
***
Sha: The first three paragraphs of this book sent shivers down my spine. Within seconds I had everything I didn't know I absolutely needed: dragons. Forbidden storytelling. I had to keep going.
Which is why I can only hope Rendz forgives me for speeding ahead.
Um yeah. I had a major bone to pick with Sha. I started this book two days before her and then she has the audacity to read the entire thing in one sitting!!!! LIKE I APPLAUD SHA'S EPICNESS OF BEING ABLE TO READ SO FAST–AND LITERALLY DEVOUR A BOOK–BUT SHE LEFT ME IN THE DUST!
THE WRITING STYLE
SHA: Ciccarelli's writing is perfectly suited to her world of dragon-hunting and poisonous stories. It reminded me strongly of Renée Ahdieh's own lyrical prose, with a sharper cut to each line.
Rendz: Her plot twists were really well done! (Some were obvious, others less so) Some of them had me making faces. And yes, I was reading on a public bus. O-O
She did a really good job of leaving tracks and clues and then connecting the dots at the end. I'm still not over one of her revelations. She got me good.
THE CHARACTERS
SHA: Was there any character I didn't love? (even the ones I hated, i loved hating)
Asha was amazing. But I actually want to rush forward and praise the supporting characters because … Ciccarelli fleshed them out so well and gave them all such important moments. Like, okay, WARNING, I'm about to ramble real quick:

I don't dislike when a main character steals the show and does all the awesome things in a book aka spots the evil, plans the revolution, stops the villain. YAS we have a badass and I love! BUT what Ciccarelli owned in The Last Namsara was this whole "it takes a village to plan a revolution" theme.
Rendz: Asha was a QUEEN. Omg I loved her so much. Her journey was so heartbreaking and beautiful. I love her!!!!!!!!
⚔️ Safire : Asha's cousin. Safire is better than Asha at strategy and close combat (which Asha praises within the book, YAS, support ya girl). Safire has a hard life in Firgaard and Asha helps protect her — but Safire can also hold her own. LITERALLY A QUEEN. 
⚔️ Dax : Asha's brother. Asha often looks down on him because unlike her, he is not a warrior. TBH I thought he wasn't so smarticle particle all the time either. BUT THINGS HAPPEN.
⚔️ Roa: A boss. Wow.
⚔️ Torwin : One of Jarek's slaves. Also an adorable cinnamon roll who has some guts let me tell you that.
⚔️ Jarek : Ew. I NEED TO FIGHT HIM.
THE ROMANCE
Rendz: At first there was a suspicion that Asha was gonna fall for her crappy betrothed and that was not gonna fly with us. But thankfully, it was only a weary inkling coming from us precarious readers. Then waltzes in a forbidden-romance plot and I–Rendz–am LIVING for it. Then my wariness came back because I really didn't want this to be a slave-master thing. But I think that Ciccarelli stepped away from that when she really made Asha reflect on her way of thinking, her upbringing, other previous histories of interracial relations. It wasn't insta-love…on Asha's part at least, Torwin is another story *Is this spoilery??* I think they both had to really grow around one another, reshape they way they see the world and in turn each other.
Now let's talk scenes. Because my goodness there were so many almost-scenes where I just wanted to chuck the book across the bus. And then the declarations that Ciccarelli made up for these characters and how they tied into legend…I was a puddle of tears.
Gosh they were just so good together.  
Sha: *Is currently too choked up to contribute words.*
THE DRAGGGOONNSSS
Rendz: Major–and when we say major, we mean MAJOR–How to Train Your Dragon vibes. I absolutely adored the legend and Old Story elements and how they were tied back to these incredibly majestic creatures. I also loved that the dragons themselves had some personality to them. It added a lot more fun and not to mention a lot more adventure to the story!
MORE THOUGHTS
Sha: When I saw that there was slavery in this book, I hesitated hard. I thought, "Oh no, there must be some controversy, it must be bad for some reason." I read those scenes real close and analyzed from every perspective/the knowledge that I have and what I got was: Ciccarelli wrote those scenes well. She didn't throw in slavery for kicks, I learned some lessons from the books end, nothing was played up for dramatics without consequences.
Rendz: I super agree, I was very apprehensive at first, but I think Ciccarelli handled it well. The slavery wasn't just a present state, it had a history. It was a politically intense book, which I found I really liked.
---
representation: n/a
Content warnings: death of a principal character, killing of humans as sport, suicide, murder, whipping, mythical creature death, abuse
Rating: 5 stars!
Recommend: It's a double YES from us!!
I think it is safe to say that you will hear from Sha and I again when we read the sequel, The Caged Queen. (When that will take place is another question!)
Let us know what you think! Have you read TLN? What did you think? Have you read its sequel The Caged Queen? What dragon books would you recommend to us?
Happy reading!
~ Rendz & Sha