Greetings readers!
Earlier this month (March), I had the lovely opportunity to do another Buddy Read with the fantastic, Mandy @ Book Princess Reviews! Reading with Mandy is always great fun, she comes up with some really insightful notes that lead to such great discussions. And I am so looking forward to our next read together…whenever and over whatever book it may be!
The Last Voyage of Poe Blythe by Ally Condie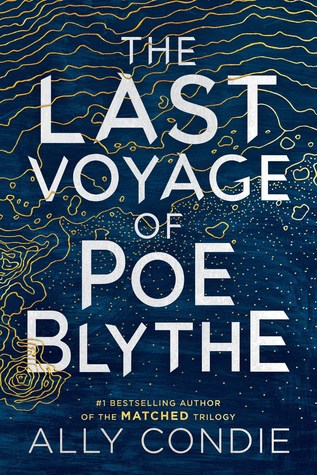 Pub Date: March 26, 2019
Publisher: Dutton Books for Young Readers
Price: $24.99
Goodreads
Who do you become when you have nothing left to lose?

There is something Poe Blythe, the seventeen-year-old captain of the Outpost's last mining ship, wants far more than the gold they tear from the Serpentine River.

Revenge. 

Poe has vowed to annihilate the river raiders who robbed her of everything two years ago. But as she navigates the treacherous waters of the Serpentine and realizes there might be a traitor among her crew, she must also reckon with who she has become, who she wants to be, and the ways love can change and shape you. Even—and especially—when you think all is lost.

Ally Condie, the international bestselling author of the Matched trilogy, returns with an intricately crafted and emotionally gripping story of one young woman's journey to move beyond the grief and anger that control her and find the inner strength to chart her own course.
---
Buy It 
---
*Thanks to Penguin Teen CA for providing me with an ARC. This does not affect my opinion*
Despite having had some amazing discussions with Mandy…this book really just didn't work out for either of us. (If you want to know more about Mandy's thoughts click here!) While the premise was something to really draw us in, it unfortunately lacked in execution.
It Was Just…Okay
The short chapters kept up whatever suspense this book had. It's not that the book was entirely boring, but the most absolute positive thing I can find about it at the moment is that the short chapters kept up the suspense.
Poe was…well she was okay. There are two versions of her presented. Her life before a traumatic event and her life after, it should be noted that the former version of Poe is in the book for a prologue only. Otherwise…I just didn't feel like I got much out of Poe. She was simply a vengeful amateur captain with the love for a boat. I rooted for her, don't get me wrong, but there was no real connection for me.
None of the other characters had much personality. Brig…served one purpose, otherwise he was irrelevant. Map girl, whose name escapes me, didn't do much, Naomi who I sometimes forgot was even present in the story *which presents a huge problem for reasons* and Tam. The only one with a semblance of a personality that was more than one-dimensional.
The actual antagonist, was probably the most underwhelming character of them all. He had very little page time which is why I think his character suffered so much. There was really no time to spend with him in person to get a sense of his sinister-ness. Instead we just got indirect knowledge from Poe and the other characters.
The world building was also fine. Umm I assume people who have read Condie's Matched series would have a better understanding. What bothered me the most was the visualization of the ship and this epic armour that Poe had designed for it. Turns out it looks more like a porcupine than a ship, which brought up many questions about it's ability to float…but that's just me taking things too far. There was also lots of commenting on environmental issues in the book which were important.
I'm also like 95% sure Condie used this book to comment of settler society and colonialism. There was one point where I even found a sort of parallel to the residential school system and the Settler kidnapping of Drifter kids to give them a "better chance at life". However, I don't think that Condie approached this message or theme sufficiently or effectively. It's simply mentioned in passing and while it did have some impact to the plot, it was more of an impact on Poe's character, a settler. I just don't think it was handled well.
The book is not bad. It has drama. It has action. It has heartbreak. But it is all so completely underwhelming. The danger these characters were in lasted a few pages at most and then it would turn into smooth sailing. I just…it lacked so much for me.
The ending…I'm still not sure how I feel about it. I understand that it is supposed to signify a new start for Poe…but I don't think she has changed that much except in some ideologies. I would share more things but spoilers.
All I can say is that this book builds and builds and builds…but then instead of this smack to the head, all the drama fizzles out. 
And one random detail drops in that…no I just couldn't get on board with it. XD
---
Overall, I had an okay time with this book. I don't hate it. I don't love it. It's not something I would read again. It was just okay. That's the best way I can describe it! Perhaps the experience for you will be different, who knows, but for me…it was simply okay.
Rating: 2.5 / 5 stars 
Recommend: Imma say no this time.
Let me know what you think! Have you had the chance to read it? Are you thinking of picking this one up? What is a revenge story you have read? 
Happy reading!
~ Rendz