Greetings readers!
I have much to talk about today, so I want to be brief. February was full of lots of great reads, but I sadly don't have enough time to review them all in full. Just know that I really enjoyed each of these books!
Voices: The Final Hours of Joan of Arc by David Elliott
Pub Date: March 26, 2019
Publisher: HMH Teen
Price: $25.50 CAD
Goodreads | Indigo | Amazon
Author David Elliott explores how Joan of Arc changed the course of history and remains a figure of fascination centuries after her extraordinary life and death.

Told through medieval poetic forms and in the voices of the people and objects in Joan of Arc's life, (including her family and even the trees, clothes, cows, and candles of her childhood). Along the way it explores issues such as gender, misogyny, and the peril of speaking truth to power. Before Joan of Arc became a saint, she was a girl inspired. It is that girl we come to know in Voices.
*I was provided an ARC by Raincoast book!*
This was one of the few novels in verse that I have read and for the most part I really enjoyed it.
I liked a lot of the poems and how each poem took on a different POV from Joan, to her family, to the saints, angels and even the lifeless objects had a voice in this collection.
I think my favourite poems have to be the Fire ones and when Joan was spitting major truth!
I also loved that the author included snippets and excerpts from the transcripts of her actual trials, I thought that added a lot more authenticity to the poems
Look people…I might be Catholic, but I actually know very little about saints (give me a break…there are a lot of them), so going in I knew the bare minimum about Joan. I wouldn't say that I'm an expert on her now, but the poems definitely have me wanting to go read up more on her story.

She was literally a teen who saved her country with the help of divine intervention (IS THIS NOT THE TYPE-A YA THAT RENDZ READS????)

In short, I need more Joan of Arc retellings in life, thanks.
I will say that what kind of put me off about the poems is the actual time line. I know this was supposed to be her final hours, but it felt more like we started from when she first started hearing her messages. So I may have been a little frustrated trying to figure out when these poems took place.
Rating: 3.75 / 5 Stars
Recommend: For lovers of poetry and fans of Joan!
---
Long Way Down by Jason Reynolds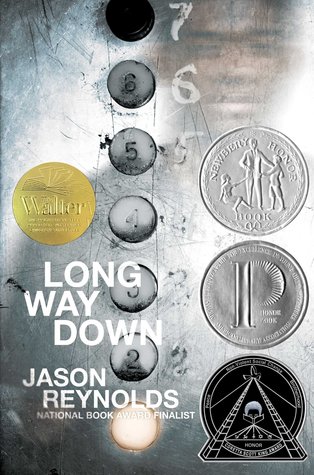 Pub Date: Oct 27th, 2017
Publisher: Atheneum/Caitlyn Dlouhy Books
Price: $23.99 CAD
Goodreads | Indigo | Amazon
An ode to Put the Damn Guns Down, this is New York Times bestseller Jason Reynolds's fiercely stunning novel that takes place in sixty potent seconds—the time it takes a kid to decide whether or not he's going to murder the guy who killed his brother.

A cannon. A strap.
A piece. A biscuit.
A burner. A heater.
A chopper. A gat.
A hammer
A tool
for RULE

Or, you can call it a gun. That's what fifteen-year-old Will has shoved in the back waistband of his jeans. See, his brother Shawn was just murdered. And Will knows the rules. No crying. No snitching. Revenge. That's where Will's now heading, with that gun shoved in the back waistband of his jeans, the gun that was his brother's gun. He gets on the elevator, seventh floor, stoked. He knows who he's after. Or does he? As the elevator stops on the sixth floor, on comes Buck. Buck, Will finds out, is who gave Shawn the gun before Will took the gun. Buck tells Will to check that the gun is even loaded. And that's when Will sees that one bullet is missing. And the only one who could have fired Shawn's gun was Shawn. Huh. Will didn't know that Shawn had ever actually USED his gun. Bigger huh. BUCK IS DEAD. But Buck's in the elevator? Just as Will's trying to think this through, the door to the next floor opens. A teenage girl gets on, waves away the smoke from Dead Buck's cigarette. Will doesn't know her, but she knew him. Knew. When they were eight. And stray bullets had cut through the playground, and Will had tried to cover her, but she was hit anyway, and so what she wants to know, on that fifth floor elevator stop, is, what if Will, Will with the gun shoved in the back waistband of his jeans, MISSES.

And so it goes, the whole long way down, as the elevator stops on each floor, and at each stop someone connected to his brother gets on to give Will a piece to a bigger story than the one he thinks he knows. A story that might never know an END…if WILL gets off that elevator.

Told in short, fierce staccato narrative verse, Long Way Down is a fast and furious, dazzlingly brilliant look at teenage gun violence, as could only be told by Jason Reynolds.
I picked this up on a whim. I saw that both Mandy and Kyera has read it and rated it very high so I had to give it a shot!
It is another novel in verse, that I found I quite liked!
I actually borrowed the audiobook because I feel like poetry is really something pleasing to listen too.
Will's story was so heartbreaking, brutal and intense! Reading about his journey down the elevator that takes no more than two minutes was the incredibly suspenseful, I have never been so nervous!
Each encounter he had brought him a fresh perspective and insight on the people he thought he knew well.
The book is all about gang violence and how it affects youth who find themselves caught up in the mix and needing to following the "rules" the adults set for them
It was a haunting book, I can't even properly articulate my thoughts with it–it's that good!
The ending is still with me to this day. I don't know exactly what to make of it, but all I can say is that it left me both satisfied and running with a million questions.
I highly recommend this one if you are looking for poetry that packs a punch!
Rating: 4.5 / 5 Stars
Recommend: ABSOLUTELY
---
The Case of Jamie by Brittany Cavallaro
Pub Date: March 6th, 2018
Publisher: Katherine Tegen Books
Price: $21.99 CAD (hardcover)
Goodreads | Indigo | Amazon
The hotly anticipated and explosive third book in the New York Times bestselling Charlotte Holmes series.

It's been a year since the shocking death of August Moriarty, and Jamie and Charlotte haven't spoken.

Jamie is going through the motions at Sherringford, trying to finish his senior year without incident, with a nice girlfriend he can't seem to fall for.

Charlotte is on the run, from Lucien Moriarty and from her own mistakes. No one has seen her since that fateful night on the lawn in Sussex—and Charlotte wants it that way. She knows she isn't safe to be around. She knows her Watson can't forgive her.

Holmes and Watson may not be looking to reconcile, but when strange things start happening, it's clear that someone wants the team back together. Someone who has been quietly observing them both. Making plans. Biding their time.

Someone who wants to see one of them suffer and the other one dead.
I missed my babies so much! You all do not know how much I love this series!
Here I am again–the fake Sherlock Holmes fan™–who loves all things Sherlock Holmes retellings but has never actually read the books or seen any adaptations (???) I know.
This book was so intense. Charlotte and Jamie were separated for practically the whole because of the events of the last book so it took forever to actually get them together!!!
Both of them had to take a step back and really reflect on themselves and the shit that they went through the past year.
I just love these characters so much. GOSH. Charlotte's smarty-pantsness and her fight against inner demons that have plagued her since her childhood. Then there is Jamie, the definition of a softball, who had to kind of figure out who he was without Charlotte.
I loved the suspense of this novel, there were many twists to be had and lots of stuff went down with the Moriartys!!!!!
I saw some stuff coming but other things just wow!
I am a big fan of Cavallaro's writing. It's not fancy or anything, but it just flows so easily and it can make a mystery plot easy to understand–which is something I super need since I am a mystery noob.
In short. I loved it.
Rating: 4 / 5 Stars
Recommend: If you love Sherlock and you wanna see him in a gender-bent way, then YES.
---
---
Let me know what you think! Have you read any of these? Are you looking forward to reading any of them? Do you read poetry? What novels in verse would you rec/want to read? 
Happy reading!
~ Rendz