Greetings readers!
I'm coming to you today with a extra adorable post, seriously I can't think of a better word to describe these three books other than A D O R A B L E!!
With the holidays coming up, it is definitely time that you start thinking about presents. Obviously if you are a bookworm the #1 item on your wish list will be books! But what about that little reader in your life? The one that is still a fan of seeing more pictures than words? Well luckily I have three great recs for you right here!
I would like to send an enormous thank you to Penguin Random House Canada for sending me these three books! They had such great books on their Holiday catalogue, but I am so happy with the ones I ended up choosing!
Anne Arrives: Inspired by Anne of Green Gables adapted by Kallie George, illustrated by Abigail Halpin
Publisher: Tundra Books
Pub Date: Sept 25, 2018
Price: $16.99 CAD
ISBN: 9781770499300
Goodreads
The charming first book in a new early-reader series, starring the spirited — and outspoken — Anne Shirley as she first arrives at Green Gables.

Marilla and Matthew Cuthbert need help on their farm, so they've adopted what they hope will be a sturdy, helpful boy. Instead, Matthew finds Anne awaiting him at the train station — imaginative, brash, redheaded Anne-with-an-e. With her place at the Cuthberts' at risk — particularly if nosy neighbor Mrs. Lynde has anything to say about it — Anne will have to learn patience, understanding and what it takes to make Green Gables her true home.

Lovingly adapted by Kallie George with beautiful, nostalgic illustrations by Abigail Halpin, Anne Arrives is perfect for new fans of Anne and old.
This book is really great if you want to push the novel on your young readers! It focuses on telling the story of when Anne first arrives to Avonlea. George covers all the important bits, from Mrs. Rachel Lynde's nosy wanderings, to Anne's long conversation with a silent Matthew, Marilla's final decision to let Anne stay and all the mishaps and crazy things that happen in between. I loved how George was able to compact everything that happened within those first few chapters into a single chapter book with pages that don't hold more than three sentences! And I loved the illustrations! Halpin did an amazing job of depicting the scenery of Avonlea and the expressions of all the characters, especially Anne who has so much spirit! It truly is a gem of a book! I am positive that once your little reader hears this story they will want to know what happens after! What new adventures this little red-headed spirit has and what kind of trouble she gets herself into!
Rating: 5 / 5 Stars!
Recommend: Great way to introduce Anne to kids!
Goodnight, Anne by Kallie George, illustrated by Genevieve Godbout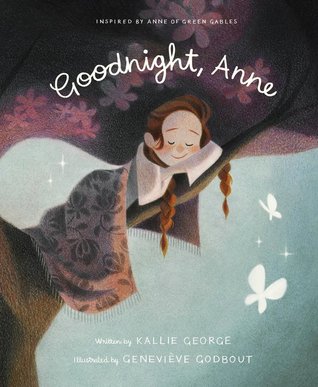 Publisher: Tundra Books
Pub Date: Sept. 25th, 2018
Price: $21.99 CAD
ISBN: 9781770499263
Goodreads
A beautiful bedtime picture book based on the best-selling Anne of Green Gables, introducing the irrepressible and beloved Anne to younger readers. It's time for Anne to go to bed, but not before she wishes goodnight to everyone and everything she loves!

Under the watchful eye of her adoptive mother Marilla, Anne has come to cherish life at Green Gables — the dearest, loveliest spot in the world, and her true home. Every night before she goes to bed, she thinks of all the people and places she loves: her family, her bosom friend Diana, her splendid teacher Miss Stacy, beloved tree Snow Queen, the Lake of Shining Waters and the brilliant sky above. Anne even wishes goodnight — or good riddance! — to pesky classmate Gilbert and nosy neighbor Mrs. Lynde. And through it all, Anne's imagination takes flight on a whimsical journey through Avonlea.

This sweet and heartfelt picture book is a perfect read-aloud introduction to L.M. Montgomery's beloved Anne and will delight her brand-new fans and lifelong readers alike.
This was utterly perfect. If I were still a child, asking my mom for bedtime stories, I would definitely ask for this one repeatedly! I want to start off by talking about the illustrations because they were literally had my jaw on the floor since I set my eyes on the cover. I know they look very simplistic, but that is exactly what makes them so beautiful. I loved the use of colour and contrast, they really made the images on the page stand out. I also really love the visual texture, it looks like the drawings were made through crayon and it just added this softness and whimsy to the story. Now the actually story itself is quite fun! George was able to capture Anne's voice and make it part of her own story. She brings up a lot of people and places that are so important to Anne which I loved seeing. I especially loved her page on Gilbert and Mrs. Lynde! The ending of the story was very sweet and I'm sure your young ones will be having beautiful dreams after reading this!
Rating: 5 / 5 Stars!
Recommend: For the sleepy, kindred spirits!
The Magician's Secret by Zazhary Hyman, illustrated by Joe Bluhm
Publisher: Tundra Books
Pub Date: April 3rd, 2018
Price: $21.99 CAD
ISBN: 9781770498945
Goodreads
This action-adventure picture book featuring a grandfather and grandson duo celebrates the power of imagination and the magic of make believe.

Charlie loves when Grandpa comes to babysit because he always brings his magical imagination. Grandpa was a magician who knows the most amazing tricks; he can pull a rabbit from a hat and make a coin disappear. But what Charlie loves most are his wonderful adventure stories, and they all begin with something his grandfather has saved in his Magic Story Chest. An hourglass is a reminder of how he defended the treasure in King Tut's tomb from raiders. A long white scarf inspires the story about Grandpa's dogfight with the notorious Red Baron, the great First World War fighter pilot. A coconut shell heralds the story about his encounter with a nasty Tyrannosaurus Rex. Charlie's parents, though, aren't too sure they like Grandpa's stories and warn Charlie that they're just "tall tales." What is Charlie to believe? How can his grandpa convince him that all you need to do is believe and a dream can be turned into something real?
Have I repeated the word "adorable" to much?? Well I have to use it again. This story was fantastically, and magically adorable. This was a superb adventure story filled with fun, family and imagination. Charlie and his grandpa were so charismatic. Every tale that was told held a lot of fun, lots of action and suspense, and even a little magic. I loved that Charlie talked about his grandfather with wonder in his voice and awe in his eyes, he was truly a curious soul! As for the grandpa, he was quite the adventurer and I love how he acted a little kid-like too. The overall messages that the story sends are really important too. The need to let kids dream and imagine is so important, but the parallel message of having adults that can dream, imagine and support their kids too is just as equally as important. Again, the illustrations had my jaw on the floor. The colour, the detail…THE DETAIL. Wow! I stared at each page for a while, there were so many things to pick up on! Overall, this story was sweet, fun and I'm sure one that all kids will enjoy!
Rating: 5 / 5 Stars!
Recommend: Perfect for the curious kid souls!
Let me know what you think! Have you read any of these? Are you a fan of Anne? Are you looking to pick up some picture books for the little readers in your life? What is one book you would love to see as a picture book?
Happy reading!
~ Rendz