Greetings readers!
When friends recommend you books, and they persist and persist and persist that you read them, you are going to end up reading them. Such was this situation here. My friend Rezanne @TheWickedReader hounded me from the moment she finished reading this book that I also had to read it. That it was so incredibly amazing and that she needed to talk about it with someone.
So naturally, I read it.
Lifel1k3 by Jay Kristoff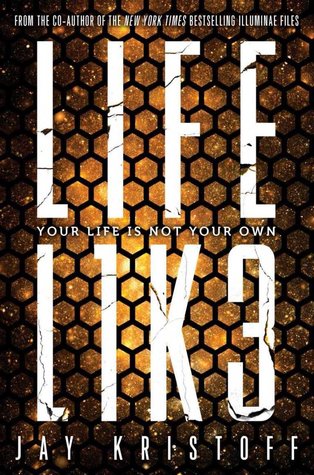 Publisher: Knopf Books for Young Readers
Pub Date: May 29th, 2018
Price: $24.99 CAD
ISBN: 9781524713928
On a floating junkyard beneath a radiation sky, a deadly secret lies buried in the scrap.

Eve isn't looking for secrets—she's too busy looking over her shoulder. The robot gladiator she's just spent six months building has been reduced to a smoking wreck, and the only thing keeping her Grandpa from the grave was the fistful of credits she just lost to the bookies. To top it off, she's discovered she can destroy electronics with the power of her mind, and the puritanical Brotherhood are building a coffin her size. If she's ever had a worse day, Eve can't remember it.

But when Eve discovers the ruins of an android boy named Ezekiel in the scrap pile she calls home, her entire world comes crashing down. With her best friend Lemon Fresh and her robotic conscience, Cricket, in tow, she and Ezekiel will trek across deserts of irradiated glass, infiltrate towering megacities and scour the graveyard of humanity's greatest folly to save the ones Eve loves, and learn the dark secrets of her past.

Even if those secrets were better off staying buried.
---
BUY IT!
Chapters Indigo | Amazon | Barnes & Noble | Book Depository
---
*I was provided a free copy by Penguin Teen Canada! Thank you so much to the publisher!*
This was quite something. I didn't know exactly what to expect. And what I did get? Well it was quite QUITE something!
What I Liked:
Characters:
Eve: I really liked her quite a lot. She had this admirable spunk to her from being raised in such a perilous place. And yet she has this compassionate side that I loved to see come out of her. Her life is turned upside down and inside out from very early on in the book and she has to deal with a lot of revelations that she is not prepared for, not to mention running for her life! Now, I would like to say she has tremendous growth in this novel….and while she does go through some "growth", tremendous might not be the best word to describe it…or maybe it is. But it was quite, quite the revelation.
Ezekiel: Okay, I never felt strongly for him as a character, but he did make a decent love interest. I liked him well enough, his history and his motives for sticking around Eve were interesting. I was going to use the word "sweet" but there is some twistiness in his backstory that makes me a hesitant to say sweet. He was a good character, but I think he lacked that sense of intrigue. So what if he was gorgeous, that's one plus, but his personality could have used a little boost. Just saying.
NOW ONTO THE BEST CHARACTERS IN THE BOOK
Lemon: ABSOLUTELY AMAZING AND TOTALLY FABULOUS!!! She would totally love that I just said that, but it is so so so true! I loved every second she was on the page. She was funny. She was snarky. She was mischievous. DARING. ADORABLE. NOBLE. UTTERLY IRRESISTIBLE. She made every boring second in the book worth it. She brought life to the book and I could not get enough of her. Forget about the actual MCs, this girl was it for me.
AND YET THERE WAS ONE MORE WHO HELD MY HEART.
Cricket: He may be little, but he had the biggest heart. I ADORED HIM. IF ONLY HE HAD GOTTEN EVEN MORE PAGE TIME. HE WAS SOOOOOOOOOOOOOOOOOOOOOOOO FUNNY. His programmed comebacks and just overall personality was the best in the book! He's not even human. He's a tiny robot who stole my heart from the first moment he appeared on the page.
He and Lemon made this book for me!
The World:
It was quite interesting. It kind of reminded me of a Mad Max situation…only a little less dessert and more like a giant junk yard. The names of the places were really cool and the map at the beginning really helped me keep track of the characters. Even the people themselves fit so well into the world. Scavengers and gangs and giant companies who made it too dangerous to roam around that brought all the thrill. I'd never survive.
The Repercussions of Playing God:
A lot of the novel deals with the dangers when humans decide to make their own creations that are superior yet enslaved to mankind. The problem with thinking that humans can control beings that are conditioned to be humans and yet are not "human". It brings up the question of what makes someone human? What makes them worthy to survive? What makes them lesser than humans? It is such a twisted concept and the way that Kristoff approaches it makes the question even harder to answer. You know what the humans did was wrong, but are you really gonna side with the crazy robots???
The Ending:
Did not see that coming. I saw quite a few of the twists coming but this was one that I didn't really think would happen. It was wild and I really am looking forward to seeing how the next book even begins!
What I Disliked:
Not Gonna Lie, It had its boring bits:
And that boring bit is really this giant section in the middle. After the high events from the beginning, we set of on a journey and it's not the most entertaining. It's a lot of talking and remembering. It's really slow. There are some moments of action, but just not enough to keep me entertained. I was having trouble paying attention and that is never a good sign! It had it's share of bloody battle and epicness, but not nearly as much as I was expecting. (I think that says something scary about me XD)
The Info Dump Flashbacks:
I like when the flashbacks come in flashes. And Kristoff started out like that…but then he just gives this whole chapter of flashback that kind of turned me off. While the revelations were juicy, I guessed a couple and it was sort of a turn off for me. Of course the revelations came at the most inopportune time, and caused even more chaos, but I wasn't a fan of the giant chapter of just backstory.
---
Overall, I really enjoyed the book. The end is what saved it for me. It brought back the intrigue and the suspense that was missing from the middle of the book. All in all, the book has a great set of side characters that makes up for some of the boring parts, it has its twistiness and will probably make you question your own morals many times! It was quite something, quite something.
Rating: 4 / 5 Stars
Recommend?: Yes! I think you should all meet the amazing Cricket and Fabulous Lemon!
Let me know what you think! Have you read this? Did you enjoy it? Who was your favourite character? Are you excited for the sequel?
Happy reading!
~ Rendz