Greetings readers!
One of the many, many flaws I possess, according to my mother, is that I cannot sew. Correction: I cannot sew properly. I can do a sloppy job of it, but actually doing a clean seam is beyond my abilities.
Alas, I still read this book which was all about sewing. And it was quite something. Quite something.
Spin the Dawn by Elizabeth Lim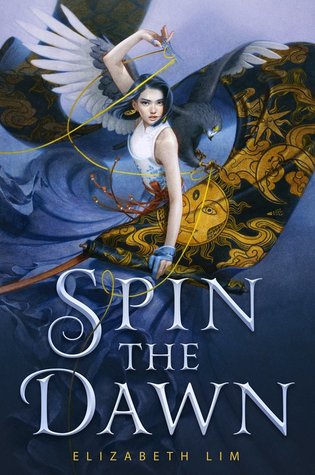 Pub Date: July 9, 2019
Publisher: Knopf
Price: $24.99 CAD
Goodreads
Project Runway meets Mulan in this sweeping YA fantasy about a young girl who poses as a boy to compete for the role of imperial tailor and embarks on an impossible journey to sew three magic dresses, from the sun, the moon, and the stars.

Maia Tamarin dreams of becoming the greatest tailor in the land, but as a girl, the best she can hope for is to marry well. When a royal messenger summons her ailing father, once a tailor of renown, to court, Maia poses as a boy and takes his place. She knows her life is forfeit if her secret is discovered, but she'll take that risk to achieve her dream and save her family from ruin. There's just one catch: Maia is one of twelve tailors vying for the job.

Backstabbing and lies run rampant as the tailors compete in challenges to prove their artistry and skill. Maia's task is further complicated when she draws the attention of the court magician, Edan, whose piercing eyes seem to see straight through her disguise.

And nothing could have prepared her for the final challenge: to sew three magic gowns for the emperor's reluctant bride-to-be, from the laughter of the sun, the tears of the moon, and the blood of stars. With this impossible task before her, she embarks on a journey to the far reaches of the kingdom, seeking the sun, the moon, and the stars, and finding more than she ever could have imagined.

Steeped in Chinese culture, sizzling with forbidden romance, and shimmering with magic, this young adult fantasy is pitch-perfect for fans of Sarah J. Maas or Renée Ahdieh.
---
Buy It!
---
*My thanks goes out to Penguin Teen CA for providing me with an ARC*
I had the lovely opportunity to buddy read this with my fabulous friend, Mandy @ BookPrincessReviews. Considering our last two buddy reads went less than spectacular, we were pretty stoked knowing that this book came with such good buzz! And we are both so happy that we both actually enjoyed the book this time!
The Likes
The Characters
Maia: Ohhhh I loved her. I loved her. She was truly a fantastic MC to follow. She grew up in a house full of brothers who loved and doted on her. She had a mother, who was taken too early, but adored her so much as well. And her father who taught her almost everything she knows about being a seamstress. I loved the way she treasured and practically carried her family in the toughest of times, especially as a woman in a trade meant for men. I loved that she literally risked it all for her family, even if on the inside she knew that she really wanted to risk everything for her own aspirations. I loved her honesty because she literally couldn't lie to save her life.
Edan: I pitched it to Mandy that he was a Tragic Magic boy and honestly I still stand by it. He was all charm and you guys all know how much of a sucker I am for the charming, borderline annoying ones. He was mysterious and harbored lots of secrets, some of which we get into. He was an interesting character to have around as more than just simple a love interest. His role was pivotal to the politics of the book too, which are quite tricky to maneuver.
Others…There aren't many. The other tailors in the competition are not at all what they seem at first glance. Trust me, keep yer eyes on them. Then there are the emperor and Lady Sarnai, who were quite, quite not at all who they seemed to be!!!
The World
It was so, so rich. And we go everywhere–well most everywhere. It was incredibly fascinating to explore the different landscapes that the characters live in and journey. You get a sense of the difference in lifestyle between the royal characters and the civilians. The politics of the world are communicated very well. The society is suffering after a war and the court machinations in the palace may not be helping at all. It is a seducing setting no doubt.
The Plot
I loveeeeeeeeee competition books. And I also adore quest books. And this story was literally the best of both worlds.
The first part was all about Maia making it as a tailor and passing all the tests in order to serve Lady Sarnai as her official tailor. It was soooooo crazy and cool at the same time. It was a cutthroat killer competition about sewing!!! Sewing! I loved the challenges that they got, with materials so unconventional that I applaud Lim's imagination for creating pretty pieces (even if they are just being described in words 😉 )
Then came the journey which takes up a chunk of the novel. it comes with three pivotal challenges that Maia has to pass in order to A) survive and B) become the Imperial tailor. It was full of danger and intrigue and risk. I know they have a lot of down time during this part of the book, but I didn't mind. I lived for every moment between Maia and Edan.
It lived up to its selling points
Mulan x Project Runway. Let me tell you. This book is most definitely Mulan x Project Runway in every way that you can think and beyond. Maia had such a moment when she cuts her hair, I actually screeched a little bit to myself. It might not have had dramatic music in the background, but it was no less intense and magical.
I've already talked about the tailoring competition, but I cannot stress how Project Runway it truly is! So much talent, trash talking and crazy amazing dresses. The tailor competition is a little (a lot) more umm bloody, but still. Amazing. And the PR vibes run beyond just the competition. Maia's skill is so wonderfully explored, I would LOVE to wear any of her creations!
ALL THOSE COVER SECRETS
This stunning cover gives a lot more away than you might think. I'm screaming.
The Romance
I didn't think we'd get that far with them in this book, but neither Maia nor I could resist Edan's charm! I loved them together. I truly did. Mandy is right when she says that they goes back and forth a little too much, but I was swooning the whole way there. AND OF COURSE THINGS GET ROUGH TOWARDS THE END. But I still truly love them together!!!
The Questionable
Just one tiny thing. The antagonist(s) were a little lack luster. Um I wanted a little more sleeziness and creepiness and well villain power. They were a little too mellow for me, even though they caused plenty of trouble for our dear characters. So I lacked that drama. However, I think we are gonna get a lot more from them in the sequel!!!
---
Overall, I loved this book. I loved the ending because it is not at all what I expected and it has been a while since I have been surprised by a book! I also LOVED that Lim put in this little excerpt before chapter one that when I read it again after having read the whole book…it just transformed the whole experience for me.
Rating: 4.5 / 5 stars
Recommend: YESSSSSSSSSSSSS
Let me know what you think! Are you excited for this book? How easily do you trust comps/selling points? How stunning do you think this cover is? Can you sew, are you any skilled in tailoring?
Happy reading!
~ Rendz