Greetings readers!
A few months ago, I saw the BEST NEWS I COULD HAVE HOPED FOR!!
I'M SURE ANY OF YOU WHO FOLLOW ME ON TWITTER OR INSTAGRAM WOULD HAVE SEEN ME YELLING ABOUT IT!!!
I'm telling you all I lost my sh*t that day. Like I was on the floor. Where was I when I saw the news??? I don't recall, I just remember losing my mind.
I AM GETTING MORE NARNIA MOVIES AND TV SHOWS
THANK YOU, NETFLIX.
But of course, as much as I am enthusiastic about this movie/TV news, I have about the highest of the highest expectations. I don't expect them to ever replace my love for the 2000s films, nor do I necessarily think Narnia *needed* another adaptation. I'll be honest, it's had its multiple runs and there is only so many times you can remake a story.
Yet, these adaptations are still going to happen and over the months I have been mulling it over in my head, how we can make the story better, different, unique and yet stay true to it's magic and message.
Naturally, I write a blog post because zat ees vwat I do! *zis eez my Fronch accent!*
So What Do I Want From These New Adaptations?
Chronological Order please!
Can we not start with The Lion, the Witch and the Wardrobe?
People, I adore LWW, but there is so much context that is given in The Magician's Nephew that I really think can change up how viewers watch LWW. I mean A) Professor Kirk's adventure in Narnia is pretty darn cool, B) We get the origins of Narnia, the wardrobe and the White Witch and C) Those origin tidbits can then feed into LWW's adaptation!
Can we also not stop at LWW?
There is so much story to explore after the Pevensie's leave Narnia. I mean the world needs to be exposed to Aravis Tarkheena's greatness!
Jill Pole's snarkiness.
The Final Battle *sobs*
There is so much more that needs to be seen!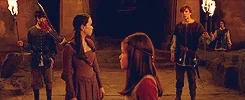 It Has to Make Sense
If you are gonna go a mix of TV Shows and movies Netflix, you are gonna need to come out with a set plan. A list of how exactly these shows/films will be produced and released. I do not want, for example, a movie of one of the books to come out mid-season of the show adaptation of another one of the books *although this would make sense for The Horse and His Boy* ANYWAYS. I just want clarity.
I know seven books is a lot, and I WANT all seven books to happen. I need you to really think this through Netflix and let me know how exactly this is gonna work.
Diversify
I *think* it is safe to say we have had plenty of Narnia adaptations with little, white kids. And we should all know the very obvious racist views of Mr. Lewis in the Caloremen and others. Like it's no good.
So clearly we gotta make an old man roll in his grave and change the story to make it less harmful and more inclusive, especially for a wide range of kids today to appreciate the magic of Narnia.
I'm sure there were all kinds of kids carted off during the London raids, that weren't necessarily Caucasian. Not every new kid that is introduced, nor does every adult, much less every Narnian or Telmarine etc. has to be white. The treatment of the Aravis and Calormen as a whole has to change, away from all the Orientalism and other tropes.
And of course these characters of colour can't simply be token, they have to have substance, background and acknowledgement of their individuality like any character should have.
And yeah, people will be angry about it. But you know what? They can literally watch any of the other adaptations if they want a full white, straight, able cast!  ¯\_(ツ)_/¯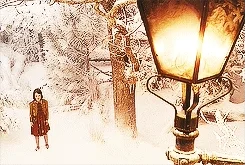 I am open to animation…but like the cool kind.
I feel like the best way to get all the magical effects is through animation because their is just so much that can be explored. I'm willing for a 2D or a 3D animation, it just has to be COOL. Like stay away from the animators of The Dragon Prince. No offense, but y'all that shows visuals are so plain.
But of course if we are gonna do this live-action, effects have to be on the pointiest of the points! Costumes and make-up have to square up! It has to be visually stunning to match the magic and adventure of the story!
Please do not make it gritty and dark and such
Netflix has a knack for taking things to a really dark level. *See Sabrina the Teenage Witch* and I really do not want that. Which is so contradictory because you all know how much I adore Dark Fantasy, but Narnia is not the story to fit that bill, in my humble opinion. I want it to be whimsical and I want the creators to be able to garner the suspense, action and intensity and tie it with whimsy.
DO I EVEN MAKE SENSE? Look, I don't know how they are going to go about doing that. I just don't want it to get all angsty, gritty dark. Please.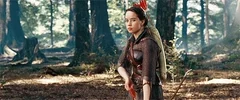 ---
Let me know what you think! Are you looking forward to this new Narnia adaptation? What are your hopes? What are your fears? What book(s) do you think Netflix should adapt?
Happy reading!
~ Rendz