Greetings readers!
Coming to you today is a review for a new book coming out next week!! I had the lovely opportunity to buddy read this with my dear friend, Angelica @ The Book Cover Girl! Even though we were both a little busy while we read it, we had a wonderful discussion that really helped cement my thoughts on this book so read on for more!
Give the Dark My Love by Beth Revis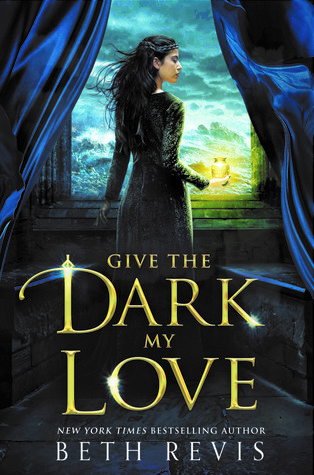 Publisher: Razorbill
Pub Date: Sept. 25, 2018
Price: $23.99 CAD
ISBN: 9781595147172
Goodreads
When seventeen-year-old Nedra Brysstain leaves her home in the rural, northern territories of Lunar Island to attend the prestigious Yugen Academy, she has only one goal in mind: learn the trade of medicinal alchemy. A scholarship student matriculating with the children of Lunar Island's wealthiest and most powerful families, Nedra doesn't quite fit in with the other kids at Yugen, who all look down on her.

All, except for Greggori "Grey" Astor. Grey is immediately taken by the brilliant and stubborn Nedra, who he notices is especially invested in her studies. And that's for a good reason: a deadly plague has been sweeping through the North, and it's making its way toward the cities. With her family's life–and the lives of all of Lunar Island's citizens–on the line, Nedra is determined to find a cure for the plague.

Grey and Nedra continue to grow closer, but as the sickness spreads and the body count rises, Nedra becomes desperate to find a cure. Soon, she finds herself diving into alchemy's most dangerous corners–and when she turns to the most forbidden practice of all, necromancy, even Grey might not be able to pull her from the darkness.
---
BUY IT!
Chapters Indigo | Amazon | Barnes & Noble | Book Depository
---
*Thank you Penguin Teen CA for providing me with an ARC! All opinions are my own!*
I didn't exactly know what to expect from this book, other than that it was going to get dark. And indeed it did get quite dark. At first I thought it would be a little more enchanting, but as I kept flipping I realized that this was the kind of fantasy that makes you thankful magic isn't as real in our world today. (And I mean that in a good way!)
What I Liked:
Characters:
Nedra was amazing! Ugh I loved her! Her determination, her ambition, her care for the world and the people she was surrounded by were all very admirable qualities. She was thrust into this foreign society that refused to accept her and she couldn't give a bigger damn. Her focus was on her goals. Get trained. Find a cure. Save people. BUT of course, my dear Ned was not perfect and she takes a hard turn to the left in this book. Real hard. Like a 180° spin. And honestly I still loved her. And I think it's because I understand how she got there. Nedra experiences grief and sadness in so many ways and that constant state of being down is bound to lead to some poor decisions. A cause of desperation. By the end of the book, Nedra was, as I mentioned, completely different. It was a different kind of character growth, because it was a descent into darkness and I found it to be enthralling.
Grey was okay, ummm  I won't lie. He was a bland love interest for most of the book. Even though I did appreciate how he stood up for Nedra most of the time. Still whenever his chapters rolled up, they were really sort of irrelevant. BUT he did get important towards the end. He had one job and he epically failed at it. (It wasn't an easy job  in his defense, but still) I'm hoping to see more into his character in the next book!
The World was Good:
It was not based on any historical setting that I can think of, but it was really well done. The history of the island was clearly communicated and the politics were messy messy messy as they usually are. It had a magic school, which I am a sucker for! But to be one hundred percent honest, I would not make it into that academy. Too many decisions to be made.
I also liked the discussion around privilege. Nedra and Grey come from opposite worlds and he often forgot that the way Nedra saw the world was a different sort of complicated. The distinctions between the high class society and that of the lower class were starkly stated more than just their state of wealth, Revis digs deep into how the rich are able to manipulate the powerhouses and governments to work in their favour. It's an unfair world and Nedra and Grey are two examples of how privilege has shaped who they have become and the kind of decisions they made.
The Story:
The plot was interesting to say the least. It has an ominous prologue that brings up a lot of questions once you're done reading it. Then you read chapter one and say "How the heck do we get from this to that?!" Interesting and ambiguous is a good way to put it. But what I really loved was the way the world got darker. Not just the characters, but the actual world. Eventually while reading, it just felt like it all took place during gloomy days and pitch black nights. (I don't recall if it actually happened like this but it felt like it!) The stakes kept rising and things kept getting worse and worse, which created lots of drama AND I LIVE FOR DRAMA.
Romance: Not a big factor. It's like just there, but hey it was cute….while it lasted.
What I Disliked
Slow and Repetitive Beginning:
This is a big factor as to why this book got a lowered rating. The first 250 pages were of Nedra travelling to and from a hospital. With some school days mixed in. That's it. That's all. Half the book was just that!!! And while it did get boring, I was still interested enough to keep reading, which is a good sign, I guess.
A Few Words Here and There…:
I am not a fan of seeing modern day colloquialisms in fantasy. So seeing boyfriend and girlfriend in this book made me cringe, a lot. I know it's not the only one, but that really stuck out at me………
---
Overall, I liked the book! If you like your fantasy to start of light and just get richer and darker than this is perfect for you. It's entertaining and engrossing, a fun walk into the dark side. It has an ending twist that made me quite excited for the sequel. I have so many questions.
Rating: 3.75 / 5 Stars
Recommend: Yeah! For the dark fantasy lovers!
Let me know what you think! Are you looking to pick this up? Do you like reading dark fantasy? Do you like anti-heroes?
Happy reading!
~ Rendz