Greetings readers!
Wow. It feels like I haven't written a recap post for an event in ages, especially for an author event. And you know why?? It's because I haven't been to an author event in months. Seriously, I cannot remember the last one I went to. And due to this…I'm a little rusty on my social skills…yeah I'm already making excuses.
A couple of weeks ago, HCC Frenzy hosted a big author event in honour of three fantasy authors! That's right I got to meet Tahereh Mafi, Maya Motayne and Victoria Aveyard this month! It was a limited ticketed event so I didn't think I was going to get a wristband, but my darling, darling friend, Rezanne @ The Wicked Reader got the first two wristbands and handed one to me! *sobs* And it came with reserved seating and early access in the line!!! *SOBS harder*
To make my story short: The event was amazing. The authors were super nice. I made a fool of myself naturally. I got my books signed.
But to really understand this story we have to start from the beginning.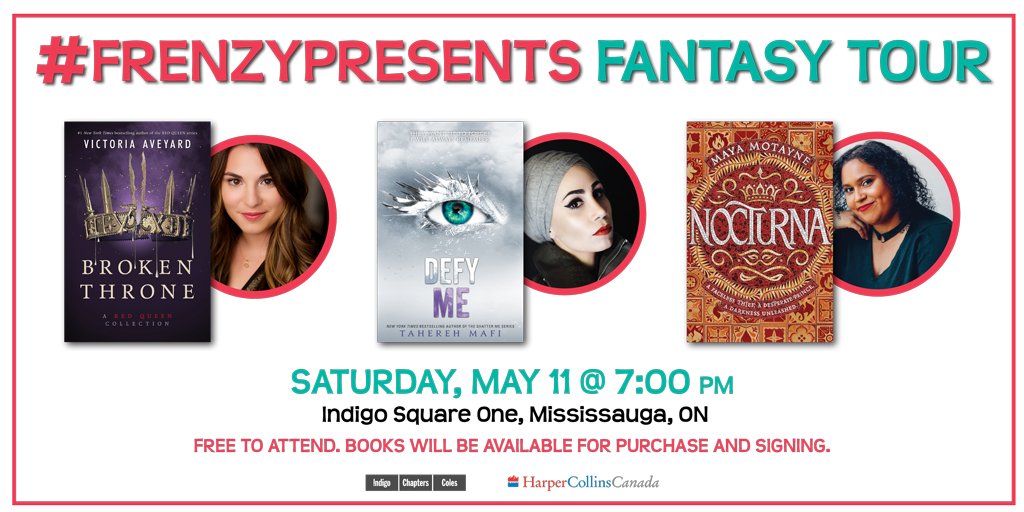 Getting There!
My family agreed to come along with me to the mall where the event was to be held. It's pretty far from where we live so they would go off shopping while I would be in the event. It was a lovely plan.
But the drive there was a little bumpy.
My dad hadn't been to the mall in a while and so we needed a GPS to get there. Unfortunately, we took the longer way to the mall and there was an accident on the way there which slowed us down even more. Then when we finally got into the mall, finding parking was a challenge, it was as if it were boxing day! There were so many cars and the entrances to the lots were full! But finally we found a spot and although we were all a little flustered, we finally got in.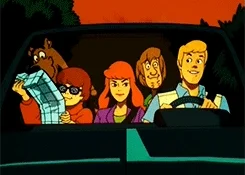 The Event!
Before the event, I was hoping to snatch myself a signed copy of Stephanie Garber's FINALE. I didn't know Indigo was carrying them, but to my surprise they were! BUT TO MY EVEN BIGGER SURPRISE, the only copy that the Indigo in the mall had was NOT signed! *hangs head*
Okay so the actual event. The authors came in and they were pretty amazing. Ashley, Frenzy's rep hosting the event, asked all three of them super interesting questions. We learned about their varying writing processes, their inspirations, their favourite books/shows and it was all so incredibly interesting!
I, unfortunately, didn't take any notes so I don't remember all the details, shame on me. But if you look up Frenzy on twitter, I'm sure you'll find lots more on what was talked about during the event!
Let's just say chickens, sandwiches, maps and notebooks were some of the highlights of the night!
The Signing!
I was nervous.
Like incredibly nervous.
I wasn't prepared to make conversation that night. I simply wasn't. My author-meeting skills were super rusty, plus I had never read Tahereh's books, I really enjoyed Maya and had a card for her and well I didn't really know how to approach Victoria!
So I was nervous.
First up was Tahereh.
Basically I talked about my cousin the whole time who actually did read her books. I told her about how much my cousin loved the characters and the story and how she unfortunately couldn't be there that night. Tahereh was super sweet and told me to tell my cousin "Hi" and that she was so honoured to hear about her. It was great. I made it through my first meeting without a hitch.
Then came Maya.
I said "Hi." I handed her a little card I wrote for her. I said 'Hi" again and then started my spiel. It started out great. It didn't end great. Here is how I remember how it went down:
"Hi, it's so nice to meet you. I made you this little card to tell you about your book. I absolutely loved Nocturna. I thought it was so incredible and the characters were amazing."
*she responds with many thank yous*
"You're welcome. It was so great and…and…and…."
*my throat gets tight*
*Feels a lump growing*
"And I…"
*Eyes begin to tickle*
Inner me: Wait…wait..wait..am I tearing up??? Am I about to cry. No!!!!!!!!!!! PLEASE Rendz. Do not cry. Why are you going to cry? There is literally no reason that a tear should fall out of your eye!!!!!!!!!!!!!!!!!!!!!!!!!!!!
But they did. The tears leaked out and I while was not exactly crying, my eyes were leaking in front of Tahereh, Maya and Victoria…
*tears up more at the embarrassing fact that I am tearing up.*
*laughs like a child at the ludicrousness of tearing up in this scenario*
You know how in YA books, characters sometimes want the earth to open and swallow them up. Yeah. That was me.
"Ohhhhhh" –said the authors
"OMG. I don't even know why I am crying. I feel like such a loser right now. I'm sorry."
The authors: "No, don't feel bad. It is so sweet. You're Maya's first crier. It is a special moment."
Inner me: WELL I DON'T FEEL SPECIAL. I FEEL LIKE A FOOL. 
Turns out I said the last bit out loud, but they laughed it off.
My episode ended with Maya thanking me again while I dried up any remnants of salty water. She was so nice about it and personalized my books in Spanish.
But I was soooo embarrassed.
Lastly came Victoria.
She was super sweet after my whole fiasco. I was still feeling super flustered, but I got through another convo. I told her about how much I know she likes Narnia and she told me how she used to write fanfiction for it. It was a quick convo because I really wanted to get out of there after that, but she was really nice about everything.
Then I walked off the stage with my signed books and breathed a sigh of relief. It was over, I had made a fool of myself and it was great. Yup.
The After!
I waited for eyes to look less puffy before I went out to meet my family. No way would I ever tell them about my break down. Which I attribute to many things: nerves, excitement, social anxiety and stress from earlier that day. Still I would have been mocked and dragged through the mud by them. So if one of them reads this post, I accept my ridicule.
---
Overall, it was a fabulous event. It was fun, the questions were great, I laughed, I–uh–cried. I got my books signed! Both my ARC and finished copy of Nocturna were personalized and signed. It was great.
But maybe next time I should prepare myself a little bit better mentally to keep myself in check. XD
Let me know what you think! Did you attend the event? Have you ever gotten emotional in front of an author? How do you prepare to meet authors? What authors would you love to meet? 
Happy reading!
~ Rendz