Greetings readers!
SO a while ago I did a post on how The Hunger Games created a huge fangirling phase in my life. I really liked the idea of it so I decided to put out posts about all my odd obsessions that I've had in my life. Trust me that there are quite a few phases in my life and all of them have weird things that I did!
And of course I had to start with the biggest obsession I have: NARNIA
I debated with myself quite a bit about posting this because well it's kind of embarrassing. Talking about the old things (and some current ones) I used to fangirl about just bloom this squishy feeling in my stomach. It's part embarrassment, part old feelings of intense thrill and part nostalgia. It's a crazy mix because when I was young, I fangirled hard to the point of obsession.
This is the official inauguration of the first Flashback Fangirling!
Narnia ~ A 13+ Year Obsession (and counting)
So I am going to start obvious. I have been (and still am) obsessed with this fandom for over a decade. It all really began with the first movie because I was not a reader when I was young (the books would come later).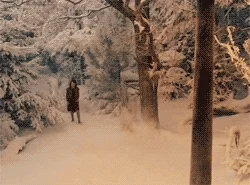 The Lion, the Witch and the Wardrobe movie came out in 2005 and I was both terrified and in love. The monsters were scary, but the magic, the battles, the world was amazing and I prayed, pleaded and begged for the chance to go to Narnia.
So I looked for it. I searched every closet in every relatives house. When my family moved homes, every open house we went to had their doors opened by little Rendz. No door was left unopened. None. I even opened doors in my schools! My friends didn't even question me because they knew what I was doing.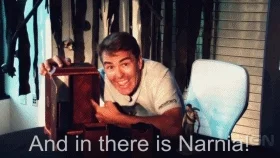 Speaking of my friends, I honestly had the best kind when I was young. I often made them play "Narnia" at recess. We would run and and scream into battle. We would fight evil witches and be friends with lions. We would have magic. Of course they got tired after a while, but I somehow managed to always make myself a Narnian-like character in whatever game we played.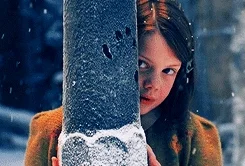 ---
GETTING CRAFTY ~ A NARNIAN COLLECTION
Making myself Narnia-like was a very serious deal for little Rendz. My mother had this lovely maxi red dress that I would often don when I was pretending to be Lucy. And since I had *some* artistic skills on my side when I was a kid, I fashioned Lucy's silver crown out of pipe-cleaners and paper-cut flowers all painted silver. (I also made a gold version for when I played Susan)
But my arts and crafts didn't stop at crowns. No way. I had to make the props, people. THE PROPS. There was no way my parents would ever buy me toy replicas from the movie when they came out, but little Rendz was resourceful and also very creative.
So for Susan's bow and arrow. I painted a plastic bow I found at my local dollar store (I did have to beg my Mother to buy it). It came with suction cup arrows, but it was for the best since I am not an archer and my general aim is terrible. I never got the chance to make her horn, but one day maybe.
Lucy's props included a little dagger and a vial with juice of the fire flower. Clearly my parents would not let me run around with a knife so I made a mini dagger out of paper toilet rolls and cardboard (this project was unfortunately never finished). I did however work really hard on the glass vial of fire flower juice. This prop was the most magical of all so clearly I had to have it. This project went through several trials, mostly because I could never get my hands on a good glass bottle. I ended up using an empty glue bottle and created the gold stopper out of a gold painted Styrofoam ball. I even dyed a little bit of water red to put inside to act at the juice of the fire flower. Yeah, I did that.
I did once attempt to make Peter's sword and collected a lot of rolls, but I waited until Christmas to get my hands on a wrapping paper roll because they are nice and long. Unfortunately, some projects just never happen and this was one of them.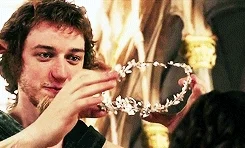 ---
TAKE A LOOK IN THE NARNIAN SKETCHBOOK
Stepping away from my actual role playing, as I got older I just started drawing a lot more. I have a binder full of sketches of magical forests and bridges. (I have always been a hardcore fantasy lover) I sketched of Peter, Susan, (a very terrible) Edmund and I think an unfinished Lucy. I was just getting into portraiture so of course I had to draw my favourite characters ever!
I even drew the movie cover. Twice. Wow Rendz, wow.
OH WOW. I 1000% promise you my artistic abilities have improved immensely.
*Also these photos are atrocious XD*
---
I MADE MY OWN WARDROBE
As a teenager the obsession lived on.
For a senior art project I created a cardboard sculpture of the wardrobe. It has coats in it and a lamppost and everything. It is not an exact replica, but I put in a lot of Narnian detail.
---
I'LL BE HONEST, IT'S REALLY THE MOVIES
I have read the books a couple of times now, but the first and second movie are what really stick with me. I have the entire first film memorized. I know every line and will randomly just start reenacting a scene. The scene where the White Witch kills Aslan is my best performance. (Morbid, I know) I even get my sisters to memorize some lines so I don't have to play all the parts. It is, however, to my shame that Maz knows more lines from Prince Caspian than me.
I might do a post on how I feel about the books vs. movies thing. Interesting…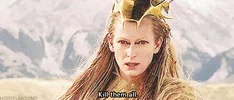 ---
TO THIS DAY
I don't think I do anything really obsessive anymore. I mean I am still very obsessed.
I am not one of those people to own a lot of merchandise and have 20 million copies of the books. I have one bind-up of the books. One copy of the first and second movie. Several homemade props and my imagination. I was just a kid and not owning any merch has never lessened my love for the fandom or makes my love for it any less.
---
---
THANK YOU FOR READING (SOME, MOST OR ALL OF IT!)
So yeah. I just rambled on about all the things I used to do as a kid. I am sure I missed a couple things over the years, but this is the gist of what kind of fangirl I was in this Narnian fandom growing up. Who knows what I'll do in the future. Frankly, I'm excited to find out.
Let me know what you think! Are you guys interested in reading about my old obsessions? I promise I'll have more to come with a few embarrassing stories. Some are not all book related and some are just plain weird. What kind of fandoms were you obsessed with when you were younger? And of course I invite my fellow Narnians to prattle on about their fangirl/boy things they have done! Come my darlings, come!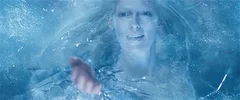 Happy reading!
~ Rendz