Greetings readers!
I was tagged by the amazing Michaela @ Journey Into Books to do this fun tag and answer her excellent questions. I must confess that…I have been tagged to do this award many times but have lost count so I'm sorry to those I've missed, but I am starting anew.
Rules
Thank the blogger who nominated you and link to there post.
Answer the 11 questions asked of you.
Nominate 11 new bloggers and ask 11 new questions.
List the rules and showcase the logo in your post.
Michaela's Questions
1. What was your last 5 star read and why?
The Dragon of Jin-Sayeng by K.S. Villoso
An absolutely incredible finale to what is one of my favourite series ever. I cannot recommend it enough! This book was a rollercoaster of emotions. Screaming, crying, laughing and my total destruction. I love it.
2. Recommend a book for each season?
Spring: The Penderwicks series by Jeanne Birdsall (So cozy and warm, total new life vibes)
Summer: Somewhere Between Bitter and Sweet by Laekan Zea Kemp (Hot and sweaty and MARVELOUS)
Fall: The Bitch Queen Chronicles by K.S. Villoso (So much chaos, so much emotional destruction)
Winter: Mexican Gothic by Silvia Moreno-Garcia (A chilling and thrilling horror novel)
3. If you weren't a reader what do you think you would spend your time doing instead?
I'd probably spend my days doing more art! Even though I get a lot of my artistic inspiration from books, without reading I would definitely spend more time actually making art and refining my skills hehe.
4. What book would you love to see turned into a movie or tv show?
An Ember in the Ashes by Sabaa Tahir!!
This needs to be done and it needs to be done NOW! I want this on screen so bad!!
5. Which fictional character would you want to travel the world with?
Nikolai Lanstov. My suave king knows how to have a good time and I want to have a good time with him everywhere!
6. Most anticipated release for this year?
Velvet was the Night by Silvia Moreno-Garcia!
This is an obvious one if you know me! I love everything SMG and I am so lucky to already have an ARC of this book! It comes out in August so have your eyes peeled for it!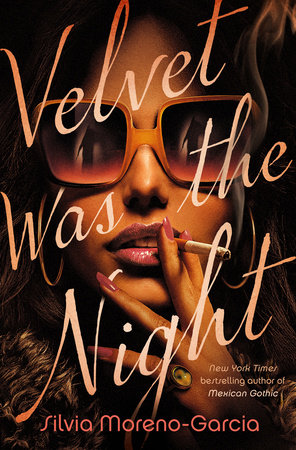 7. Why did you decide to start blogging?
I attended a bookish event held by Canada's biggest book retailer, Indigo, where we basically talked all things books! I met so many bloggers, got some ARCs a stuffed swag pack and well I just knew I wanted to be part of this beyond that night. I started up my blog a few days later and well it's been a journey ever since!
8. What is your favourite thing about blogging.
I love getting to express myself as a total bookworm! I know there are lots of platforms where I can do that, but on this blog that I created, it just feels extra special! There is no limit to how much or how little I can write! I can add all sorts of fun images, videos and clips. It's just a space that is so near and dear to my heart and the very first place that published my voice!
9. Is there a specific book or series that made you fall in love with reading?
Hmmm…I would say The Hunger Games, but I think more likely it was Marie Lu's Legend series. It was the first series I picked up of my own volition (not because it was becoming a movie) and I loved it!! It was the first series that I became obsessed with and am still obsessed with today!
10. Favourite fictional pairing? (Romantic or Platonic)
Oh wow this is such a hard question to answer!!!!!!
But you know what? Cresswell (Cress x Thorne) still owns my heart.
11. What book do you planning on reading next?
I'm in the middle of three reads right now, but I'm planning on picking up The Jasmine Throne by Tasha Suri next! So excited for this next glorious adult fantasy!
---
My Questions:
What is your favourite book trope?
Which book brings you the most comfort?
Spill the tea, what is one book you will *never* be picking up?
What song do you associate with a certain book?
Who are your favourite authors?
Which book character would you want to trade lives with?
What is the first book you remember reading?
How often do you buy/borrow books?
During what time of the day do you like to read?
What is one non-bookish fun fact about you?
What is your star prediction for your current read?
I tag:
Hehe…I won't be nominating 11 people, but some bloggers I have loved as of late. As usual there is no pressure to do this and if I didn't nominate you, you are more than welcome to answer my questions!
That's it for me folks! Let me know what you think! What would be your answers to some of these questions?
Happy reading!
~ Rendz