Greetings readers!
So it has been a while since I've come at you with a wrap-up, hasn't it? Let's blame it on the fact that the end of the school semester was quite an end. I won't go into much detail, but it is the reason I've been feeling a little unmotivated and uninspired with some of my blog posts. I hope to come with new material soon. Perhaps a fun tag or two!
In terms of reading though…I have had an incredible time with my reads. No lies detected. I'm at that point where I am reading faster than I can review, but it just means that I'll have lots of great reviews coming your way soon.
What Rendz Read
~ March ~
Truly, Madly, Royally by Debbie Rigaud 3.5/5 🌟
Once Upon a Quinceañera by Monica Gomez-Hira 3/5 🌟
Somewhere Between Bitter and Sweet by Laeken Zea Kemp 5/5 🌟
The Beautiful Ones by Silvia Moreno-Garcia (re-read) 5/5 🌟
Act Your Age, Eve Brown by Talia Hibbert 4/5 🌟
Fireborne by Rosaria Munda (re-read) 5/5 🌟
Firekeeper's Daughter by Angeline Bouley 4.5/5 🌟
Kisses and Croissants by Anne-Sophie Jouhanneau 3/5 🌟
Grishaverse Re-Read!
Shadow and Bone by Leigh Bardugo
Siege and Storm by Leigh Bardugo
Ruin and Rising by Leigh Bardugo
~ April ~
The Light of the Midnight Stars by Rena Rossner 3.5/5 🌟
Flamefall by Rosaria Munda 5/5 🌟
Make a Scene by Mimi Grace 5/5 🌟
Cece Rios and the Desert of Souls by Kaela Rivera 4.5/5 🌟
The Ikessar Flacon by K.S. Villoso (re-read) 5/5 🌟
Anchored Hearts by Priscilla Oliveras 3/5 🌟
Grishaverse re-read!
Six of Crows by Leigh Bardugo
Crooked Kingdom by Leigh Bardugo
Highlight book(s): Apart from my phenomenal rereads of The Ikessar Falcon, The Beautiful Ones and The Grishaverse reads, the top spots goes to Somewhere Between Bitter and Sweet, Firekeeper's Daughter, and Flamefall!
Lowliest book(s): Nothing was truly lowly. I enjoyed all of my 3 stars they just needed more pizzazz.
The Haul
March
Somewhere Between Bitter and Sweet by Laekan Zea Kemp
April
Rule of Wolves by Leigh Bardugo
Velvet was the Night by Silvia Moreno-Garcia
The Beautiful Ones by Silvia Moreno-Garcia
The Dragon of Jin-Sayeng by K.S. Villoso
Tigers, Not Daughters by Samantha Mabry
Other Going Ons
New Cover for CERTAIN DARK THINGS
As always, I try to be Silvia Moreno-Garcia's #1 hype-person and this past March the cover for her re-release of the Mexican vampire novel she wrote was revealed and it is stunning! There is so much symbolism and colour to behold! I loved the original cover, but this one…this one has the pizzazz and spark that I'm sure will intrigue many a reader to pick it up!
My Grishaverse Re-read Extravaganza!
In preparation for the show, which I talk about below, I decided to do a grand Grisha Reread and it was the best decision. I know, I know, I shouldn't have. I really need to get focused on those ARCs that I have, but I am pleased to say that I did in fact read the majority of my e-ARCs in time (getting reviews up is another matter entirely) but all will be updated soon hopefully. But anyways. I indulged myself with this reread and I can't complain. I enjoyed myself immensely. It hasn't been that long since my last reread of Shadow and Bone, Six of Crows on the other hand…that is a duology I haven't picked up since I read it the first time around when this blog was just beginning. To be concise. I loved it. I loved everything about reading these books again because 14 year old Rendz was living her best life and I want that girl to have her best!
I Attended to Bookish Events with Publishers!
Let's just say that there are plenty of books to look forward to! Both HCC Frenzy and Penguin Teen CA had some amazing teen book previews at the end of April and I was lucky enough to attend (virtually, of course!). Wow, friends. We YA Lovers have lots to look forward to in the coming months! Here are some titles I am excited for:
I binged Shadow and Bone & lived my BEST life.
Yes, I really did spend roughly 9 hours in my room Friday, April 23rd 2021 to watch the entire series in one go. Lunch and bathroom breaks were really the only moments of not-watching that I had for most of the day. And I regret ABSOLUTELY NONE OF IT. I have waited how long for this show? Ages. Big question: Did I enjoy it? HELLS YES. MY goodness. I was screeching alongside my cousin as we shared thoughts, predictions and critiques over a series of audio and video messages on Snap Chat XD. This adaptation was definitely not perfect, but it had heart in it. I think it did a great job of melding these two different series together and bringing these beloved characters to life! 10/10 recommend you watch it (mainly because I need high ratings for a season 2! but also because it is really good!!)
As for me…I'm stalking the actors and watching cast interviews like its my job.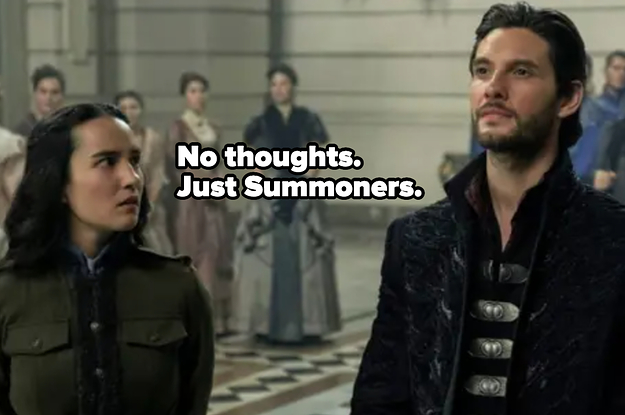 Posts of the Months
I've been feeling a little creatively dry with blog content as of late. I'm trying to find some interesting tags or discussion topics to tackle so it you have any suggestions, I would love to know about them!
Get to Know the Fantasy Reader Tag
This was a really fun tag to take part of! Even as a serial fantasy reader I know I am always lacking or missing out on some sort of amazing story so please direct all your recommendations to me!
Infinite Country | Review // A short, but mighty read
It's a 200 page book that you all need to read.
Somewhere Between Bitter and Sweet | HOV Book Tour // Review + Fan Art
I made some fun fan art for this book that I hope you all check out!
5 Reasons to read The Beautiful Ones | In other words…I lived my best life reading this masterpiece again!
I mean the title says it all. 🙂 This is one of my top SMG books, I ~need~ you all to read it. And if you love it, I need you to come yell at me about it.
Anchored Hearts by Priscilla Oliveras | Release Blitz + Review!
A quick review for the summer romance readers! The sunny days are coming and I anticipate some romcom bingeing in my future.
TBR
Well as always, I'm going to be slightly ambitious with my TBR 🙂 I will always try my hardest to get to as many books as possible I just need some good luck and good vibes from you all!
I also happen to start my summer semester this month so…le sigh. I need to take that into account as well.
Since it is Asian Heritage Month in Canada and in solidarity with my American friends celebrating AAPI Heritage Month, I plan on reading books by API authors as much as I can 🙂 I'm excited because there are some good ones of my shelf calling out to me! And it should go without saying, but a friendly reminder that we should be supporting API voices 24/7/365 and not only in May!
The Dragon of Jin-Sayeng by K.S. Villoso
Tokyo Ever After by Emiko Jean
Realm of Ash by Tasha Suri
Rising Like a Storm by Tanaz Bhathena
Rule of Wolves by Leigh Bardugo
Indivisible by Daniel Aleman
And that's all I have planned for now. I feel like I'm in need of some more romance-y reads especially considering I have some heavy fantasies that will leave me emotional distraught. Any recommendations by API romance authors are welcome!
---
Let me know what you think! What have you read this month? What books did you get? What books are you looking forward to reading!
Happy reading!
~ Rendz