Greetings readers!
I happy to say that Latinx Heritage Month is right around the corner and I hope you are all ready to celebrate with me! From September 15th to October 15th, I will be reading, promoting and enjoying all books Latinx! This will be the first year that I'm putting together a proper TBR and joining in on other challenges too.
And let me tell you there are a lot of challenges! But I am here to give you a list of things going down!
This Bingo is hosted by three amazing Latinx booklovers, Sophia, Paola and Allie! It runs all month long and has some incredible prompts to follow and enjoy! For those of you who want to participate and/or just want Latinx Book recommendations in general, Sophia @ Bookish Wanderess made this amazing list of 170 titles to read from and enjoy! Please show your support for the incredible amount of work she did to put this together!
This is my first year joining and I am very, very, very excited and maybe even a bit nervous! I want to get at least one bingo so help me God!
Follow along online:
IG: @LatinxBookBingo
Twitter: @LatinxBookBingo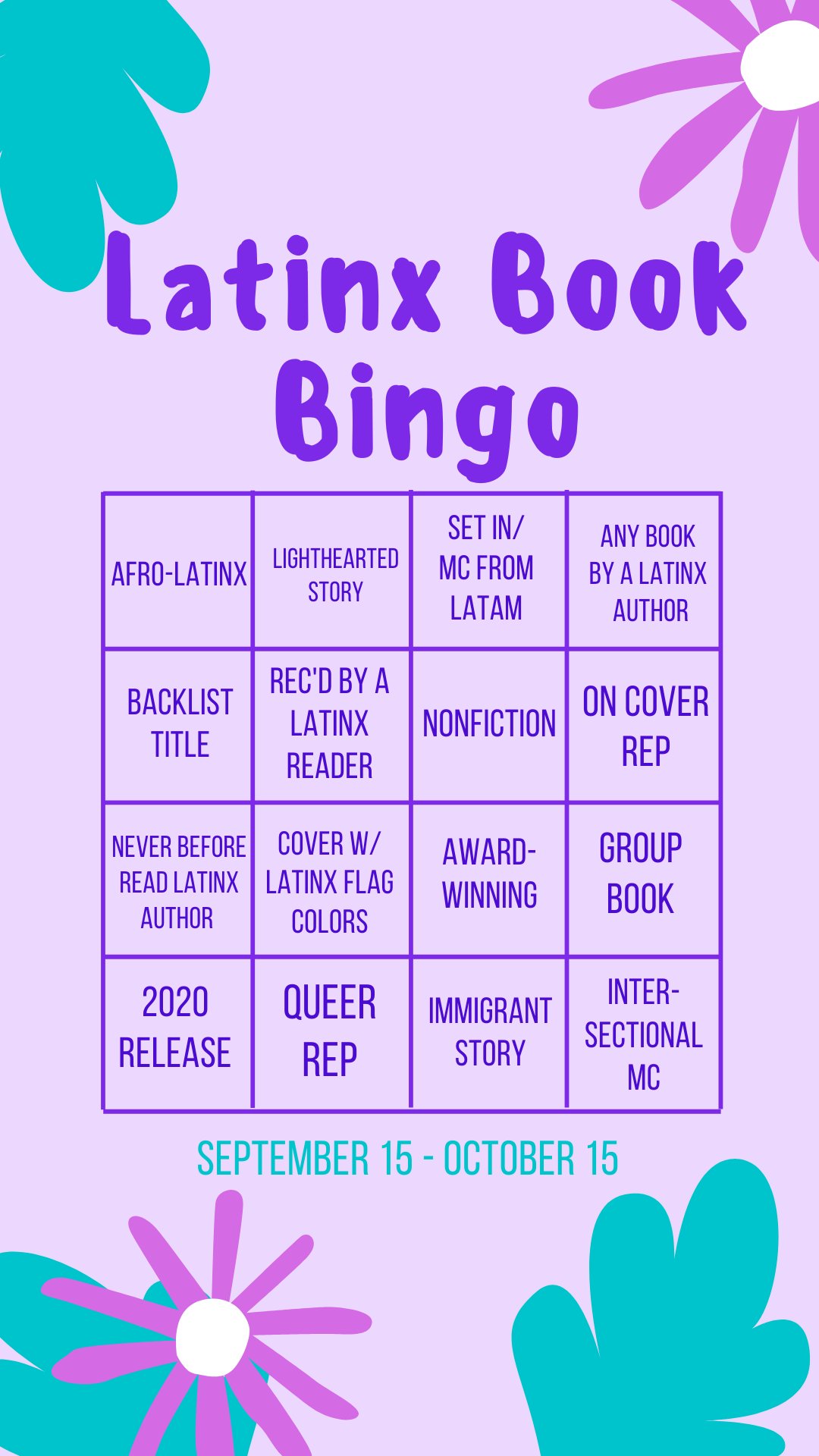 MY TBR
1st Row
Afro-Latinx: Dear Haiti, Love Elaine by Maika & Martiza Moulite or Freedom Soup by Tami Charles
Lighthearted Story: A Sprinkle of Spirits by Anna Meriano
Set in/MC from LATAM: Signal to Noise by Silvia Moreno-Garcia
Any Book by a Latinx author: You Had Me at Hola by Alexis Daria
2nd Row:
Backlist Title: Don't Date Rosa Santos by Nina Moreno
Rec'd by a Latinx Reader: Sia Martinez & the Moonlit Beginning of Everything by Raquel Vasquez-Gilliland (Rec'd by Cynthia's Reading List)
Nonfiction: In the Country We Love: My Family Divided by Diane Guerrero
On Cover Rep: Furia by Yamile Saied-Mendez
3rd Row:
Never Before Read Latinx Author: Lush Money by Angelina M. Lopez
Cover with Latinx Flag-Colours: Category Five by Ann Davila Cardinal (Red for Puerto Rico)
Award-Winning: The Poet X by Elizabeth Acevedo
Group Book: By Any Means Necessary by Candace Montgomery
4th Row:
2020 Release: Historically Inaccurate by Shay Bravo
Queer Rep: Each of Us a Desert by Mark Oshiro
Immigrant Story: We Are Not From Here by Jenny Torres Sanchez
Intersectional MC: The Resolutions by Mia Garcia
Latinx-a-thon
Here is another fun 10-day readathon running from September 15th – September 24th! The hosts are also doing a giveaway for the group book! There are three ways to enter so be sure to get in your entries before September 1st!
Check out this Info Thread for more!
VOICES: The Poet X by Elizabeth Acevedo
LATINIDAD: Each of Us a Desert by Mark Oshiro
ROOTS: Mi Papi Tiene una Moto/My Papi Has a Motorcycle by Isabel Quintero OR You Had Me at Hola by Alexis Daria (I'm pretty sure the MCs are bilingual)
HERITAGE: Dear Haiti, Love Elaine by Maika & Martiza Moulite or Freedom Soup by Tami Charles
LATINXLIT TAKEOEVER: By Any Means Necessary by Candace Montgomery
Latinx Heritage Month Book Fest
This is going to be a month long festival of blog posts and Instagram features and fun! I am planning accordingly! While I hope to get to do all the challenges and join in on as many discussions as I can, I am only human so forgive me if I miss one!
Nevertheless, I am super excited to be joining in! Be sure to follow me on Instagram where I will most likely be posting the most! But I am still 10/10 still going to post on here so please stop by to say hola!
Twitter: @LHMBookFest
Instagram: @lhmbookfest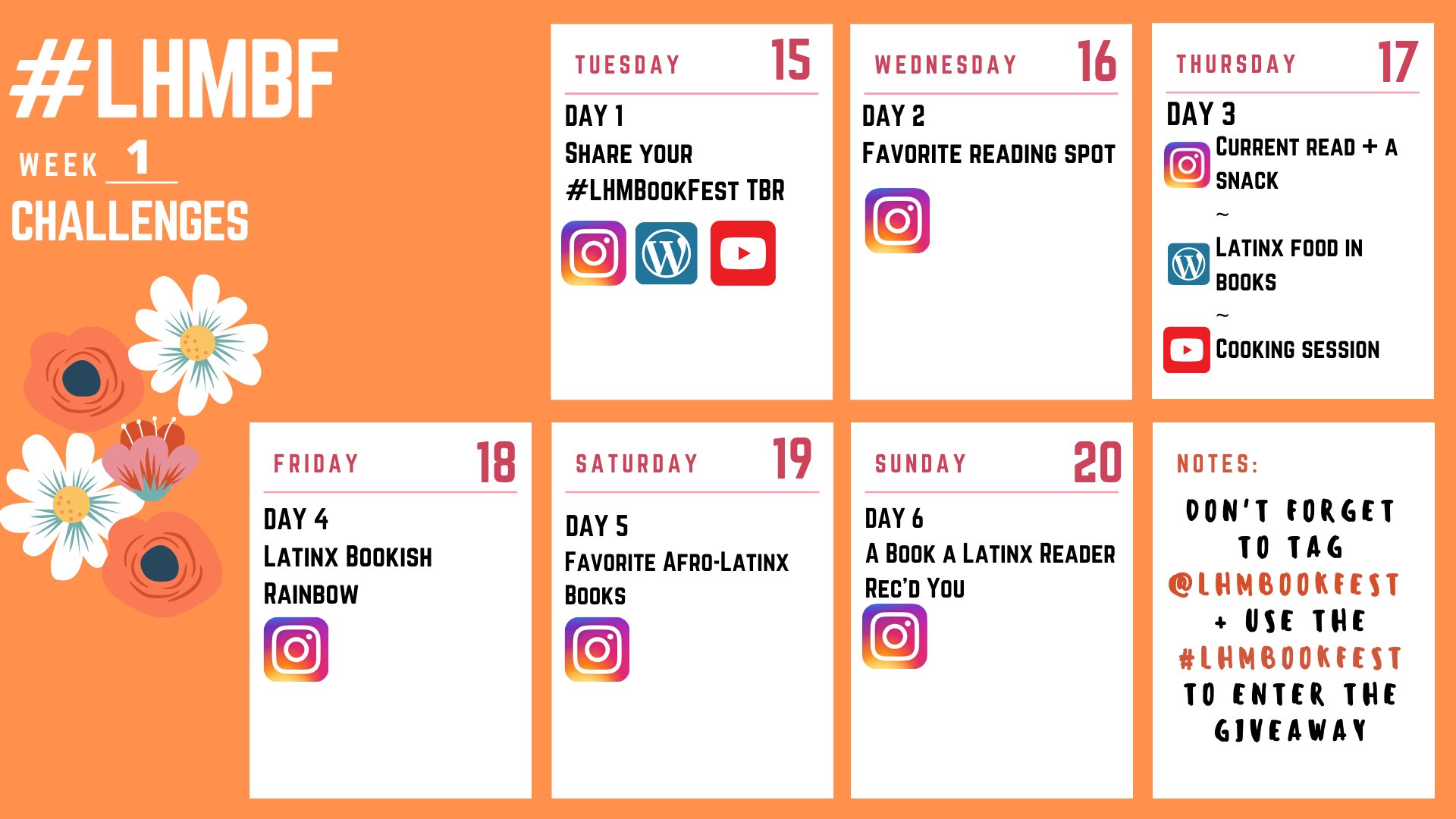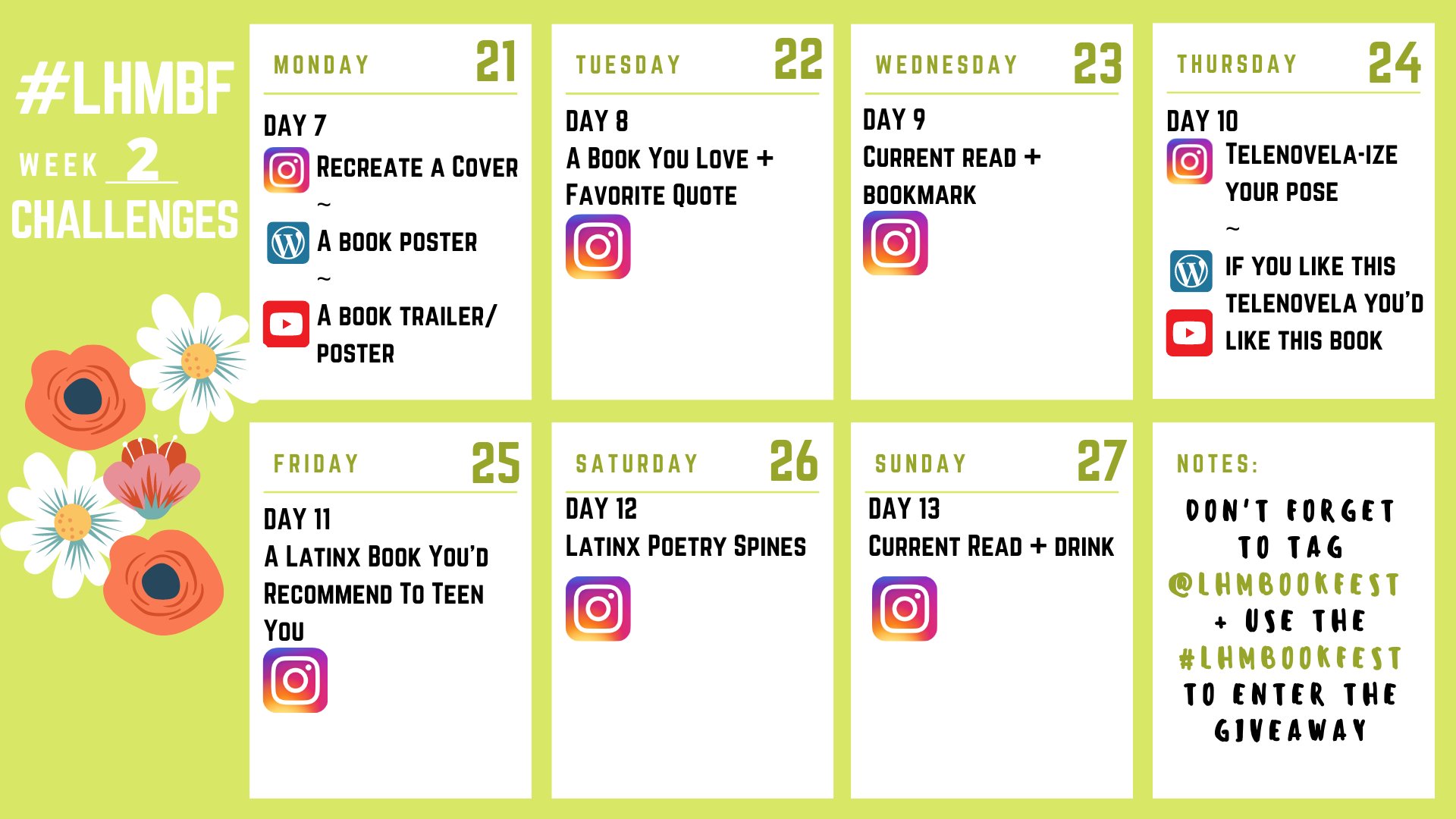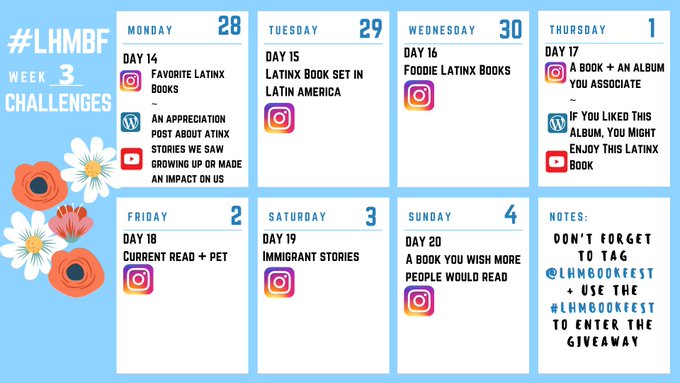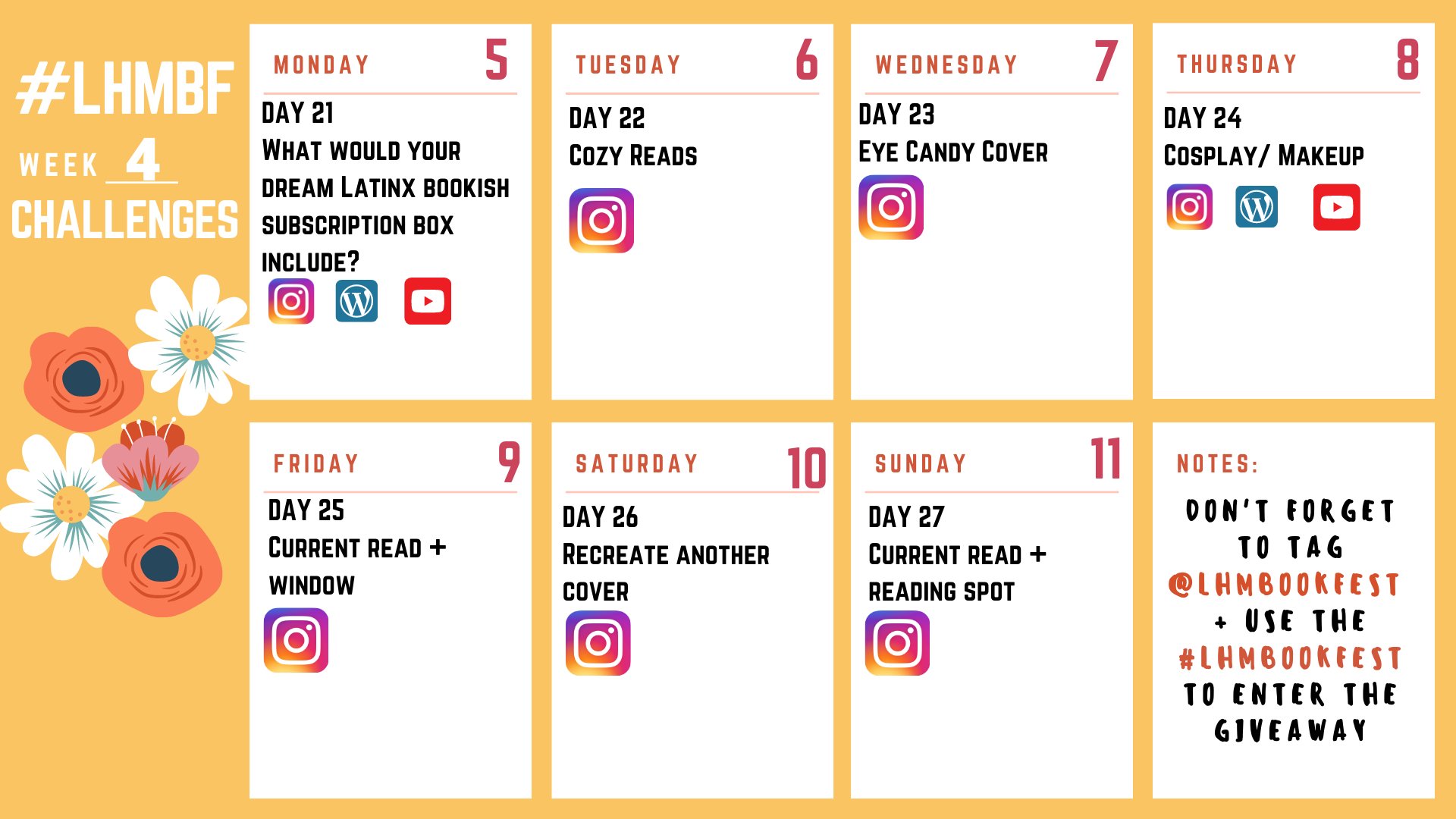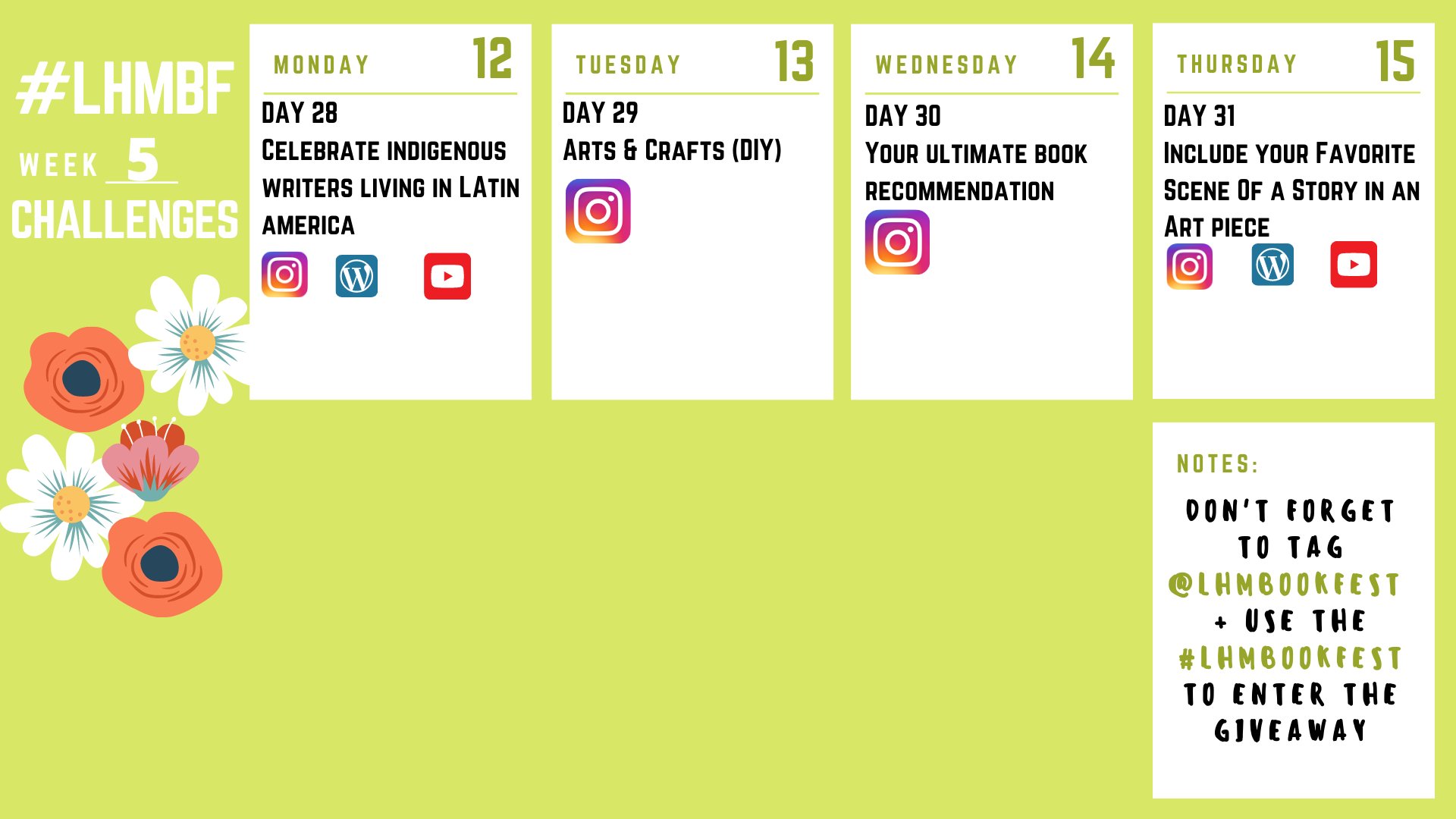 ---
That's it for me! I'm sure there is more that is going to happen throughout the month! I hope everyone comes out to celebrate, whether you identify as Latinx or not, I encourage us all to read Latinx books as much as we can!
I know for a fact that I probably won't finish this huge TBR, but I hope to get at least one bingo and fulfil 3 of the five prompts for Latinxathon! Who knows?! I am just so excited to be celebrating and I hope you join the fiesta!
*Please Share and/or Donate = Link to a master list of how you can help/educate yourself on Black Lives Matter and other humanitarian movements across the globe*
Happy reading!
~ Rendz