Greetings readers!
How have my wonderful book lovers been on this our day to celebrate us? To be honest I didn't know today was a thing, but I'm into it!
I'm coming at you a little late with this monthly wrap-up and haul, but better late than ever am I right? July was a month, in that I had school and not much else going on.
I wouldn't say I'm suffering from cabin fever, but being in the house studying is getting quite boring, and yet the thought of going to other places is not so attractive either ugh. It's a tricky situation but I'm managing.
So I've set myself up with quite the ambitious TBR this month even though we're a third of the way in and I am failing so so so hard rn.
What Rendz Read
Heartstopper: Volume One by Alice Oseman e-📘  (4/5) Review
Unravel the Dusk by Elizabeth Lim (4/5) My Review
Labyrinth Lost by Zoraida Cordova 🎧 (3/5) Review
Awk-Weird by Avery Flynn e-📘 (5/5) Review
The Penderwicks at Last by Jeanne Birdsall 🎧 (3/5) Review
A Songs of Wrath and Ruin by Roseanne A. Brown e-📘  (5/5) My Review
The Wedding Party by Jasmine Guillory  🎧 (4/5) Review
Lobizona by Romina Garber e-📘  [ARC] (4/5) Review
With the Fire on High by Elizabeth Acevedo e-📘 (4.5/5) Review
Check, Please! Book 1: #Hockey by Ngozi Ukazu e-📘 (5/5) Review
Mexican Gothic by Silvia Moreno Garcia (5/5) My Review
11 books in total! Not too shabby might I add. I really enjoyed my reads this month as you can see there aren't really any low ratings!
Highlight Book(s): A Songs of Wrath and Ruin, Awk-Weird and Check, Please! were definitely at the top. But Mexican Gothic….y'all MEXICAN GOTHIC…I—I—
Lowliest Book(s): Labyrinth Lost wasn't a very low book, but it was a 3 stars for me. I was hoping for a lot more, but I just did not find myself liking the characters much.
The Haul
Giveaway Wins!
The Sound of Stars by Alechia Dow
Cry of Metal and Bone by L. Penelope
Purchases
Mexican Gothic by Silvia Moreno-Garcia
ARCs
Blazewrath Games by Amparo Ortiz (I'm part of the Caffeine Book Tour!)
Other Going-Ons
I celebrated Mexican Gothic Week / I waited 27 Days for this book
I went on an Instagram hype spree and posted a bunch of pictures in honour of Mexican Gothic's release. I basically featured different books Silvia Moreno-Garcia has published up to date! I even featured the special announcement that Certain Dark Things and The Beautiful Ones are going to be reprinted in 2021! Then after waiting very patiently, although complaining on social media every week, I finally got my copy in the mail! I made use of IG musics feature to really show how I was feeling that day!
More Silvia Moreno-Garcia Books are on the way!
I had been celebrating SMG books practically the entire month and then 2 days after I get my copy of Mexican Gothic, it is announced that SMG has sold three more books! I just keep winning these days with all this amazing news! Check out the announcement below!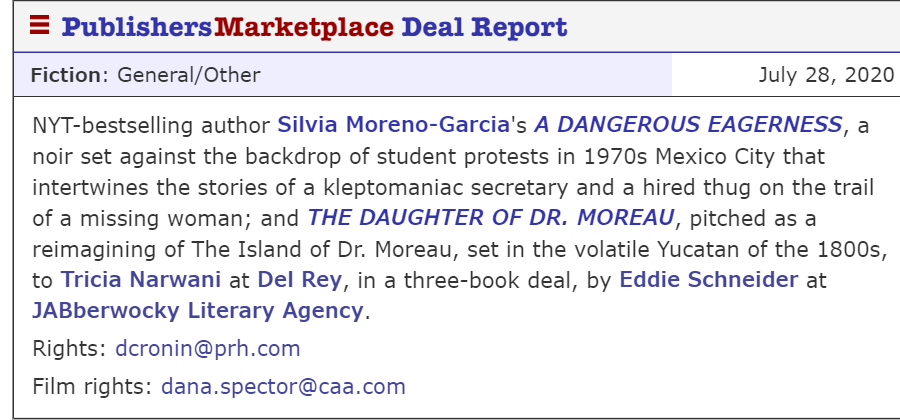 I have nothing else exciting to report. Other than I celebrated my birthday (teehee) and I finished another chunk of summer school. All that's left is one exam and while the semester took a bit of a down turn, I'll be accepting any and all good vibes my way!
Posts Of the Month
The Stuck at Home Book Tag | Because we should all mostly be staying at home!
Romance Reading Round Up | Pt. 4 // We Hit a Bit of a Slow Down these Past Months
Indigenous Reads to Add to Our TBRs!
Tune & Title Tuesday Round Up
July 7, 2020
July 14, 2020
July 21, 2020
July 28, 2020
TBR
The Gilded Wolves by Roshani Chokshi
The Sky Weaver by Kristin Ciccarelli
ARC AUGUST CHALLENGE!
The Wolf of Oren-Yaro by K.S. Villoso (a reread for @Bitchreadathon)
Where Dreams Descend by Janella Angeles
Blazewrath Games by Amparo Ortiz
Category Five by Ann Davila Cardinal
Don't Ask Me Where I'm From by Jennifer De Leon
The Storm Crow by Kalyn Josephson
The Faithless Hawk by Margaret Owen
Song of the Crimson Flower by Julie C. Dao
A River of Royal Blood by Amanda Joy
Plus like a ton of digital library books that I keep borrowing!!!
I already know that I won't be able to complete everything since I'm still working my way through TGW. But I did up my reading to three books at once, so I'm hoping to blast through much of these reads once I get out of school. It might not happen but a girl has got to tryyyy!
---
Let me know what you think! What have you read this month? What books did you get? What books are you looking forward to reading!
*Lebanon Needs You – Please Share and/or Donate + Link to a master list of how you can help Black Lives Matter and other humanitarian movements across the globe*
Happy reading!
~ Rendz