Greetings readers!
I hope you are all doing well. I know how tough it can be for a lot of people and I hope you are all taking care of yourselves out there.
April was an interesting month for me. I finished my winter semester at uni and have been on a real vacation for the past two weeks. That being said, my summer semester starts in a week so I have to be prepared to start working again.
In terms of my reading, I was pretty chill. I have been doing a lot of rereads instead of reading my ARCs which is a little naughty of me in terms of being a good blogger, but I am working on it!
Enough with the excuses, let's get into it!
What Rendz Read!
The Wedding Date by Jasmine Guillory 🎧 (4/5)
This Train is Being Held by Ismée Williams 🎧 (5/5)
The Penderwicks on Gardam Street by Jeanne Birdsall 🎧 (5/5)
The Right Swipe by Alisha Rai 🎧 (2/5)
Rogue Princess by B.R. Meyers 📘 (ARC) (2/5) Review
The Proposal by Jasmine Guillory 🎧 (3/5)
Finale by Stephanie Garber 📘 (3/5) My Full Review
The Penderwicks at Point Mouette by Jeanne Birdsall 🎧 (5/5)
Scarlet by Marissa Meyer 🎧 (5/5)
Island Affair 📘 (e-ARC) (3/5) Review
Cress by Marissa Meyer 🎧 (5/5)
11 books in total! Only two are actual ARCs from my pile and one is a book from my shelf I've had for a while. I'd say it was a successful month in terms of rereads. I got through more of the Penderwicks and the Lunar Chronicles which was the highlight of my month! The audiobook love has also been really strong and I am digging it!
---
The Haul
Netgalley
Never Look Back by Lilliam Rivera
Giveaway Win!
Supernova by Marissa Meyer
Other Going-Ons
NARNIA MARATHON
Just before my final assignment was due to be handed in for the semester a local TV Network blessed my life by hosting a Narnia marathon. Lucky for me, my assignment was already done so I peacefully enjoyed my movies. I sat in front of the TV for 6 hours straight, much to the chagrin of my family, especially my father who couldn't watch TV. Are the movies still excellent? Yes. Do I still have the whole first movie memorised? Also, yes.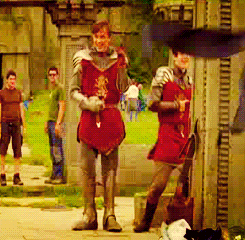 I JOINED THE CON SABOR READING CHALLENGE
It's time to get serious with my Latinx reading y'all and I have pledged to follow along with this reading challenge in order to keep track of myself! I am very excited to be joining in because there are so many amazing Latinx reads out there to discover and I am totally ready to read them!
Con Sabor Reading Challenge 2020 |As in the Latinx style, I am super–but fashionably–late
I WON A MARISSA MEYER GIVEAWAY
It came as a total shock! I usually enter big giveaways with very little hope of winning them because one of ten thousand entries really limits your chances. But when I saw I got a DM from THE Marissa Meyer my heart leaped and when I opened and read the message, I shrieked! While I may be a bigger fan of her Lunar Chronicles, I am still very excited to now own all this signed merch and swag for the Renegades trilogy.
---
Posts of the Month
TUNE & TITLE TUESDAYS!
April 7th, 2020
April 14th, 2020
April 21st, 2020
April 28th, 2020
Mood Reading | Super specific environments that make me want to read a certain genre…
Some of My Favourite Book Quotes | Magical words that make me feel all sorts of way
Romance Reading Round Up | Pt. 3 // Feeling like a Single Pringle
Uh well I really am just going to play it by ear. I tried making a TBR for last month but it just didn't work out that great. That being said there are some books I do hope to get to this month.
Finish my TLC audiobook reread
Read at least 2 *expired* ARCs
Read one forth coming ARC
Finish my Penderwicks audiobook reread
---
That's it from me. I am looking forward to my reading this month even though I have nothing absolutely set other than my rereads! I hope you are all doing well during these tough times and that reading is keeping you comfort.
Let me know what you think! How was your April? What books did you read? What books did you buy? What books are you looking forward to?
Happy reading!
~ Rendz