Greetings readers!
So Cyborg Monday happened a while ago and for those in the Marissa Meyer Universe should know that her Lunar Chronicles books are getting new paperback covers! I am here to discuss them because that is what we do in the bookish world!
Now, I already own the entire series in the original covers so I have no reason to truly buy these, but I'll be honest these new ones are very tempting!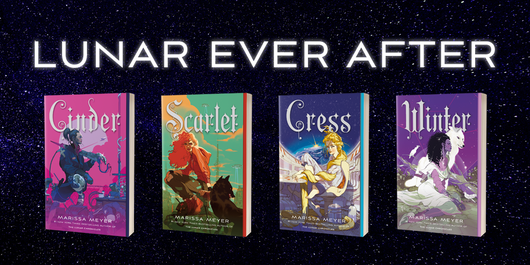 Cinder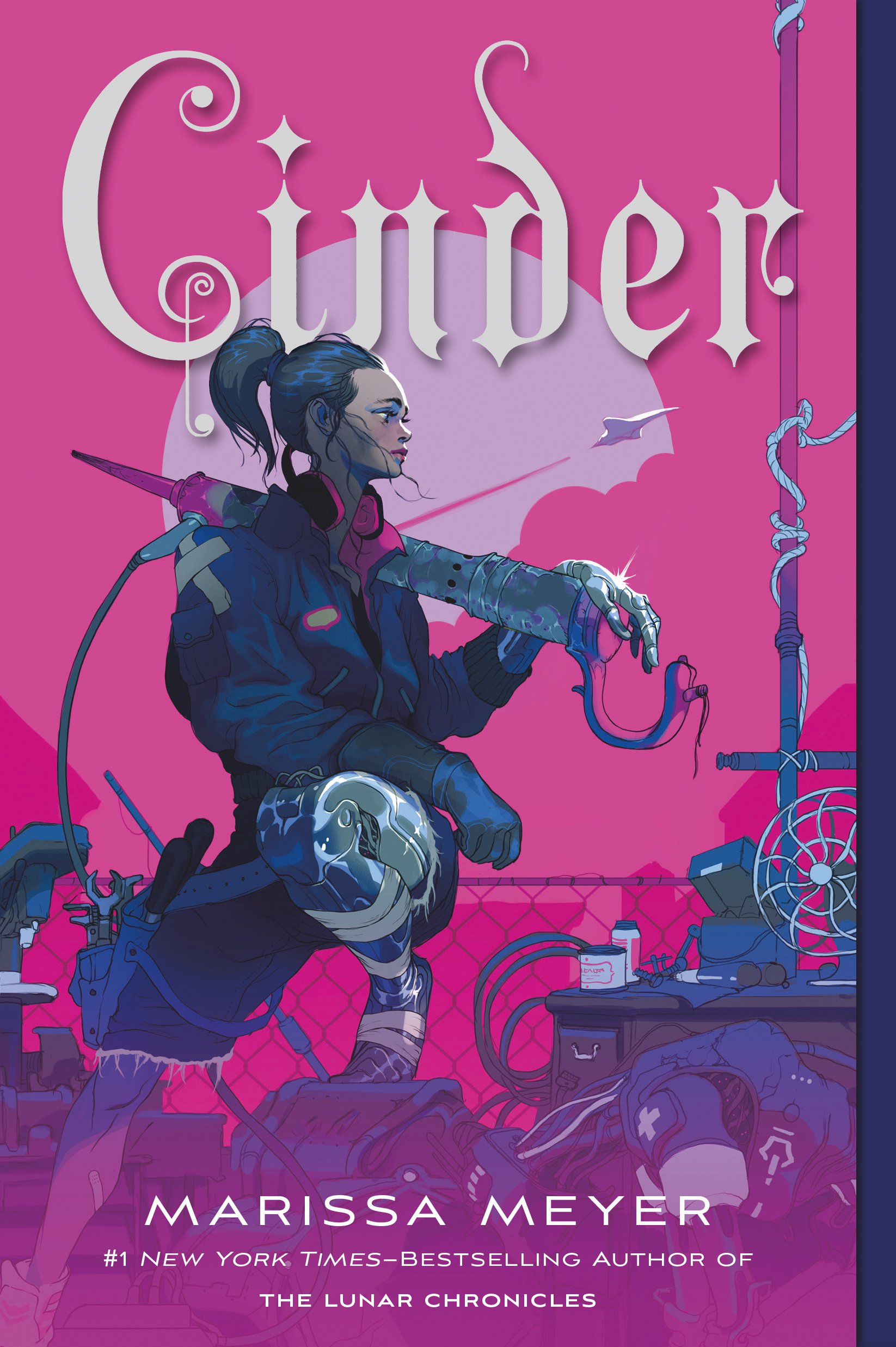 Cover: Pretty amazing if I do say so myself!! I love the pink and the purple colour scheme. I love her pose and her expression, the way she is dressed and her shining prosthetic that's all patched up with duct tape and all the spare parts and metal bits! I think she looks amazing! Everything about the cover is wonderful! I have zero complaints.
Inside: STUNNING! My jaw totally dropped when I saw it! I pretty much love everything about it! The dress, the gloves, Kai flying down the stairs, Levana looking down at the, both and just the whole movement of the scene. You can feel the urgency of the run and chase! I do think that Cinder's skin is too light and flat. There is no real depth without any shading to the skin.
Scarlet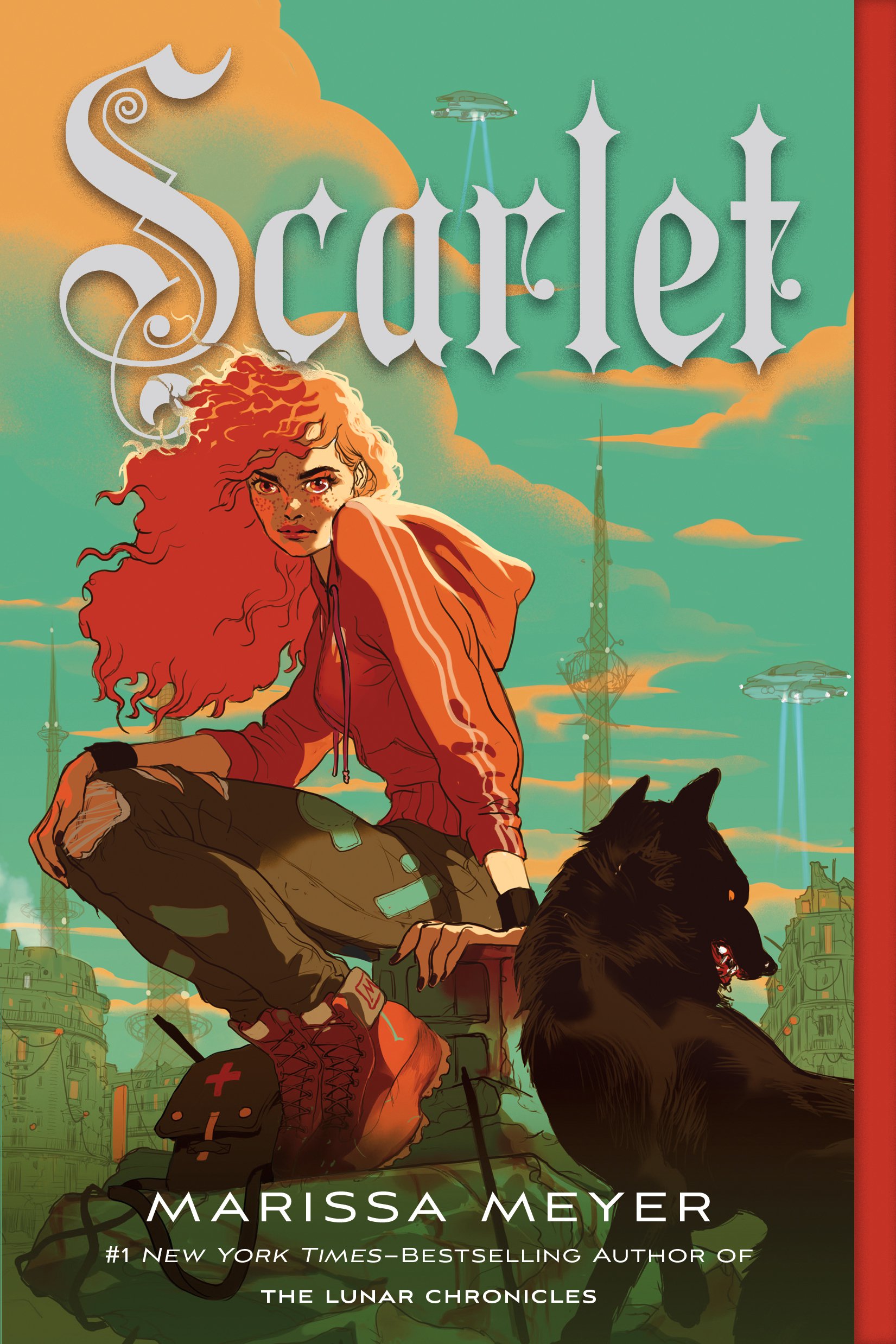 Cover: Again, the colour scheme is phenomenal! The orange/green for some reason just feels very French to me! Not to mention the fact that it goes great with Scar's hair! Her outfit is so cute, I would totally wear it if I could pull off the hobo chic, but I can't! The wolf! I mean the wolfffffff. Her expression is so Scarlet! She literally looks like she gives absolutely zero fucks and that is amazing! I guess the only complaint I have is that Scar is supposed to be on the chubbier side (right?) and that would have been nice to see on the cover.
Inside: One giant YES! Wolf is looking fly as fuck (pun intended) and again you can really feel the movement in the picture! The colours really make the figures stand out! I don't have much to say other than I love it! (Okay…maybe her hand is kind of awkward but still it is very cool!)
Cress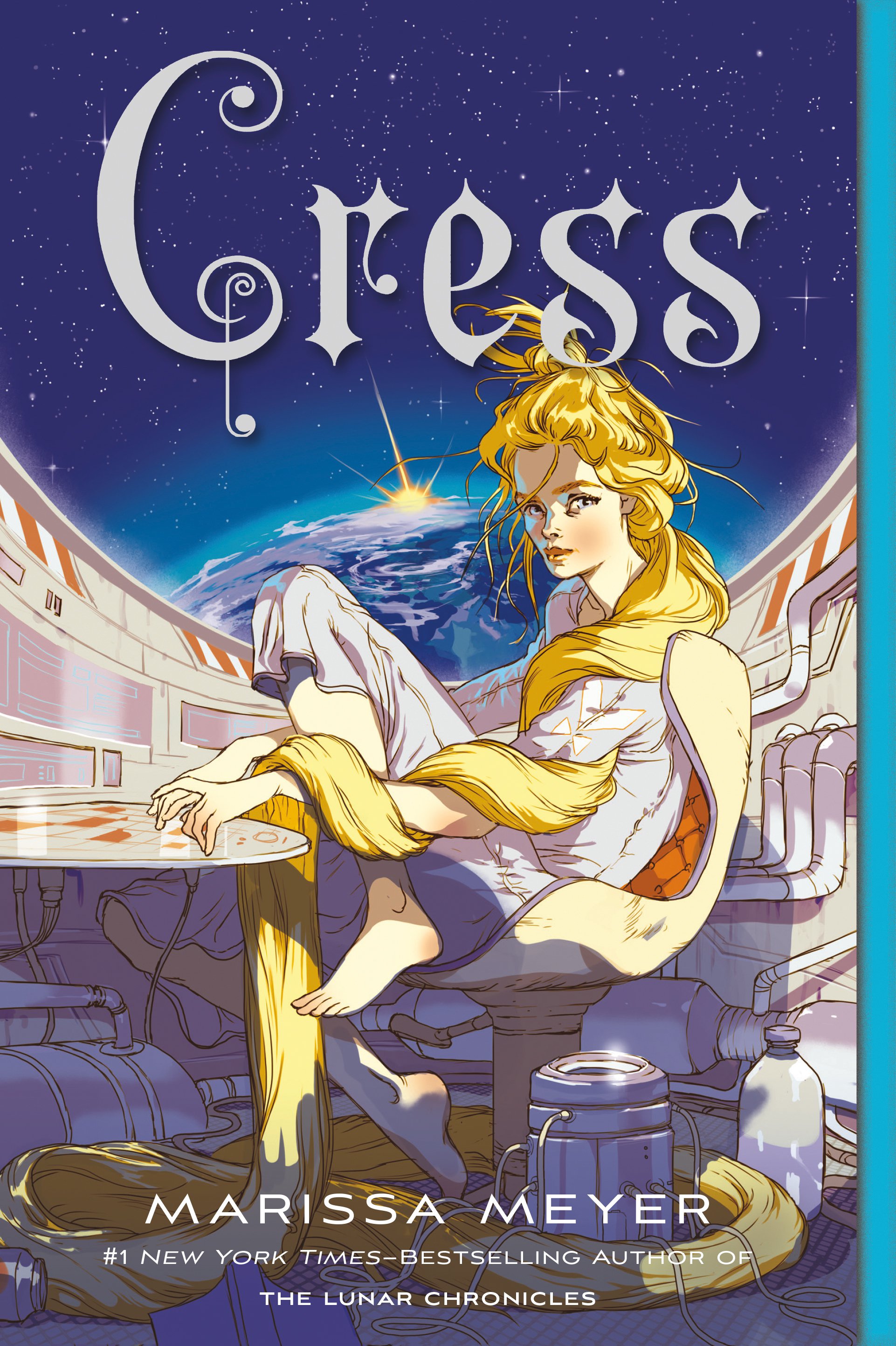 Cover: I really love the background. It is so high tech and the white/beige paneling next to the blue space sparkled with stars and the Earth in the background looks stunning. Now Cress….oh god. She looks not great, like I don't like how she looks at all. I feel like her body is so disproportionate. Her arms…I mean look at them, they are so long, freakishly long. And her hair…not cute, it is just not cute. And the hair does not help the fact that her forehead looks kind of too big. I'm so disappointed in this cover to be very honest and it just makes me even more sad knowing that I love this character and this book! But the cover just does not do it any justice!
Inside: So Cress looks so much better. Her forehead is less…just less. It looks like it is proportionate to her body. I love how she is posed and the lost and wonder-filled expression peaking through her wide eyes. Now Thorne…I mean, I'm happy he's at least there…but this is a no for me, unfortunately. It's the chin and the hands. The chin is like all scrunched up and angry looking whereas I was kind of hoping for a trademark smirk. He looks almost a little too serious and not like my charming Captain. His hands are way too big XD I mean I get that they are supposed to appear bigger because they are in the foreground, but they are a bit too big. The rest of the body though…truly great 😉
Winter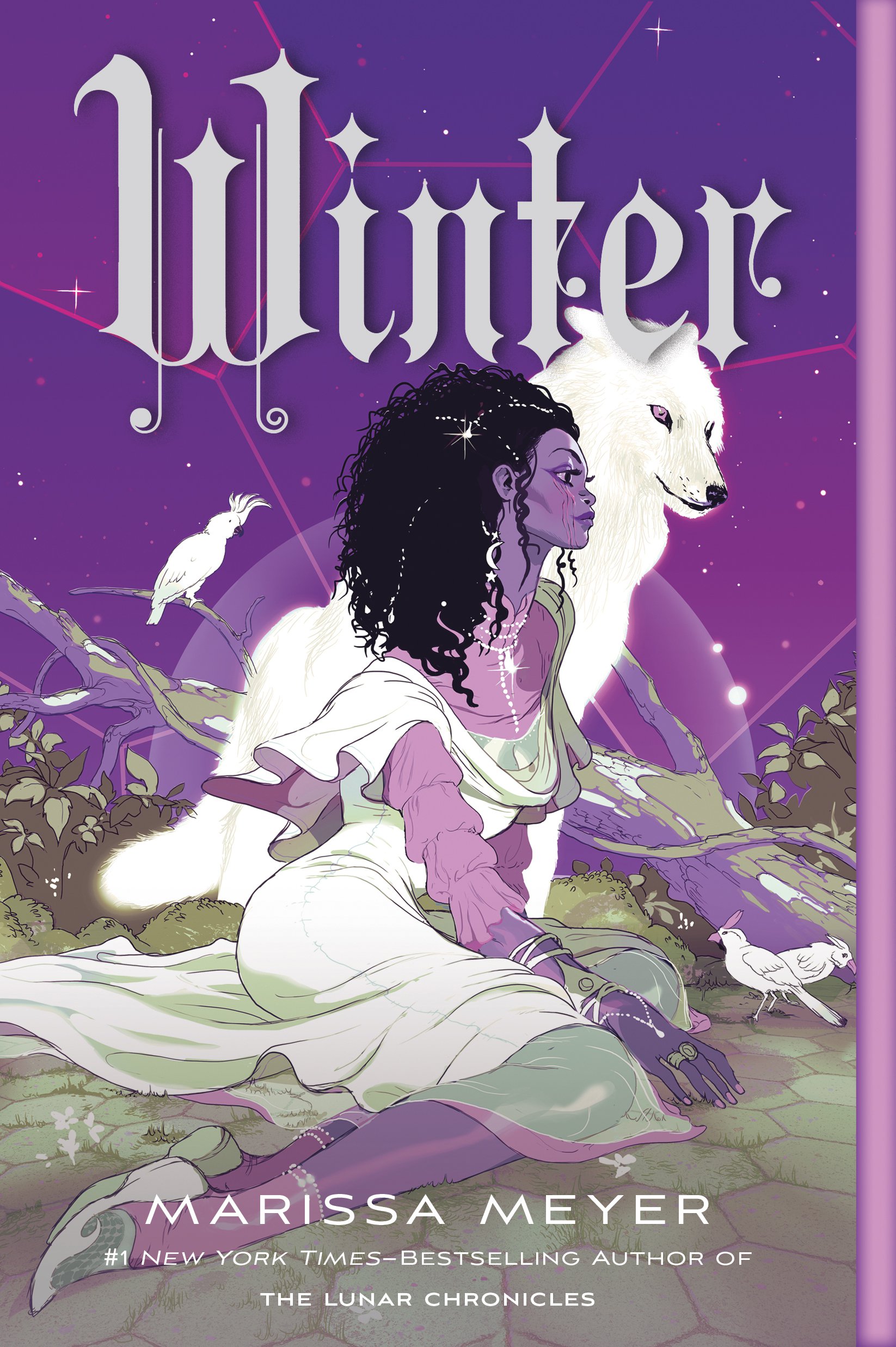 Cover: Oh I love it. The purple and white is incredible! The animals!!!! RYU!!!!!! This is great symbolism people! Winter herself, looks quite fabulous although again her neck looks quite exaggerated, but it might just be the angle it is at. I love her dress, 10/10 I would try it on if I could! I think this cover ties in really well with Cinder considering the colour scheme and it is a perfect way to tie up the series!
Inside: First of all, I love this scene. It is one of my favourite dramatic moments of Winter and I love how it was staged. Winter looks FABULOUS, once again and she looks like she is really enjoying that kiss. Jacin looks INTENSE. The way he is looming over her and the hand on her waist contrasted against the one holding the ladder, soft vs. hard, it is really beautiful. I can't say I like long hair on a guy, I don't, but hey it works for Jacin!
---
Overall, I do really like the new covers and I am 100% tempted to buy them even though I know I shouldn't. I mean I already own the series in paperback and I would never dare replace them for something else! Perhaps if I find them for cheap one day I might purchase them used, who knows!?
I would love to hear your thoughts on these new covers? Did you like them? Love them? or were they so-so? Or god-awful? Can't wait to read all your thoughts!
Happy reading!
~ Rendz