Greetings readers!
Well here I am wrapping up the month rather early because I am leaving for vacation! I am headed to El Salvador for the next two weeks and I couldn't be more excited! I haven't been back in a very long time, so this is a very important trip! I promise to share some nature-y pictures when I get back and if you follow me on Instagram (@readingwithrendz) you will probably see some story updates!
I am pretty sure I don't have that much to wrap-up this month, June flew by. But I do have some exciting things to share!
What Rendz Read (officially)
Spin the Dawn by Elizabeth Lim
I absolutely loved this book! I buddy read it with Mandy and it was our first mutually enjoyed book! My Full Review
The Storm Crow by Kalyn Josephson
I LOVED this book! It has a great magic system and the characters are amazing! My Full Review
Stripped by Zoey Castille
This was a surprising read and so out of my comfort zone. I have a whole post planned for this, so stay tuned!
The Penderwicks: A Summer Tale of Four Sisters, Two Rabbits and a Very Interesting Boy
The Penderwicks on Gardam Street
The Penderwicks at Point Mouette
This was a very spontaneous reread but I still loved them all!!
The Haul
Purchased:
Jade City by Fonda Lee
Raincoast Books:
The Merciful Crow by Margaret Owen
The Storm Crow by Kalyn Josephson
Heart, Strings, and other Breakable Things by Jacqueline Firkins
The Girl the Sea Gave Back by Adrienne Young
The Grace Year by Kim Ligget
Good Luck Girls by Charlotte Nicole Davis
Hachette:
The Rage of Dragons by Evan Winter
Penguin Teen CA:
Bid My Soul Farewell by Beth Revis
Grave Maidens by Kelly Coon
Posts from Last Month
Only one post, but it was super fun to write!
Reviews You Might've Missed
The Grief Keeper 

Other Going-Ons
I Attended the Raincoast Books Preview Event
It was short, sweet, to the point and while I didn't love the books I got in my goodie bag, I did get some Marissa Meyer swag which was a plus!!!! Plus the books they have coming out sound incredible!! I cannot wait to read them!
I Went to the Raptors Victory Parade
Being the huge bandwagoner that I was the entirety of the post-season of the NBA. I stayed up to watch the Toronto Raptors win and then went to their parade on Monday. I stood in the same spot for 4 hours to see them pass by within three minutes. My feet hurt, but I really enjoyed the atmosphere. There was an accident later on in the day, but I got home safely thankfully.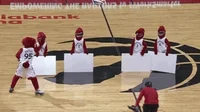 I reread my first ever vampire series
I don't want to get into too much because I am planning a special post for when I get back from vacay! This was really out of the blue, but it was such an interesting experience, I can't wait to tell you all about it in about two weeks!
My Spontaneous Penderwick Reread
I had no plans on reading them, but Sam Devotta from Penguin Teen CA emailed me to discuss the books since she recently binged the series. I couldn't help but get all giddy and nostalgic and I picked up the books instead of one of my ARCs! I only had time to get to the first 3 before my vacay, but those are my favourites so it's all gooood!
---
The Vacay TBR
I am taking Vikings to El Salvador! Yup! I am finally going to pick up Sky in the Deep by Adrienne Young! And to go along with it, I will also be taking The Girl the Sea Gave Back, it's companion novel!
The Rest of July TBR
I have quite a few ARCs to get to like Queen of Ruin and The Witching Hours. But I hope to also get to Laini Taylor's Strange the Dreamer duology or possible King of Scars by Leigh Bardugo like I had BEEN wanting to read since it came out! Who knows what the rest of July will have in store, we shall see!
---
Let me know what you think! What stood out for you this month? What books did you get? Do you have any vacation plans for the summer?
Happy reading!
~ Rendz