Greetings readers!
I would love to thank Scholastic Canada for sending me one of my most anticipated reads of the spring! I had the lovely opportunity to buddy read this book with a friend on bookstagram @Faris_books, with whom I had lovely conversations with about this novel.
Also can we congratulate me for actually putting an ARC review out before the book is published. I feeeeel accomplished!
The Candle and the Flame by Nafiza Azad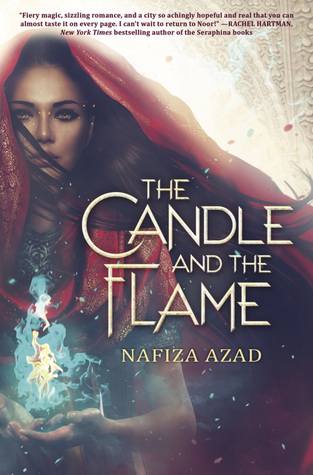 Pub Date: May 14th, 2019
Publisher: Scholastic Inc.
Price: $24.99
Goodreads
Fatima lives in the city of Noor, a thriving stop along the Silk Road. There the music of myriad languages fills the air, and people of all faiths weave their lives together. However, the city bears scars of its recent past, when the chaotic tribe of Shayateen djinn slaughtered its entire population — except for Fatima and two other humans. Now ruled by a new maharajah, Noor is protected from the Shayateen by the Ifrit, djinn of order and reason, and by their commander, Zulfikar.

But when one of the most potent of the Ifrit dies, Fatima is changed in ways she cannot fathom, ways that scare even those who love her. Oud in hand, Fatima is drawn into the intrigues of the maharajah and his sister, the affairs of Zulfikar and the djinn, and the dangers of a magical battlefield.

Nafiza Azad weaves an immersive tale of magic and the importance of names; fiercely independent women; and, perhaps most importantly, the work for harmony within a city of a thousand cultures and cadences.
---
Buy It!
---
What I Liked
Characters
FIRST OFF CAN I SAY THAT THERE WERE SO MANY POWERFUL LADIES
AHH I'M GONNA RAVE FOR A BIT
Fatima. Okay. I feel like she is a little tricky to talk about for reasons, but I did enjoy her growth and journey very much. It was a little jarring after the first 100 pages because of said *reasons* but it was all really quite interesting. There was a very important change to her that I really enjoyed seeing unravel despite the jarring sense that I had when it first happened. Overall, I did love Fatima's character. Her strength, her resolution, her experience with grief and learning to embrace the changes of her life and circumstances made her such a remarkable character.
Bhavya…I didn't know exactly what to think of her at first but her amazing transformation towards the end there. I WAS LEFT WITH MY JAW ON THE FLOOR. My love for her was completely cemented in those chapters. WOW.
Sunaina……….mmmmm I had trouble with her. To be honest she was not one of my faves for a lot of reasons and I tried very hard to ~~empathize~~ but we reconciled and I really enjoyed her growth throughout the book too!
The Maharani…a boss. A boss. A GODDESS. *snaps fingers three times*
The Alif sisters…they were so much fun! Absolutely incredible and dynamic, the life that they added to the story, the heart and soul that they put in was so much fun and warm and incredible.
Zulfikar was also pretty amazing. I loved his inner wars against himself and his duties. His self-doubt in juxtaposition with his self-assertion. I really enjoyed watching him grow alongside Fatima and the way he had to maneuver between the Ifrit world and the human world.
And shout out to the Maharaja for being the softest of all Soft Boys™.
The Magic
I loved the characterizations of the djinn. I loved the exploration of the different species. The justifications behind their actions and the histories that they share with the humans and other djinni. I loved their magic and powers they wielded. I thought the Naming gift was the most interesting of them all! It was just so cool how its versatility was described and the power that names have in this story!
The World
Just set on the outskirts of the silk road. There was a lot of cultural expression and lots and lots of food descriptions. There were so many languages, religions and cultures included even if we only got glimpses of them here and there. I am so thankful for the glossary, it really helped keep me in check. It just made the experience all the more richer and much more tangible for me. And now I know a few new words in another language and as a language student that pleases me immensely XD
The Political Intrigue
Quite, quite, quite interesting. It really was a highlight to this story. The nail biting bits toward the end there really had me on the edge of my seat. As mentioned, the powerful ladies of the novel really stepped it up and came out to slay in this game of politics played by men. AND I MEAN IT WHEN I SAY THAT THEY SLAYED.
The writing was quite poetic.
It was highly enjoyable, easy to understand and overall beautiful! At first I wasn't quite sure if writing this novel in 3rd person was gonna fly with me, but I totally see why it worked in the end. THE INTENSITY IT CREATED!! *I almost teared out my hair* It kept up the suspense and Azad was able to dig deeper into more characters and the world.
The Romance
I thought it was sweet. Especially the end there. My heart.
The Questionable
I felt like certain things were a bit too convenient. Some events were predictable and there was not much of a shock while reading so I was missing those AHHH moments. But then again I wouldn't exactly call this a high fantasy, so don't expect too much physical action although there was some included. It was more about the politics of it all and the inner struggles of the characters that we had to contend with.
---
Overall, I really enjoyed myself while reading this. I flew through it which is always a great sign. I learned a few things that I didn't know beforehand about Islam, seeing as it is such an important part of Fatima's being. I laughed, my heart clenched and found it to be an absolutely beautiful experience.
Rating:  4 / 5 Stars
Recommend: Absolutely! This is a new fresh feminist fantasy that I am sure many will DEVOUR!
Let me know what you think! Have you read this? Are you looking forward to reading this book? Are you more character-driven or plot-driven in your reading? 
Happy reading!
~ Rendz