Greetings readers!
You know those books where you just don't know exactly where to place yourself on the star scale? Those times when you are just not 100% certain of how to explain your thoughts? Well I am in that spot right now.
I buddy read this book with Angelica @ The Book Cover Girl so be sure to check her out for more thoughts in this book!
Wicked Saints by Emily A. Duncan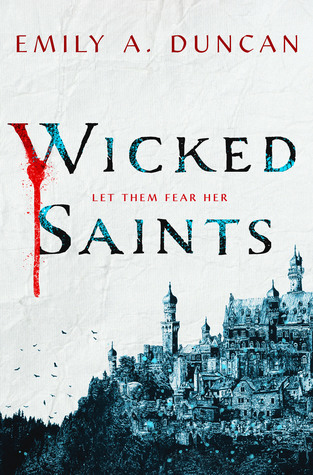 Pub Date: April 2nd, 2019
Publisher: Wednesday Books
Price: $24.99 CAD
Goodreads
A girl who can speak to gods must save her people without destroying herself.

A prince in danger must decide who to trust.

A boy with a monstrous secret waits in the wings.

Together, they must assassinate the king and stop the war.

In a centuries-long war where beauty and brutality meet, their three paths entwine in a shadowy world of spilled blood and mysterious saints, where a forbidden romance threatens to tip the scales between dark and light. Wicked Saints is the thrilling start to Emily A. Duncan's devastatingly Gothic Something Dark and Holy trilogy..
---
BUY IT
Amazon.ca | Chapters.Indigo.ca
---
I would like to send many thanks to Raincoast books who sent me an ARC of this book!
The Likes
Okay. So here is how it goes. What I really enjoyed about this book is that I was oddly engrossed each step of the way. And I say oddly because there were moments when nothing much was going on yet I was still interested in reading. I still wanted to know what was going on and what was going to happen next. I'm not quite sure what it was exactly that kept me intrigued, I think it has more to do with the plot than the characters…they are talked about further down in this post.
I also really enjoyed the divine intervention elements! I love it when the gods come out to play, you know I do. However this book had a lot–and I mean a lot–of saints. It was a little hard to keep track of them all, but I also really enjoyed the mini history snippets that at the beginning of every chapter. It made their participation in the story much more engrossing.
The plot in general was something I rather enjoyed. Although the characters were on the run for most of it there was some good action to be had. A little predictable here and there, but it was not too bad. Like I said. I enjoyed myself very much while reading it. Yet, it had a lot of build up *in certain points* and then the execution was a let down for me. Or at least it was just not as shocking as I thought it would be which was a bit of a downer.
The Questionable
The characters were just really not it for me. Let's start off with Nadya. She's the gods-chosen one. She is an angry bean. Snarky and stubborn. Really cared about her people. (Like she did not give a toot about what happened to the other kingdoms people) And I just did not feel connected to her. It's not that I didn't like her, it's just that I personally never found that connection. And since I am such a character driven person it was a bumpy ride.
Um Serefin was one I just did not really care for at all. I didn't take much interest in his chapters and I felt like there was a lot of history to unpack there so like it was a little tedious here and there.
Malachiasz was my fave of the three. Although he was very elusive. I liked the banter he kept up with Nadya and the way he challenged her to think. Was he OMGAMAZING? No. But he wasn't too shabby.
I also didn't like how quick thinking and smart these characters were because it just confused the hell out of me. Both Serefin and Nadya would hear pieces on information and instantly they were able to figure the enemies plans to a tee. Seriously? Like I'm still stuck on the first clue we got…???
The magic had its confusing moments too. Like can anyone do blood magic? Can you literally do anything with it? Why are some people more powerful than others? I just have a lot of questions. **ALSO HUGE CONTENT WARNING: Blood magic is done via cutting one's flesh…so be weary of that**
The romance was okay I guess. If it had been dragged out a little bit more and been a slow burn, I think I would have enjoyed it more. But like I ship 'em.
The ending scene was more confusing than anything. It was literally just a buzz of things happening and I turned into a human question mark. And because of that I found no AHHH moment. I wanted that unexpected betrayal…but I feel like it all got clouded and jumbled at the end there.
---
Overall, it wasn't bad, it just wasn't amazing. I didn't have that many expectations, but I was hoping it was going to be much more soul-crushing. Unfortunately, I am not soul-crushed. And yet, I am still interested in reading the next book! We shall see what happens in the future.
Rating: 3.75 / 5 stars
Recommend: Um. Sure. It's not horrible, but I was hoping for more.
Let me know what you think! Did you enjoy this one? Are you thinking of picking it up? What divine intervention books do you enjoy?
Happy reading!
~ Rendz