Greetings readers!
I figured today we would take a trip down memory lane. I've been feeling nostalgic these past couple of weeks. Thinking about all the books that got me into reading. As some of you may already know, reading was not my #1 choice of pass time as a young child, but now all I seem to want to do is read. How times have changed.
So I figured today I would talk about some of those books that started nudging me towards my reading journey! These are are not all, but certainly some of the most important ones.
The Picture Books That Started It All
Franklin Books authored by Paulette Bourgeois and illustrated by Brenda Clark
I devoured these when I was in kindergarten. Besides the fact that our librarian would read a Franklin book every time we had Library at school. Separately, my friends and I would poor over Franklin books on our own free time. Especially the ones we didn't recognize from the TV show (which, may I add, was also truly iconic.)
Everything and ANYTHING by Robert Munsch
AN ICON OF MY CHILDHOOD.
LIKE.
DO I EVEN HAVE TO EXPLAIN?
His books were just everything.
E V E R Y T H I N G.
Why haven't they been made into TV shows and like mini adaptations. Can you imagine?
Some of my personal favourites are Make-up Mess, Mortimor, Love You Forever, and of course THE PAPER BAG PRINCESS.
The MG Chapter Books
Junie B. Jones by Barbara Park
An Icon. Truly. I started reading Junie B. as a bet to myself. My mother was always picking of me for not reading more books, so out of pure spite, I decided to read the entire series. And y'all this is a 20+ chapter book series and you know what? Little Rendz did it!
I know there are some more recent editions that I didn't end up ever reading, but I did get through most of them, which makes me feel quite proud!
Magic Tree House by Mary Pope Osborne
Icons. Peek magical adventures. These truly fed my love for fantasy and adventure. I was always imagining myself going on these crazy adventures and it is the main reason I begged my dad for a tree house. To which he said no because we had no tree. To which I then ate and apple and buried a couple of seeds in hopes I would get a tree. Unfortunately, we moved before I ever got to see the seeds (not) grow.
But yes, these books. Amazing!
Accidentally series by Lisa Papademetriou
SO dramatic. 100/10 I would reread them today. First of all they are Candy Apple books and if you don't know what that is, please take the time to google this amazingly delicious collection of MG stories that are so DRAMATIC that they are frickin amazing. Tween Rendz was all over these books, given I didn't get to read them all but seriously these books are like a peek point in my reading evolution. (I used to be all about the contemporary *shocks you all*)
My First YA reads
Legend trilogy by Marie Lu
It came in a scholastic catalogue and just, I have so many memories of eagerly anticipating my teacher bringing the box to class and opening it up and calling us to grab our books. Thank you, Ms. Z!!
Now after so many years we are getting a fourth book and I just…I am going to be so emotional. This is one of the first series I picked up out of my own violation. I am gonna be a mess when it releases so I hope you are all prepared.
The Hunger Games by Suzanne Collins
Who didn't read these? Like? I started them after the movie announcement came out and my cousin happened to have read them and purchased her own copies. I picked them up and they literally changed my life. I had never read a book so fast, much less a series. Now whenever I look at them, I think about that time in my life. Those days where all I did was braid my hair and dream about practicing archery.
Yup.
I was that kid.
Graceling by Kristin Cashore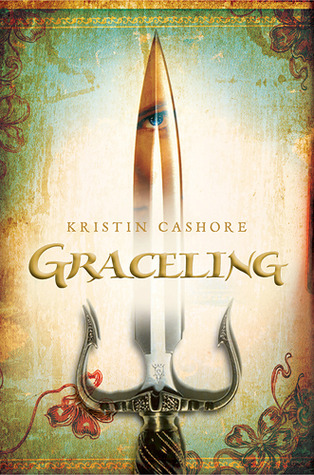 This was by recommendation of one of my classmates in the seventh grade, who was a much bigger reader then me at the time. She said the book had good romance, and at my tender age of twelve years I wanted all the swoons in my books! I think it might have been too much romance for me and when I read the sequel Fire I was *shocked*. I think if I were to reread the books now I would have a much deeper appreciation for them.
Now whenever I think about this book, I get all giddy. Seventh grade was a good year and this book definitely added to some goodness.
---
Let me know what you think! What books make you nostalgic? Do you associate certain times in your life with certain books? What is one childhood book you would want to read again for the first time?
Happy reading!
~ Rendz