Greetings readers!
Have you ever pictured yourself living in a fairy tale?
I have, yes. On many occasions.
I mean just look at how much Disney goodness there is being offered. Have you never once dreamed or perhaps for even one millisecond considered what your life would be like if you were swept away on a magical, swinging adventure?
I have, yes. On MANY occasions.
The next question of course is…how would you fair in a fairyland? Think of it as an inverse Enchanted….that is *sort of* what this book is like.
A Curse So Dark And Lonely by Brigid Kemmerer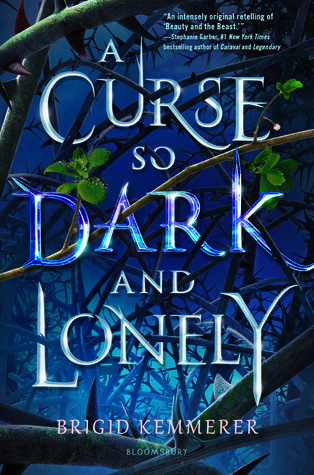 Publisher: Bloomsbury
Pub Date: Jan 29, 2019
Price: $24.99 CAD
ISBN: 9781681195087
Goodreads
In a lush, contemporary fantasy retelling of Beauty and the Beast, Brigid Kemmerer gives readers another compulsively readable romance perfect for fans of Marissa Meyer.

Fall in love, break the curse.

It once seemed so easy to Prince Rhen, the heir to Emberfall. Cursed by a powerful enchantress to repeat the autumn of his eighteenth year over and over, he knew he could be saved if a girl fell for him. But that was before he learned that at the end of each autumn, he would turn into a vicious beast hell-bent on destruction. That was before he destroyed his castle, his family, and every last shred of hope.

Nothing has ever been easy for Harper Lacy. With her father long gone, her mother dying, and her brother barely holding their family together while constantly underestimating her because of her cerebral palsy, she learned to be tough enough to survive. But when she tries to save someone else on the streets of Washington, DC, she's instead somehow sucked into Rhen's cursed world.

Break the curse, save the kingdom.

A prince? A monster? A curse? Harper doesn't know where she is or what to believe. But as she spends time with Rhen in this enchanted land, she begins to understand what's at stake. And as Rhen realizes Harper is not just another girl to charm, his hope comes flooding back. But powerful forces are standing against Emberfall . . . and it will take more than a broken curse to save Harper, Rhen, and his people from utter ruin.
---
BUY IT!
Chapters Indigo | Amazon | Book Depository | Barnes & Noble 
---
*Big thanks to Raincoast Books for sending me an ARC!*
What I Liked:
Characters:
I really enjoyed Harper. She was a very interesting character and her already unconventional life turned even more complicated when she got transported to Emberfall. I liked her spunk. She had this ferocity and she was made of pure determination. She was not perfect, makes a few fatal decisions, but overall I really enjoyed seeing her growth. She has Cerebral Palsy, which is something I've never read before and it was very important to her character. Her leg and ankle often caused her a lot of pain, but that didn't stop her from having a high-stakes adventure in this book. And trust me she runs a lot.
Grey was my next favourite character. I can't help it, I have a thing for the tall, dark, broody ones. He was definitely more background, but under all that steel is a lot of personality. And while the end of his story was just a weensy bit predictable, I am really excited to see if the author will do more with it.
Ok Rhen. Aka Beastie. I liked him and yet he was kind of just there. He was the arrogant, jerk type that had to learn how to be genuine, which is understandable because that is how the tale of B&tB goes. Yet…I don't know, he just didn't strike me as amazing at the end there. He does go through some crazy stuff and I don't blame him, but mmmmmmmmmmmmm I just…I don't know. I like him, but I don't think I would have fallen in love with him to save his kingdom….sorry.
The World:
The modern world is in this very little, which I am very thankful for. I can only take so much Urban fantasy at once (I'm a hypocrite for *reasons*), but I did enjoy the fantasy land. I especially loved the Disi joke *You'll have to read it to get it. I mean Emberfall was pretty generic and it didn't have anything I could pick out that made it truly unique, but it had good people to entertain the reader.
I especially enjoyed the quirks that the modern characters had to face in Emberfall, and the way that they explained their mannerisms.
It Stayed True to the Tale:
It's at its core Beauty and the Beast only with a beast much more hostile and dangerous and an Enchantress that is not so nice and lots and lots of blood. This book is definitely more bloody than the Disney version. And since we are comparing to Disney there is no Gaston. Which I'm okay with.
The Romance is Slow Burn:
Because it has to be hello. The ending actually quite surprised me because I thought it would have held a different kind of declaration, but it was still cute. Not gonna lie though, there was some triangular action going on near the beginning with tensions between Grey and Harper and I was no, no, this cannot be. Rhen's the Beast, he's gonna get the girl, stick to the script!! But I actually ended up liking how this tension was handled.
Plus it added drama hehehe
What I Found Questionable (Not necessarily unlikable)
The Villain was really not explored enough. I mean she was vicious!!!!, but I would have liked more depth to her. And because of that lacking information, I really didn't get the magic that was present–although very minimal, but it had an important history.
The Ending was not an ending because it sets up for a companion novel. It does a really good job of keeping the intrigue alive, but the characters' stories were left far from finished, I think.
It's got some cheesy lines, like those fantasy kingdom creeds that I sometimes can't take seriously but okay, I'll let them slide.
The Math confuzzled me. So Rhen has been through 328 seasons (I actually don't remember if that is the right number, but somewhere there) and each season lasts up to 3 months, but some seasons are cut short and yet only 5 years have actually passed? Something here smells fishy. Like can a season last a day? I didn't really get how this was possible. (I know I'm focusing on such little things, but still.)
AND I'VE SAID IT BEFORE I'LL SAY IT AGAIN.
You're gonna tell me that Harper gets:
A) Kidnapped and Taken to a magical land,
B) Locked away in a castle with a broody, arrogant Prince
C) Is told that the kingdom is cursed,
D) Has to fall in love with Prince-y to break the enchantment,
E) Later finds out that Prince-y actually turns into the beast that terrorizes that land
AND SHE DOESN'T ONCE REALIZE SHE IS IN A BEAUTY AND THE BEAST LIKE TALE???
Sounds fake to me. But okay.
---
Overall, I enjoyed this book. For being almost 500 pages long (it honestly could have been shorter), I flew through it, which I am super proud of! I am really looking forward to the companion novel because I have a big feeling it is gonna follow Grey (and I love Grey!!) and I am really curious as to what he is going to get himself into!
Rating: 3.85…heck, I'll give it the 4 / 5 stars!
Recommend: A great retelling for those who like to stick to stories they know and love!
Let me know what you think! Have you read this? Are you looking forward to reading it? What are your favour B&tB retellings? What fairy-tale/legend would you love to read about?
Happy reading!
~ Rendz