Greetings readers!
I am so happy to announce that Roshani Chokshi's new book, The Gilded Wolves is out today!!!
This book was pitched as "National Treasure but make it HOT!" and honestly…what more could you ask for! I'm sure many of you out there have heard about it and are running to get your copies! I am waiting for my hold to come in from the library…but I have a feeling that I might be taking a trip to the bookstore before hand because I seriously cannot wait to read this!
Roshani is a wordsmith! She can charm the socks off me and I absolutely adore her debut The Star-Touched Queen! I have yet to read A Crown of Wishes and Aru Shah, but I am super excited for them all.
I am sure that this book will have just as much charm, snark, and BANTER (and you guys know how much I LOVE banter!!!)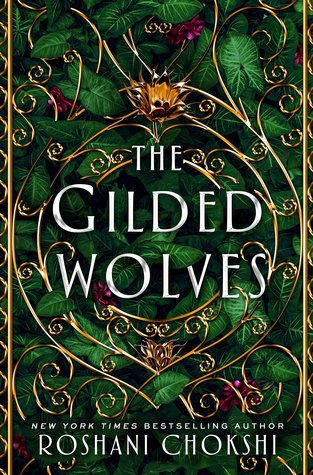 Publisher: Wednesday Books
Pub Date: Jan 15, 2019
Price: $24.99 CAD
ISBN: 9781250144546
Goodreads
Set in a darkly glamorous world, The Gilded Wolves is full of mystery, decadence, and dangerous but thrilling adventure.

Paris, 1889: The world is on the cusp of industry and power, and the Exposition Universelle has breathed new life into the streets and dredged up ancient secrets. In this city, no one keeps tabs on secrets better than treasure-hunter and wealthy hotelier, Séverin Montagnet-Alarie. But when the all-powerful society, the Order of Babel, seeks him out for help, Séverin is offered a treasure that he never imagined: his true inheritance.

To find the ancient artifact the Order seeks, Séverin will need help from a band of experts: An engineer with a debt to pay. A historian who can't yet go home. A dancer with a sinister past. And a brother in all but blood, who might care too much.

Together, they'll have to use their wits and knowledge to hunt the artifact through the dark and glittering heart of Paris. What they find might change the world, but only if they can stay alive.
BUY IT!!
What Am I Most Excited About, You Ask!?
THE CHARACTERS
Book crews are the Thing now and I am 11/10 down for them all!!!!!
Weeks before the release day, Roshani was slowly revealing all the main characters from this book on several social media sites.
TODAY I WILL REVEAL MY THOUGHTS ON THEM ALL, BECAUSE THAT IS WHAT I DO!
For those of you wondering where you can find Roshani's thread of thoughts, here is the link below!
https://twitter.com/Roshani_Chokshi/status/1072168027167358976
ENRIQUE
A "nerdy Spanish-Filipino historian whose decision making is v food-centric."
He reads!!!!!!!!!!!!!!!!!!!!!!!!!!!!!!!!!!!!!!!!!!! And I mean FOOD.
Automatically a cutie!
TRISTAN
I won't lie….I am both frightened and intrigued at the thought of the tarantula character. And Tristan is a gardener, a work I will never be capable of doing!
HYPNOS
Rosh loves him, but he is terrible???? Sounds oh so intriguing!!! Look at that literal sparkling champagne!
ZOFIA
I love a girl who loves FIRE!!! I am very excited to see what science-y things my girl Zo has up her sleeve!
LAILA
Dubbed "Mom Friend"….I am the mom friend so I hope that I love her. I mean look at her. She already looks so fabulous!!!
SÉVERIN
I mean….just…."Nicholas Cage in National Treasure but make him sexy"
Goal achieved. Looking forward to meeting him *coughs*
These gorgeous character cards were all designed by Nicole Deal (@NicoleDealArt), whom you should definitely check out!
---
I hope you are all exciting for the release of The Gilded Wolves! I know I am and I cannot wait to get my hands on a copy soon!!!!
Let me know what you think! Have you read TGW? What did you think? Are you getting a copy today/tomorrow/soon? What character seems the most intriguing to you?
Happy reading!
~ Rendz
---