Greetings readers!
You know when you find a gem? You find it when you least expect. When you are ready to trudge through a book (because of an ongoing book slump), but instead find yourself immersed in a story you didn't think could pull you in. That is a gem.
The Demon Race by Alexandria Warwick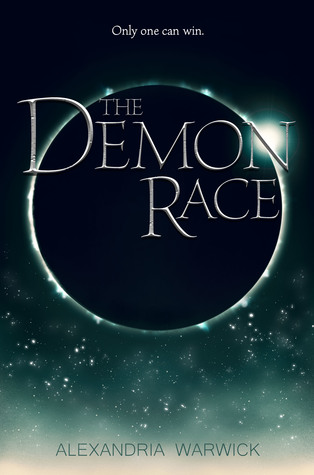 Publisher: Wolf Publishing
Pub Date: Sept 18th, 2018
Price: $14.99 CAD (ppb), $4.99 CAD (Kindle)
ISBN: 9780692068038
BUY IT!!: Amazon
Hidalgo meets An Ember in the Ashes in this Middle Eastern-inspired YA fantasy debut.

A race across the desert.

An unimaginable prize.

It occurs once every thousand years: the Demon Race. A test of will and strength, it is a race across the Saraj, a fight for the prize of a lifetime. And it is the key to Namali Hafshar's freedom.

When shy, seventeen-year-old Namali learns of her arranged marriage, she flees home and enters the Demon Race for the chance to change her fate. But to compete, she must cross the Saraj on a daeva, a shadow demon that desires its own reward: to infect her soul with darkness.

Namali soon learns the desert holds more dangers than meets the eye. The only person she can trust is Sameen, a kind competitor seeking his own destiny. As her affection for him grows, however, so too does the darkness in her heart.

In this race of men and demons, only one can win. But the price of winning might be more than Namali is willing to pay.
---
*I was provided a review copy by the author, which does not affect my opinion in any way!*
This was such a surprise read. I will be honest, I expected a really generic fantasy. I've read lots of Dangerous Game books, so I felt like I could pin this one easily. And boy was I wrong, wrong, wrong. This book is many things, but above all things it is DEEP. Like it hits you in the soul and you hurt.
What I Liked:
Characters:
Namali: Wow. Can I just say that I love stories where the heroine does not start off snarky or witty or brave or fearless, but finds the courage within herself to chase her dreams and break out of the comfort zone she has been caged in. Do you know how much I love those stories? I adore them and this was definitely one to remember. Namali was incredible. I absolutely loved her growth from a meek, scared girl to a girl willing to take risk after risk, put herself first after years of pushing herself back. She is not perfect, and she makes dumb mistakes and says rude things and does rude things, but that makes her even more interesting. More relatable. Her journey to self-discovery was just wonderful, like I wish I could be half as brave as her to find out who I am.
Sameen: Sweet, sweet, Sameen. The charmer and the noble companion. His growth alongside Namali's was lovely. He never overshadowed her or undermined her. I mean he said man-things, but he learned about how his actions had consequences and that the lives of men and women were starkly different experiences. I loved that he promised to try harder, to fight harder for a better world. And his loyalty. I C.A.N.N.O.T. *cries*
Other characters…this book is all about grey characters. No one is truly good or truly evil, it's the way the character makes decisions and reacts to certain situations that paints them in all these shades of grey. The Merchant was honestly a character that intrigued me and scared me. I won't say much, but wow.
The Writing:
It was incredibly atmospheric. Warwick likes to play a lot with fancy descriptions and she uses those adjectives, people. I thought the style was beautiful, it added a much needed softness to this rather dangerous and emotional journey. It enriched the story by using such wonderful phrases during the deepest of despairs. Sounds like I'm talking too much. Okay, the writing is just spot on, alright.
The World:
It's a desert tale. You can't get through the first chapter without already feeling the grittiness of the sand everywhere on your body. Desert settings enchant me. I think it is mainly because I could never live the desert life. Heat. Sand. Barren land. No water. No green. I would lose my mind. But for the plot of this story the desert worked really well.
This world also had a lot of restrictions on females. They were the lesser sex (Not too far from the world we are currently living in *snorts*) So you know that this had feminist themes. Namali lets us know from page one that she is tired of being tied to man's whim and wants her freedom. And I loved the quote where one female character said that women have to fight twice as hard, to get half of what they want. That hit home with its trueness. But my girl fights and the world is brutal to her, but she fights.
The Action/Intensity:
Present. Present. Present. There was so much going on, these poor characters could not catch a break. I liked the fast pace, I liked the high stakes. It kept me on my toes and I was always intrigued to get back into reading, which is a very good sign. The twists! The revelations! WHAT!!!! There was some kind of magic which I really liked and the story of the deities in this world was 10/10. I have said this before and I'll say it again, when the gods come out to play, things get interesting.
I Cried:
Yes. I did. I thought I would be able to keep it in, but I just could not. The story explores a lot about of themes. One being the "never enough" and the dynamics of a father-daughter relationship. This hit home. Those final scenes with Namali's interactions with her father, I was hurttttinnnnggggggg. Throughout the story, I became so connected to Namali that I just could not help it and shed some tears with her. I felt her sadness. I felt her rage. I felt her wanderlust. I was just so connected to her. It was so so so so well done. Like wow.
Romance:
I shipped it to the shippiest of ships. And they don't even kiss. Which there are reasons for, but like I was soooooooo invested. Like can someone find me a Sameen who will love, cherish, honour and respect me like he does Namali. Thank you.
What I Disliked:
One thing…the action could get a little to repetitive. There were some things that I could have done without and just gotten straight to the point, but no we had to detour.
---
Overall, I really loved this book. It surprised me in so many ways and I savoured every bit of it. IT MADE ME SHED TEARS and that is always a good sign. It was a fantasy with an adventurous journey tied to a very emotional, self-discovery narrative. It keeps you on your toes and pulls on every heart-string. It was amazing.
Rating: 4.5 / 5 Stars
Recommend: YEAS
Let me know what you think! Have you read this? What was the last book that made you cry?  What self-discovery tales do you love?
Happy reading!
~ Rendz