Greetings readers!
This post is coming to you today from a blogger who is currently dressed in week old pyjamas and hair that looks like a wasps nest and who procrastinating instead of writing a French assignment by being here.
Well hi.
This has been a month. For Real-life Rendz it has been a month. I mean it wasn't bad, I'm just so tired and to be honest it hasn't been my best blogging month. My stats have been getting lower since I'm posting less frequently and I have had a low track of interaction with other bloggers. The one thing to blame: school. It's always to blame. It's just….I'm so tired. I could be more tired and eventually I will be getting way too tired, but it is Thanksgiving weekend in Canada so I will be taking this time to relax and do some catching up!
Anyways…you are here for bookish news and I am going to get into that right now.
Reading wasn't so bad. I have been optimizing my time on commutes to get through books, which even though it sometimes to crowded, I get in some good reading time!
What Rendz Read
Confessions of a Teenage Leper by Ashley Little
This was part of a blog tour in partner with Penguin Teen CA. This book was a lot of fun. It's not one of my typical kinds of reads, which is surprising considering how much I liked it. If you are a fan of unlikable MCs, I definitely recommend! My Full Review!
Children of the Bloodlands by S.M. Beiko
This was a really fun read. It's the sequel to Scion of the Fox which I read last year. I thought this one was a lot better than book 1, so I am definitely excited to get to book 3!!! My Full Review!
Wildcard by Marie Lu
One of my most anticipated sequels of the year! I had a lot of fun with it, though I did have some *thoughts* about the ending ending. My Full Review!
The Demon Race by Alexandria Warwick
This was such a surprising read. I had such a good time with it! Review to come!
And while I did not finish it, I started reading Le Voleur de Foudre, which is French for The Lighting Thief. That's right, I'm jumping on this PJ train, while simultaneously trying to advance my French :)! It's going to be a slowwww process but so far I am finding it quite entertaining!
The Haul
I was lucky enough to get some publisher love this month, courtesy of Simon & Schuster CA and Raincoast Books!
Charlie Hernandez and the League of Shadows by Ryan Calejo
The Wren Hunt by Mary Watson
Unclaimed Baggage by Jen Doll
Grim Lovelies by Megan Shepherd
I didn't buy anything (but I really want to…) Since this winter is going to the be the season of all releases and I couldn't be more ready!!!
---
Featured Posts of the Month!
I celebrated two whole years on WordPress and I wrote a nice big Thank You post for all my supporters and that means all of YOU!
Other Going-Ons
Narnia is Going to Netflix
You best know that I flipped my sh*t when I saw the news. Read the EW article.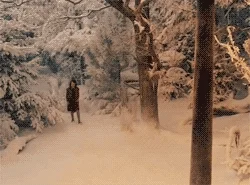 Kim's Convenience
Watch it. It's A) Hilarious B) Set in Toronto C) Set in Toronto, Ontario. D) Set in Toronto, Ontario, CANADA **Patriotic Rendz take over mwahahahas (in Canadian). Seriously though, it is an amazing show and I cannot wait for season 3!
Thanksgiving and I am thankful for all of you!
Yes we celebrate it in October, when it is supposed to be celebrated. Just kidding, it's a colonial holiday and thus will always hold the dark narrative even though we need to be grateful…so it doesn't really matter when you celebrate it. BUT STILL I am totally thankful to be a part of this wonderful blogging community and to have made such wonderful friends over these past two years! Thank you!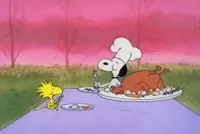 I'm Going to the Ballet!
It has been a life long dream of mine to go to an actual ballet. I mean I watched and re-watched episodes of Angelina Ballerina throughout my entire childhood. My mom indulged me once and put me in a ballet class one summer, which was fun (I was 7 in a room with 4-5 years old so I had the best understanding/coordination of the moves *feels smug*) ANYWAYS, I have been begging my sisters to go to see the Nutcracker ballet in December since A) We all had past love for  ballet B) It's an iconic show C) Watching Barbie & the Nutcracker will only give us so much feels.
This year they said yes and we are going!!! I am sooo excited. This will be my first time at a real ballet so you best know that I will me an anxious and excited mess!
It's ambitious and it probably won't get done…
I am going to try my best to participate in #Spooktober or The Nightmare Before Book Princess Reviews Read-a-thon. There are 15 prompts but I am going to be completely honest with you…I'm hoping to at least make it to five! Possibly get a bingo? Well anyways, I am excited to get my reading on this fall. I have some spooky books lined up and some not so spooky ones just because I have some ARCs that I need to get through!
The Witching Hours: The Vampire Knife by Jack Henseleit – Halloween Town
Lulu the Broadway Mouse by Jenna Gavigan – Dr. Frankenstein
Charlie Hernandez and the League of Shadsow by Ryan Calejo –  "What's This"
The Light Between Worlds by Laura E. Weymouth – "Jack's Lament"
Certain Dark Things by Silvia Moreno-Garcia – The Citizens 
The Sisters of Winter Wood by Rena Rossner – Mayor of Halloween Town 
Grim Lovelies by Megan Shepherd – Zero (85% sure this book has ghosts?)
The Magic of Melwick Orchard by Rebecca Caprara – Santa Claus
This is all I can fit into this month. Seeing as we are already more than a week in, I don't know how far I'll get but I will TRY!!! (Plus TV is going to be really distracting with all the great Halloween movies that are going to be on!)
---
Let me know what you think? What was your favourite read from this month? What was your favourite new release? What books are you looking forward to this month? Are you happy that it is finally spooky season?
Happy reading!
~ Rendz