Greetings readers!
I feel like it has been forever since I wrote about an author event? Maybe it's because I haven't been to one in ages!! Well, I love author events. Even though I get a little nervous when I have to actually meet the actual authors!
I decided to attend the Morgan Matson event in Toronto for three reasons.
1) My close friend has read one of Matson's books before, so I decided to invite her so she could meet the author! (Plus she goes to events when I know the author, so it's only fair!)
2) The event was for Save the Date, which I just started. It sounds fun, cute and fluffy and I am in a very contemporary mood!
3) Morgan Matson is such a big name! And despite having never read any of her books, I couldn't pass up on this opportunity!
The Event & Discussion
The signing was held at Chapters Indigo at Yorkdale. The space is not huge, but my friend and I were able to find seats!!! There lots of people present, most of who had big stacks of books all by Morgan. As we sat and waited for the Morgan to show up, the Indigo employees played several rounds of trivia to win gift cards! Most of the questions revolved around Save the Date and since neither I nor my friend had read the book, we totally didn't win anything! XD
Finally, Morgan arrived and everyone cheered quite loudly. She was interviewed by a Canadian blogger Tiff @ MostlyYALit! Tiff was a great interviewer and asked Morgan really wonderful questions about her books and her writing process!
With regards to her books, Morgan spoke a lot about the characters and how important it is to craft them. Save the Date has major themes revolving family and experiencing change. She also loves writing about realistic friendships and that they come with their own little flaws and perfections. In Save the Date, she reflects upon the friends vs family battle and the jealousy that is sparked between the two groups when they are not getting enough attention!
Although, I haven't read any of her books yet, I am truly excited to see how she crafts these characters and relationships. Each book she writes is set in the same town, so for those Matsonverse fans out there, there are Easter eggs in every book that sort of connect them, which I find very cool!
With regards to her writing process, Matson talked about her satisfaction with standalones. She says that she loves a conclusive ending and that for her to write a series she would need to find the right story that was big enough to span more than one book! She went in-depth of how hard it was for her to write Save the Date. Most of her other books span a summer, a few months, but this book had only three days from beginning to end. She struggled with finding the right way to describe the time, but she is very thankful for her editors and writer friends that helped her through the process!
Her least favourite part of the writing process would be the moments of the middle of the book where everyone is just standing around and she needs to make decisions for them. Matson said she is so indecisive about everything, so writing a book about it seemed like a good idea. Her favourite part of the process, is when things finally start working after a couple drafts and the story is finally something she can look forward to!
The best writing advice she has ever been given is to finish something. (Advice I definitely need to heed) She said that when you finish something you can finally say you have done this before and you can therefore do it again. It doesn't have to be perfect, it just has to make it to the end! The advice that she would give prospective writers is to read critically and write and rewrite. She said the best way to learn this craft is to study it, and understand what makes a story compelling and entertaining.
Final Fun Fact: Morgan let us know that the cover models on the Since You've Been Gone cover are actually wearing her own clothes and accessories!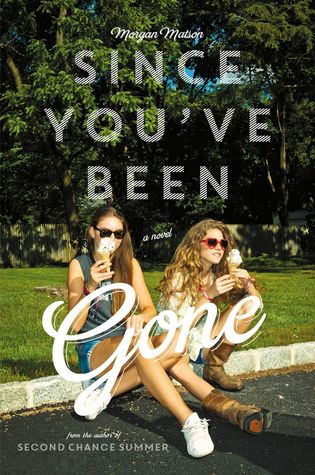 The Signing
This is the fun part, isn't it. Well for me it's the nerve-wracking part. Since I get quite anxious when I go to these events, I like to rehearse what I will say beforehand. Meanwhile, my friend kept asking me what she should say since she had never been to a signing before. I told her its best to talk about the book and soon enough we both had little speeches prepared when we got to her table.
When it was my turn up, I admitted that I haven't read any of her books, but that I was excited for her new release as I have a wedding this coming summer! Morgan was so sweet and she hoped that I would enjoy the book and the wedding. My speech lasted a total of what 45 seconds and I ran out of stuff to say, so naturally I stood in an awkward silence. Thankfully, she's a quick signer XD Then I got my picture taken with her and hopped off the little stand.
You'd think I would have made it through this signing without a fumble, right? Wrong.
As I turned to leave I felt like I was missing something, I had the book, but my left hand…it was empty, it had had something in it before.
Then I hear lots of people calling out my name, I turn and see the Indigo employee who snapped my picture holding out my phone and saying "Hun you forgot this! I don't think you'd want to lose it." I took it back in a flash and said my thanks, but I still turned very red since the employees, Morgan and some fans were all giggling and calling out my name.
Classic Rendz. Always has to look even just a little clumsy at a signing.
---
Overall, I really enjoyed the event! The discussion was great and I am honestly looking forward to going down a Matson spiral sometime soon. Plus, I have a new signed book to add to my collection! This one is actually double signed, since it is also a first signed edition!
I had lots of fun and Morgan Matson was so sweet and funny. I can't wait to continue reading Save the Date and share my thoughts with you all!
Let me know what you think! Have you read books by Morgan Matson? Which one is your favourite? Have you had the chance to meet her? What author would you like to meet someday?
Happy reading!
~ Rendz