Greetings readers!
It's that time of year! The only time when I truly and actually care about sports. (Besides the Olympics of course) It's the FIFA World Cup Tournament!
Soccer–or more correctly put–football runs in my family's veins. My grandfather was head coach to his city team back home and now my uncle is the team medic. My cousins play on little leagues for the city and even made it so far that they got to travel to Spain and compete there! I played soccer when I was young and joined a little league myself. We won the championship and it was quite fun, although I am bitter to this day that I never scored a single goal.
At this time of year, my family gathers around any TV we can find. We cheer and we yell (yes, at the T.V.). We celebrate and get upset, but mostly we just like to have fun watching and laughing together.
Even though my countries almost never make it to compete (Canada and El Salvador), I still have fun cheering on other Latin American countries, and if they all get eliminated, Spain. XD
SO I decided to come up with a tag to celebrate this tournament! Even if you're not that big of a sports fan, all the prompts have bookish themes so I'm sure you'll find some answers!!
Rules!
Link back to this post so I can read all your wonderful answers!
Answer the questions the best that you can!
Tag a few friends at the end to keep this tag going!
 Have fun!
Time for kick off!!!
Let the Flags Fly
Wave them high and proudly!!! Look at all the fun colours!!!
A Book from your World Cup  Competing Country/ the Country that You Want to Win!
As mentioned, my countries are not competing in the cup this year, but I do root for many of the Latinx countries!
The Storm Runner by J.C. Cervantes
While Mexico is next to the last team I usually root for…I am really excited for this book! I have always wanted to see Mayan mythology used in books and this sounds like an excellent start!
It's The Beautiful Game
Football! Soccer! Beautiful! Whatever you call it!
A book with a pretty cover / A book that features soccer
The Star-Touched Queen and A Crown of Wishes by Roshani Chokshi. Just Stunning!
Ferocious Fans
Face paint! Big signs! Lots of noise!
Name a fandom you love being a part of!
Oh wow. Really all of them. TLC. Narnia. SoC.
However, I'm going to give a big shout-out to the AEITA fandom. The Emberlings! This fandom is so funny and beautiful! The fanart is amazing and the people are just as fabulous! We could always use more people, so feel free to read the books, fall in love and join in on the fun!
Teamwork! Teamwork! Teamwork!
There is no way one person can win the game!
Name your Favourite Bookish Crew / A Book that has Co-Authors!
The Rampion crew for life! But also the Dregs. But also the Pevensies and Penderwicks. I'm part of too many clubs.
Ref Blows the Whistle
You either love him or you hate him.
Name a book/character that you mixed feelings towards!
The Wicked Deep by Shea Ernshaw
This book was really beautiful both inside and out. (Seriously have you seen the cover??) But I had major issues with some of the characters and how the romance played out. I was not in agreement with how it ended up being and I was just not for it. I still get a little angry when I think about it, otherwise it was a really good book!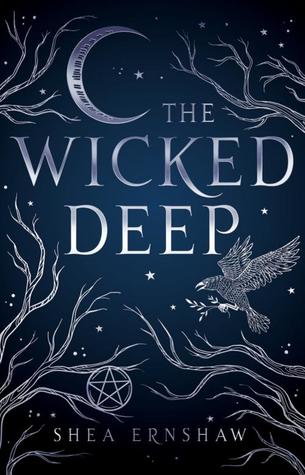 GGGGOOOAAAALLLL!!!!
Everyone loses their heads and starts yelling at the top of their lungs!
Name your last 5 star read!
A REAPER AT THE GATES by Sabaa Tahir. I am still screaming about it!!
The Gold Cup
It's what we play for.
The Most Coveted/Loved Book On Your Shelf
I have many many coveted books, I mean, my Narnia bind-up, TLC, my signed books…especially my signed Marie Lu books!!!! But the one book I have that is loved to the point that I bent it, doggy-eared it, left in little tags and highlighted it is….
The Penderwicks: A Summer Tale of Four Sisters, Two rabbits, and a Very Interesting Boy  by Jeanne Birdsall
I love this book that much.
I Tag…
Angelica @ The Book Cover Girl
Let me know what you think! This was my first original tag, did I do okay? Do you watch the World Cup? What team are you rooting for? What books do you think fit the prompts?
Happy reading!
~ Rendz