Greetings readers!
I hope you all had a lovely Mother's Day weekend, if it was Mother's Day wherever you are! Before jumping into my mini review, I wanted to take some time to address my ability to stick to a blog schedule. Apparently I suck. I mean, I already kind of knew I would fail at it, but so far I haven't been able to keep track of when I have to post.
Anyways, this post is actually coming to you on the right day! So that is a win at least. This is an adult fantasy that I posted about before and you can read a quick excerpt about it here!
Song of Blood and Stone by L. Penelope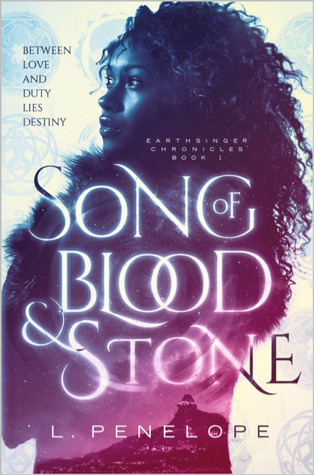 Pub Date: May 1st, 2018
Publisher: St. Martin's Press
Price: $34.99
ISBN: 1250148073
A treacherous, thrilling, epic fantasy about an outcast drawn into a war between two powerful rulers. 

Orphaned and alone, Jasminda lives in a land where cold whispers of invasion and war linger on the wind. Jasminda herself is an outcast in her homeland of Elsira, where her gift of Earthsong is feared. When ruthless soldiers seek refuge in her isolated cabin, they bring with them a captive–an injured spy who threatens to steal her heart.

Jack's mission behind enemy lines to prove that the Mantle between Elsira and Lagamiri is about to fall nearly cost him his life, but he is saved by the healing Song of a mysterious young woman. Now he must do whatever it takes to save Elsira and it's people from the True Father and he needs Jasminda's Earthsong to do it. They escape their ruthless captors and together they embark on a perilous journey to save Elsira and to uncover the secrets of The Queen Who Sleeps.

Thrust into a hostile society, Jasminda and Jack must rely on one another even as secrets jeopardize their bond. As an ancient evil gains power, Jasminda races to unlock a mystery that promises salvation.

The fates of two nations hang in the balance as Jasminda and Jack must choose between love and duty to fulfill their destinies and end the war.
*Before reading the novel, you should know that there is a scene of attempted rape, just for your awareness.*
The Likes:
Jasminda – OH I LOVED HER. She was fierce, but not perfect. She had the courage to stand up for herself, but never found it easy to muster up all that bravery. <–I love that.
Jack – Oh my son. I mean, I saw his "secret" from a mile away, but I really enjoyed his goofy character.
The magic – It had to do with singing and then there was the classic blood magic. I had so much fun reading the characters use it!
The ode to racial tensions. Penelope pays tribute to the historical and modern discrimination many black people face. The magical, black population is subjected to  violence and unfair laws under the light-skinned, non-magical population. It is a very poignant element to the story, but an important one nonetheless.
The romance!!! For a fanatsy, it gets a little heavy on the romance between Jack and Jasminda, an interracial couple who has to face the scrutiny of both their peoples. I loved them together and I do appreciate that theirs was a romance well developed and not instant!
The Plot: So I was confused at first with the direction of the story. The beginning of the book is wildly different from the end. Many things change and it almost felt like I read two different stories had there not been a middle. Still it was fast paced towards the end. There is a lot of political intrigue which I enjoyed and when you start bringing in gods and goddesses things get a lot more interesting!
The Dislikes:
Sometimes the romance did overshadow the bigger picture. Like I love you Jasminda and Jack, but like you had bigger problems to worry about.
That is really my only complaint because I felt like the bigger story got lost in their romantic tensions.
---
Overall, I really enjoyed this book! I thought it's premise was quite intriguing and I am very glad that the book delivered! If you are looking for some more diverse adult fantasy, I would definitely look to this series!
Rating: 4 / 5 stars
Recommend: YES! It is quite fun and magical!
Let me know what you think! Have you read this? Do you enjoy Adult fantasy? Have any recommendations? 
Happy reading!
~ Rendz