Greetings readers!
Ahhh Prom. A life altering moment in one's final year of high school, am I right? One's entire social riding depends on the attendance of this formal, right? The whole point of high school is this party, RIGHT?!
No. Honestly, no. Prom is just a good time, if it's your style. I guarantee it has no change in social status. That is…in my school it didn't. It was just a really fun party!
Then again prom is not for everyone!
Also, not going to lie. Every time I read the title of this book, "A Night to Remember" from High School Musical 3 instantly starts playing in my head!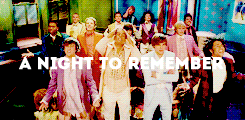 A Prom to Remember by Sandy Hall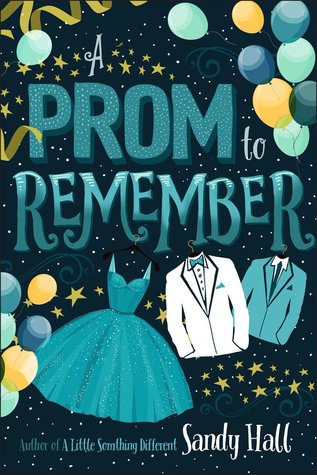 Publisher: Swoon Reads
Pub Date: April 24th, 2018
Price: $23.50 CAD
ISBN: 1250119146
Seven seniors, seven problems, one senior prom.

Cora: Head of the Prom Committee (and basically every other club in school). Has been dating Perfect Boyfriend Jamie™ for approximately forever, and has NO IDEA how to break up with him….

Paisley: Sarcastic feminist who wants nothing to do with prom. Has somehow managed to nominate her anxiety-ridden best friend for prom king…

Henry: Quiet ballplayer who hates social situations. Invited to prom by the most popular girl in school. SEND HELP!

Otis: Charming, popular, and one half of one of the cutest couples in his class. Doesn't know how to tell his boyfriend that he's not quite ready for a post-prom hotel room experience…

Lizzie: A little bit shy, and a lot excited to finally get out of her comfort zone and go to prom. With a boy. Whose name she doesn't know.

Cameron: Loner with two jobs and zero friends. Is so done with high school and this whole town: the only thing he still wants to do is meet the mysterious girl who's been leaving him notes…

Jacinta: Unnamed Nerd Girl #3. Determined to become the star of her own life, starting with prom. Now if only she could find a date….

A Prom to Remember, the newest book from Sandy Hall (author of A Little Something Different) is a funny and cinematic look at the biggest dance of every high schooler's life.
---
BUY IT!
Chapters-Indigo | Amazon | Barnes & Noble | Book Depository 
---
*Thank you, Raincoast Books for sending me an ARC. All opinions are my own*
Well, well. I picked this up after reading a couple of fantasy books. I felt like I needed to cleanse my pallet before jumping into even bigger worlds, so what better way to do that than a cute, fluffy contemporary? And this book truly lived up to that. It was cute. It was fluffy. I laughed a lot. And it has a sweet ending!
What I Liked:
Characters: Holy moly there were a lot of people to follow in this book! A total of 7! There were some I liked more than others, but overall, I really enjoyed most of the characters!
Jacinta: I have to start off with my fave. Wow, I just really related to her a lot. Especially when she would talk about her familia latina. I also really related to her struggle of seeing herself as someone worthy of being important and not just a supporter for other people in her life. She was funny, shy and I totally loved watching her grow from a quiet background noise character to the up front and center wonder woman!
Henry: SO SO adorable! I absolutely loved him. Henry here experiences a lot of anxiety and unlike Jacinta he does not want to draw any attention to himself! He prefers the quiet life despite being told he is missing out on so much fun. His experience in the novel is one of learning to not allow fear swallow you whole and that sometimes we need step out of our comfort zones. Yet it also communicates that it's just as cool to be alone and away from social situations as it is to be part of them.
Okay…now to the others.
I liked the other characters well enough. Otis was adorable and I loved reading from his POV. Paisley was also really funny. She had so much spunk and spark! Cameron's story line was pretty entertaining too! I really enjoyed reading not only about his secret romance, but his trepidation about his new family. Lizzie was also pretty cool, although she did not stick out to me. And then there was Cora, whose POV I enjoyed the least. All she really did was complain and I was just not up for that!
The Switching of POVs:
There are seven perspectives to follow in this story. And yes, you are right that is a lot. I am usually one who likes several POVs, but even I think seven is way too many. Yet, I found it to be okay with this one. Hall switches often and a lot of the characters interact mutually so their stories intertwine. Each character has a distinct voice and personality too, so I didn't find myself confusing people either, which was good.
The Romance:
How can I not talk about it? It was fluffy, it was cute. There were all kind of ships. Straight ships. Gay ships. Friendships. Otis and Luke were terribly adorable. My heart. And they were so funny too! Then there are other ships that I cannot talk about because spoilers, but it was all so fluffy. I know I'm not one for serious fluff, but when reading a book like this I don't expect much else!
The Humour:
I was literally laughing out loud. Usually when something funny happens in a book, I just kind of snicker. Like my laugh is more of a hiccup in my breathing, but with this book I was actually laughing. Like hahahaha was coming out of my mouth. Hall really knows how to add in a punch line and set up scene that you know will end up in some sort of crazyness. I absolutely loved it.
What I Disliked:
The Problem With Seven POVs:
The story eventually gets lost. At one point I put the book down for a couple of days. I didn't see the point anymore and I was seriously considering a DNF. While the switching might have been effortless and not too confusing, I was still left wondering where the build up was. It just fell flat to me. I decided to pull through and as I got closer to the end, I started to see the lines more clearly and their intersection was something I looked forward to reading. Basically what I want to say is that if you don't attach yourself to at least a couple of characters, you won't find this book to be too exciting.
This was really upsetting to me because I tried to get invested in the story, but I couldn't quite grasp the ultimate point until the very end. I was lucky I got so attached to Henry and Jacinta, otherwise I don't think I would have finished.
---
Overall, I ended up liking the story more than I thought. It was cute and funny. The characters do actually go to prom so at least that is delivered. It is a fast read, if you don't take a five day break like me XD. It has an excellent assortment of representation from people of colour to queer characters and more. But above all, it is really adorable. Like squishy heart adorable.
Rating: 3 / 5 stars 
Recommend: Yes! For my fluff lovers!
Let me know what you think! Did you enjoy this book? How many POVs is too many for you? Did you get to go to a prom? Did you like it?
Happy reading!
~ Rendz