Greetings readers!
I was in such a good reading track this past January that I read a lot faster than reviewing. Which doesn't happen too often, so I cherish these triumphant moments. During that time, I read this very dark tale and I'll be sharing with you a mini review just to sum up my thoughts and feelings.
Forest of a Thousand Lanterns by Julie C. Dao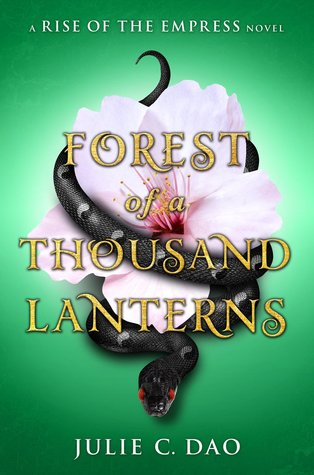 An East Asian fantasy reimagining of The Evil Queen legend about one peasant girl's quest to become Empress–and the darkness she must unleash to achieve her destiny.

Eighteen-year-old Xifeng is beautiful. The stars say she is destined for greatness, that she is meant to be Empress of Feng Lu. But only if she embraces the darkness within her. Growing up as a peasant in a forgotten village on the edge of the map, Xifeng longs to fulfill the destiny promised to her by her cruel aunt, the witch Guma, who has read the cards and seen glimmers of Xifeng's majestic future. But is the price of the throne too high?

Because in order to achieve greatness, she must spurn the young man who loves her and exploit the callous magic that runs through her veins–sorcery fueled by eating the hearts of the recently killed. For the god who has sent her on this journey will not be satisfied until his power is absolute.
This was so dark. Going in I knew it was going to be pretty rough, this is the origin story of the Evil Queen, after all. But man…. I really enjoyed this book, the world was lush and the characters were amazing. I loved the Asian mythology and culture that it was set in and it just wowowowow.
The Likes:
Xifeng: Girl you're kind of crazy, but I love you. I mean your twistiness is alarming, but hun I was rooting for you.
The Empress…my heart.
Myths, fate, destiny!!! IT'S ALL IN THE CARDS!
The World: Small villages, magical forests, deceptive kingdoms, what is not to love. It was lush (did I mention that already?) Simply stunning, I loved it.
Dear goodness the twistiness of this novel. It's a series of slaps. Left, right, left, right.
Julie made me waiiitttt. I knew from the get-go that Xifeng would turn up evil, but my-oh-my there were many times I doubted it and thought she was Snow White, when I knew that this was an Evil Queen origin story!!!
My goodness, there were some rather gruesome and bloody elements tucked in there. I literally gagged at one point *shivers*
The ending: dark, dark, darkkkk
The Dislikes:
*Does not take away from the novel* Emperor is a little B*tch™
I'm hoping that the sequel goes into a little more depth about the gods and their legends because I was just a tad confused.
It was put-downable. My attention was splotchy with it, especially when the characters were just travelling or it was endless days of just being in the palace.
Rating: 4 / 5 stars
Recommend: It is a fantastic debut, that can satisfy that dark fairy tale lover in you!
Let me know what you think! Have you read this? What did you think? What are some of your favourite dark fairy tales? Know of any other Evil Queen retellings?
Happy reading!
~ Rendz