Greetings readers!
So this year I promised to expand my genres, right!? Well the expansion continues, this is the second contemporary novel I have read in 2018 and I was really looking forward to it! So when the ARC showed up in the mail, I was excited to add it to my January TBR and continue my expansion streak! *Huzzah*
Broken Beautiful Hearts

by Kami Garcia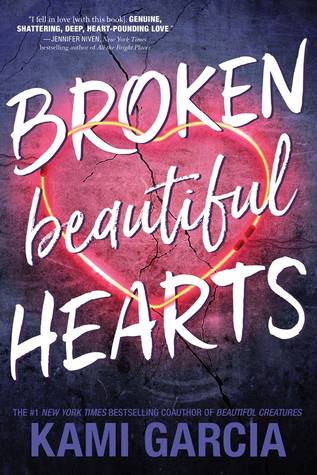 Before, Peyton was a star soccer player with the perfect boyfriend, Reed. Now, she has a torn knee ligament, a scholarship on the line, and a shattered sense of self. No one believes Reed pushed her, causing her injury, and Peyton just wants to leave the trauma behind. Living with her uncle and twin cousins in their small, football-obsessed town seems like a great escape plan.

There, Peyton meets Owen—high school classmate and local MMA fighter. Though Owen is charming and gentle, Peyton is determined to repress her growing attraction. But when her old and new life collide, Peyton must reclaim the truth of her past in order to save her future.
---
---
Buy It!
Indigo | Barnes & Noble | Amazon | Book Depository
---
---
*Thank you so much to Raincoast Books for sending me an early copy! This in no way affects the integrity of my review*
How can I start this, other than that I really enjoyed this novel. I lost a lot of sleeping time because I had my reading light on trying to flip the pages as silently as possible at two a.m. This book was heavy. Heavy, in that it was over 400 pages, but heavier than what one would expect from contemporary YA romance. It is more than the fluff and mush I was expecting. It had it's own fire and the feels come from beyond shipping the ship. It was soft and hardcore all wrapped in one.
What I Liked:
Characters:
Peyton: Most definitely not perfect, but I loved her. That doesn't mean I was not frustrated at times (many times) with her. In the beginning of the book, her dream of becoming the super-star soccer player is put at risk by a horrible "accident," taking her on a journey of self-discovery, self-destruction and rebuilding the strength to go on. She had it rough and her own stubbornness often kept her from finding solutions, thus leading to more trouble. Still, I loved her passion, her determination to get herself back on the field and to take the time to heal herself. (Even though she could be pessimistic about it…like…a lot…she still tried!)
The Twins: I'm a sucker for the "over protective brothers (in this case cousins)" cliché. I cannot help it, I love it. Christian and Cameron were sooooo adorable!!!!! My heart!!!!!!!!!!! They were the perfect comic relief and they had their own subplot which was dramatic and hilarious! I just loved them. They were foolish, mischievous and just awwwwww!
*That was just a paragraph of gush, I cannot help it.*
Owen: Our swoony love interest. Total heartthrob. Just a little brood and very, very 🔥🔥🔥. He had his tragic past which was really sad. Like I cried inside a little bit. He had his own mysteries and flaws, there were moments when I wanted to shake him because he was being incredibly stubborn too! He was complex and the situation he was in was a really hard one to handle. How far would you go to chase a dream if it means risking everything? Apparently, he was willing to go all the way and that would not have worked out in his favour!
The Setting:
I have a secret. I like cheesy, small town settings. Like the really small town, with the one high school where literally everyone knows each other. I have a thing for those. Perhaps its the sense of community, the feeling of the small world….or the fact that there is always so much drama and fluff is what really attracts me. So while I was reading this book, I was having the time of my life.
The Fluff:
There were so many cute moments! My face was literally a heart-eyes emoji. When I come to contemporary romance, I need the fluff. The swoons, the feels, the declarations of passion and the smooch factor needs to be spot on. Needless to say, Garcia really did do an amazing job with the romance. It's not exactly the slowest of slow burns, but Peyton plays a good game of "just friends." And we all know how well the "just friends" mission works out. *wags eyebrows* Maybe, it is a little insta-lovey, the book does span over a month, but it didn't feel like it.
The Hard Stuff:
This was definitely not just a fluff novel. This had a lot of deeper themes that Garcia explores. Coping with getting out of bad relationships, the effects of abuse and grief are really important in this novel. As mentioned, Peyton goes through a really rough time. She is run out of her home, she had a hard time making people believe her "accident" was not an accident, she lost a best friend and her dream was as broken as her shattered knee. Worst of all, she found that she could not even trust herself. This book has a lot to do with managing–or rather–finding a way to manage grief, being able to open up about things your scared of remembering and finding courage to speak and reach out.
I came this close to crying. *pinches fingers together* There was one part, I won't say which, that kind of just hit me in the gut. It was sad. It was really, really sad. I felt it in my heart, the twist, a downward pull like one of the butterflies fluttering around in there just stopped and weighed me down. Kami Garcia made me feel the pain the character was going through and I'd say that is a success on every level.
What I Disliked:
Not much really. The pacing could drag here and there. I can't claim lack of action because this isn't that kind of book, although there was MMA fighting so that definitely does count as action. It was also a tad tropey here and there. The mean, blonde b*tch who ruled the school was in this one. I think she didn't really need to be in the book, she was literally only present to stir background drama. Then there was the unspoken-of situation between Titan and Owen that was teased at but never developed, so I was simply left hanging.
---
Overall, I enjoyed myself immensely. I cannot strictly recall the last time I enjoyed a contemporary YA romance this much, but I sure did love this one. I could not put it down. This book is not short either, it is quite long, but I flew through it. This is more than fluff, it's a story that relates to many experiences of many people, including Kami Garcia herself. I beseech you to read the Author's Note at the end, it's incredibly important.
Rating: 4 / 5 Stars
Recommend?: Oh yes! It is more than it's fluff!!!!
Let me know what you think! Have you had the chance to read this? What are some of your favourite hard-hitting novels? Any other deep contemporary recommendations?
THIS BOOK COMES OUT FEBRUARY 6TH, BE SURE TO CHECK IT OUT!
Happy reading!
~ Rendz