Greetings readers!
It is that time of year again! When the scariest movies are on TV and the Halloween Town theme song is on endless repeat in my head! It's Halloween Season!!
I love Halloween. I loved dressing up as a kid (though I usually went as a witch or princess….one time as a cowgirl) But this is a great time for movies, even though personally I cannot do scary/thriller and I will never be able to do horror, I love kids Halloween movies! (The Kid in Rendz never died)!
Thank you so much to  Melting Pots and other Calamities for tagging me to do the Halloween Creatures Tag! Give my girl a visit and explore all the great posts, reviews and discussions she has going on! You're in for such a great treat!
---
I do love me some mythical and eccentric creatures so this seems like a really fun tag!
Rules for the tag:
 Follow the Categories
You Must Be Honest
You Must Answer All Questions to the Best of Your Ability
You Must Tag At Least 3 People
Have Fun!
Credit Would be Greatly Appreciated! (credit goes to: Anthony @ Keep Reading Forward)
Witches : A book or character that is magical:
The Chronicles of Narnia! The books that first introduced me to magic and never let me go!
Mummies : A book or character you can't wrap your mind around:
Jonas from the Falling Kingdoms by Morgan Rhodes
Like I don't hate him…but I also think he is a nuisance and needs to get his act together.
Vampires : A book, series, or author you can't live without:
Marissa Meyer and The Lunar Chronicles
I would be living an unfulfilled life had I not read this series. Marissa Meyer is my queen, she gave me everything I ever wanted. Who would I be if I never met my husband Carswell Thorne??? Answer: No one. I would living incomplete. Thank the stars for the existence of this amazing author and these incredible books!
Werewolves : A book best read in the middle of the night:
House of Ash by Hope Cook
This was a gothic and really dark read. Plus it gave me Monster House vibes which in my defense is kind of creepy movie to show kids (Oh Rendz, you soft, scardey cat)
Zombies : A book you picked up for the 2nd time/Continued after DNF'ing it:
The Penderwicks by Jeanne Birdsall
What a foolish creature I was. I first tried to read this book back when I hated reading so I understand why I dropped it after a few pages. Thankfully, intelligent 12 year-old Rendz picked it up again, fell in love and I'm still endlessly waiting on the fifth book!
Ghosts : A book you easily predicted a twist or ending:
Warcross by Marie Lu
I absolutely adored this book, but I have to say that I did see the twist that came at the end. Although, the reason why it happened still shocked me.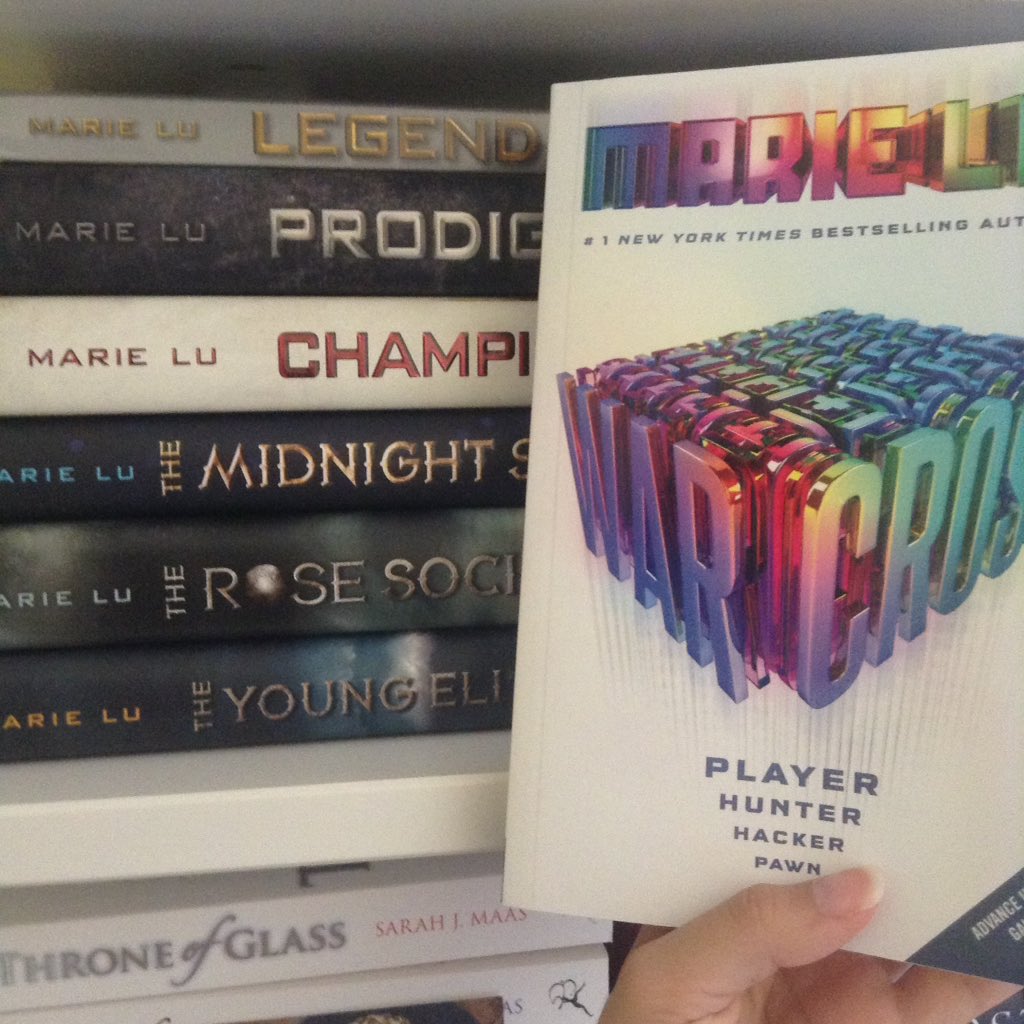 Frankenstein : A book that truly shocked you:
Champion by Marie Lu
I'm never going to get over that ending. I am and always will be broken because of that ending.
Skeletons : A book or character that chilled you to the bone:
The Commandant from An Ember in the Ashes Quartet by Sabaa Tahir
This lady is insanely frightening and I would never want to cross paths with her. She is crazy!
Ghouls : A book that left you hungry:
Heartless by Marissa Meyer
My mouth was literally salivating after the first couple of pages.
Goblins : A greedy character:
Kaz Brekker from Six of Crows by Leigh Bardugo
Dirty Hands wants it all and he knows exactly how he is going to get it.
Devil : A dark, evil character:
Levana from The Lunar Chronicles by Marissa Meyer
Hated her with all my guts. She is literally responsible for the death of thousands and feels exactly zero remorse.
Grim Reaper : A character you loved/hated that died:
Sorscha from Heir of Fire by Sarah J. Maas
Sorscha was the first character in that series I really related to and I absolutely hate that her time was cut so short. I hate that she is just brushed under the carpet and in the next installments of the series she is nothing but an after thought. If she were still alive, I would demand/petition/riot for a book solely on her and her adventures. But no, she's dead!
Scarecrow : A book or character that scares you:
Every horror book out there. Goodbye Mr. Stephen King.
The Monster Mash : Tag 3 or more people to do this tag:
That's all for me folks! Let me know what you think! What was your favourite Halloween costume ever? What is your favourite scary book/movie? (You know, so I can avoid it) What is your favourite Halloween creature?
Happy reading!
~ Rendz