Greetings readers!
August. What. A. Month.
I cannot even correctly recall the beginning of the month! It seems as if the end of July and beginning of August just fused together! So many things were going on, that before I realized it, it was mid-August.
Yikes!
I told myself this month was going to be full of awesome reading and slow on the book buying.
Yeah…that sooooooo did not happen! At all. I was supposed to be saving up for September because we all know that September is going to be huge with the releases. Thus, needing to save my money. But no. I didn't do that at all.
Wrap Up
Reading this month was okay, nothing really stood out to me. I had a couple okay reads, so I feel like it could have gone much better.
I'm Not Your Manic Pixie Dream Girl by Gretchen McNeil
This was a very cute contemporary read! Full of formulas and romance! My Mini Review
Bridges: A Daphne White Novel by Maria Murnane
This was the first Women's Fiction book I've read in a while and it turned out to be a very sweet and happy read! My Full Review
The Reader by Traci Chee
A fun fantasy read that I've been meaning to get to for a while! 3.75 / 5 Stars
Illuminae by Amie Kaufman & Jay Kristoff
This was a really fun and fast sci-fi read! I really enjoyed it! 4 / 5 Stars
House of Ash by Hope Cook
This was a very intriguing read, plus it's Candian YA! Woot! Woot! My Full Review
The Night Circus by Erin Morgenstern
This is a super duper popular Adult Fantasy novel that I wanted to try and while I really enjoyed it, I also found it to be very slow! 4 / 5 Stars
Black Birds of the Gallows by Meg Kassel
This was a big anticipated read of mine, however it turned out to be okay rather than mind-blowing amazing! Still it was very fun! My Full Review
Winter by Marissa Meyer
This was a reread and I loved it (obviously!) My fangirling post for this will be up soon hopefully! But let's just say I might have gotten choked up…..just a little bit. All the stars!
Fairest by Marissa Meyer
I decided to reread it despite how many feels and moments of second hand embarrassment I went through! Levana is one crazy witch! (Should I do a post for this too? The answer is yes!)
The Bride of Glass by Candace Robinson
This was the sequel to Quinsey Wolfe's Glass Vault which I read a while ago. I really enjoyed this one, though not as much as the first I believe! My Full Review
10 Books! I think that is pretty awesome!
Fun Posts of the Month! 
A Moment of Fangirling: Scarlet 
A Moment of Fangirling: Cress (The book of my life!!)
I entered the #WinRenegades Bookstagram challenge hosted by Queen Meyer. I didn't win, but I had a whole lot of fun entering! And since I was in the midst of my TLC Reread, all the books were at hand!
---
The Haul…
Lordy, lord. I spent too much money this month! By now everyone should know how big September is going to be in terms of new releases. Basically a whole bunch of magical and super intriguing reads are headed our way. Some of these books I have been anticipating for months on end! So my plan was to save! Save money!!! But the heart wants what the heart wants and my heart wanted books this August.
This month I bought:
Book Outlet:
The Crown's Game by Evelyn Skye (Because I had to own it!)
Nevernight by Jay Kristoff (Because I never hear the end of its epicness)
Windwitch by Susan Dennard (Merry Christmas, Maz)
BMV (Cheap bookstore)
Ivory & Bone by Julie Eshabugh (Because it was there and I was like "gimmegimme")
Grave Mercy by Robin LeFevers (By recommendation of Mandy @BookPrincessReviews)
Chapters Indigo (Not cheap, but my home-away-from-home bookstore)
Wonder Woman: Warbringer  by Leigh Bardugo (Because I needed that pull-out poster!)
And then I got super lucky and won two ARCs!
Warcross by Marie Lu (My first Goodreads giveaway I entered and won!! Plus it's by my Idol!!!)
Last Star Burning by Caitlin Sangster (I actually won this through a twitter giveaway. The object was to write a Haiku and the best one won! *Thank you to all my twitter peeps who voted for me….I love you!)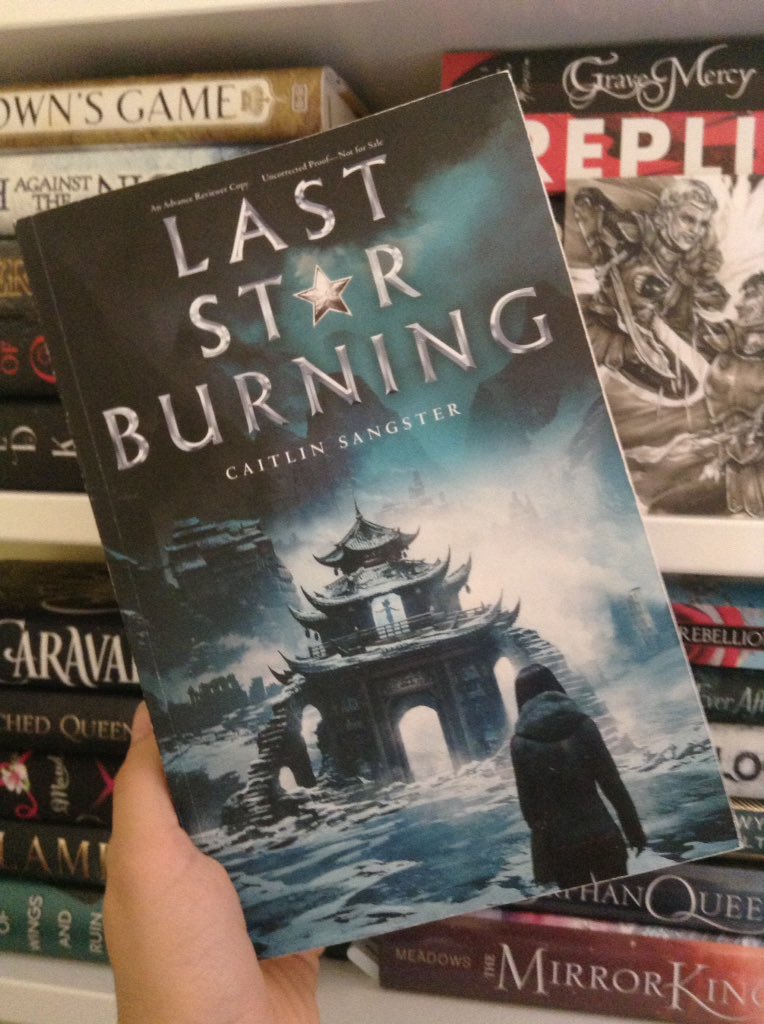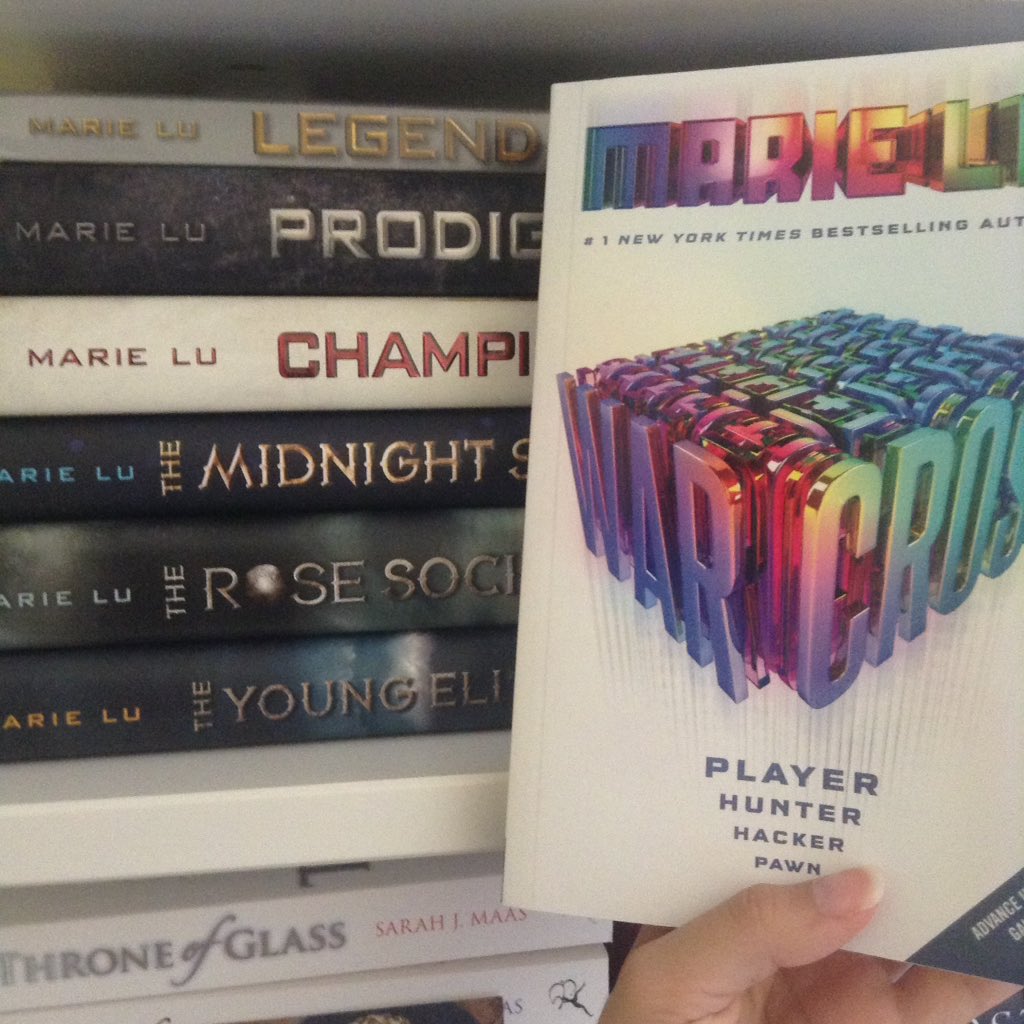 My winning Haiku!
And a NetGalley Haul! 
Black Birds of the Gallows by Meg Kassel
The Beautiful Ones by Silvia Moreno-Garcia
All the Wind in the World by Samantha Mabry (My first granted wish!)
Colorless by Rita Stradling
So yeah….A lot of hauled books this month! All the more to read!
---
On to more pressing matters. My TBR. September, unfortunately means the start of school, which unfortunately means these large reading wrap ups start to dwindle in numbers. It also means I'm slower to post and write so I'm trying to get as much as I can done before school begins (tomorrow for me)!
Did I reach my summer goal, absolutely not. I didn't read Truthwitch (sorry Maz) or ACOTAR (sorry everyone else) but I'll get to them……eventually.
Not this month though. THIS MONTH I HAVE PLANS!
This month I plan on reading:
Poison's Kiss  by Breanna Shields (Buddy read with Mandy @ Book Princess Reviews)✅
Warcoss by Marie Lu (in progress)
Colorless by Rita Stradling (in progress)
Stars Above by Marissa Meyer
Scion of the Fox by S.M. Beiko
Gemina by Amie Kaufman & Jay Kristoff (Library book, so my time is limited)
Tower of Dawn by Sarah J. Maas (Chaol boo, I'm coming for you!)
I'm not going to set myself up for anything higher, but if I'm lucky enough and the school year starts off slow (unlikely), I hope to squeeze in Last Star Burning, Wonder Woman: Warbringer and All the Wind in the World…..all very unlikely!
---
I also may have a little secret project going on……it might have something to do with fanart….it might have something to do with the Lunar Chronicles…….😉😉
It's nowhere near finished but…maybe I'll share a little taste with you sometime….!
Let me know what you guys think! What was your favourite read from August? What was your favourite buy from August? What release are you most looking forward to in this September of Releases? Can't wait to see your thoughts!
Happy reading!
~ Rendz