Greetings readers!
There are a few genres that I pick up rarely. And when I mean rarely, I mean like once a year, maybe twice? It's usually a genre that I have very little interest in or think I will just not enjoy.
That is of course not always the case.
Women's Fiction is one of those genres. I have picked up WF before and enjoyed some of my reads, but I could never really relate to the characters. It was always about middle-aged women who were recounting their lives and trying to find a way to begin anew. Whereas, I was barely a woman when I was reading them.
But now, that I am a little older and more understanding of a woman's struggle in life, I find myself enjoying them a bit more!
Bridges: A Daphne White Novel by Maria Murnane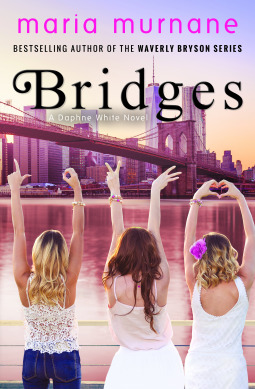 It's a piece of news Daphne never expected to hear: Her globe-trotting friend Skylar, who vowed never to get married, is engaged! Time to celebrate in Manhattan—Skylar's treat, of course. After years scaling the corporate ladder, she can more than afford it.

Daphne arrives in NYC with news of her own—the novel she's finally finished appears to be going nowhere but the trash bin of every publishing house around. She's devastated but plans to keep her disappointment under wraps, something that becomes trickier when she sees Skylar's spectacular apartment. Could her life have been like this if she'd chosen a different path?

What Daphne doesn't know is she's not the only one with a secret. Skylar and their friend KC are also holding something back, but what? As the trip unfolds, the truth about each woman emerges, along with tears.

And laughter. And love.

The fun-loving trio readers fell for in Wait for the Rain is together once more. Here's to the power of friendship!
I enjoyed this read. It was really cute and fun. Following a very close friend group on their trip in New York was an adventure. Perhaps not magical, but filled with humour, love and drama. And you know me, I love a good bit of drama. But this above all else is a story of friendship and savouring the happy moments in life.
What I Liked
Characters:
Daphne: I liked Daphne a lot. She was fun and creative. She was an aspiring writer, who had just sent out multiple emails to various agents hoping for one to get back to her and make her dream a reality. On her trip to New York things started getting rough when she keeps getting rejected and starts regretting some of her previous life decisions. Witnessing all the success that her friends had in life, she wondered if she made the bad choice of getting married so young and putting her own aspirations on hold. So I totally get that Daphne got jealous. Who wouldn't be a little envious if your friends were rich, smart and successful and you were just making it. Just. So I really loved reading about her struggle to get out of that mind set. To find value in her own work and progress. To be happy.
Skylar: She was also very charismatic and fun. She was the most successful in terms of money within the trio. She had a luxurious life style, but instead of flouncing about in it and being stuck up (as one would expect, if you watch dramatic movies) she turned out to be quite caring, generous and humble. She was always there for her friends even when things got a little testy. She struggled with commitment and entrusting others with her happiness, hence the amount time it took her to get engaged. She still struggles with the idea of giving her heart out without the worry of it being shattered. It's the leap of faith she needs to learn to take.
KC: KC was the most humorous character. She was very bubbly and super active. But even the bubbly have their issues in this book. While I felt that her story was focused on the least, I liked that it wasn't a quick resolution. There was still some substance in her struggle.
Friendship Galore: This entire book is focused on the Three Musketeers friendship. Like many real-life friends these women don't come without their short-comings. They still bicker and test each other, but in the end the solid basis of their relationships are able to bring each other back together again. I loved how supportive these women were of one another. This NYC trip strengthened the bond between the women and paved the way for them to continue their relationship.
Themes in Perseverance & Self-Worth: As mentioned earlier, Daphne does struggle with finding meaning in her work and writing. She knows that she is good at it but feels as though no one else (but Skylar & KC) feels the same. We all have our moments of self-doubt, but like Daphne we have to learn to not compare our own success to that of others. It's not about having a perfect life, it's about having a happy one.
What I Disliked
Super Mellow: It could have been more suspenseful or at least intense. Everything was rather mellow and toned down. There were moments of anger, sadness and rather embarrassing moments but none of them caused enough reaction from me. It was all too sunshine and rainbows! It needed one of those big storm clouds that just make it really hard on the reader emotionally. Where was the intensity, the major melodrama?
I just was not feeling anything for most of the book. My face was blank or I was getting bored. Everything was too predictable. I wished there was just a little more juice and twistiness to amp up the emotions in the story.
---
Overall, I enjoyed the book. It was a cute friendship story. There is a lot of sister power in this one! I was hoping for a little more intensity and suspense, that would have probably brought up the rating a lot more. There was like a smidge of romance, but it was never the focus and I honestly forgot all about it. This was a really cute, fun and humorous friendship adventure!
Rating: 3.5 / 5 Stars
Recommend: For those looking for #FriendshipGoals!
About the Author
More From Maria!
Give us an insight into your main character. What makes he/she so special?
Daphne White also appears in Wait for the Rain, and when that book came out many readers wrote to tell me that what they liked most about Daphne was how relatable she was as a divorced woman struggling to find the confident, witty, fun-loving person she used to be. In Bridges, Daphne has regained her old spark and is in a much happier place, but her life is far from perfect, as is she. I guess you could say she's special because she's real.
Which actor/actress would you like to see playing the lead character from Bridges?
I was just asked this question by a small production company that is working to develop Wait for the Rain into a film. Not that they would be able to afford her, but my top choice for Daphne would be Drew Barrymore. A girl can dream, right?
What draws you to this contemporary fiction?
I like creating stories and characters that feel like real life, and I'm a woman, so there you go. Plus I could never write mysteries or thrillers or sci-fi. My brain isn't wired that way.
Do you think that the cover plays an important part in the buying process? What's the purpose behind your cover images?
I think every reader has a different relationship with a book's cover. I view my covers as a still shot, in other words a moment in the story that (I hope) makes a reader want to become part of that world for a few hours or days.
When did you decide to become a writer?
I always thought it would be cool to write a funny novel "some day," but I was working full time so I didn't think I would ever actually do it. Then one day I quit my job and went to Argentina by myself for what was supposed to be a two-week trip, but instead I ended up getting signed to play soccer for the women's team at River Plate and staying down there for a year. (I realize that sounds insane, but it's true.) With my brain freed up from an office job, I decided if I was ever going to write a novel it was time, so I wrote Perfect on Paper, the first of the Waverly Bryson series. It took a while to get it published, but eventually it went all the way to #2 overall on Amazon. (It remained there for just one day, but still! Super exciting.)  
What is the hardest thing about writing?
For me, the hardest part is coming up with the idea(s). That can be extremely challenging. But once I decide what I want to happen in a particular chapter/scene/etc., the words flow pretty easily. This is what happened with Bridges.
What is the easiest thing about writing? 
Dialogue! I seem to have a knack for creating realistic, funny banter among friends—or so I've been told. As I'm typing this I'm realizing that there's no way to answer the question without sounding like I'm patting myself on the back, so I hope the previous question will make it clear that writing is not a piece of cake for me.
What advice would you give to aspiring writers?
If there's a book inside of you, just write it! You won't regret it.
What made you decide to bring Daphne, Skylar and KC back for a second novel?
Skylar is based on my friend Annie, who is a huge fan of my books. One night we had dinner and ended up brainstorming ideas for my next novel, and by the end of the evening we had a skeleton outline for what turned into Bridges. It was that quick! The writing itself took much longer obviously, but it was that single dinner that led to the idea.
Is Bridges in any way based on your own experiences?
A little bit. In Bridges Daphne is struggling with the pain of being rejected over and over (and over!) while trying to get her novel published. That's something I know a LOT about. It took me nearly five years to get my first book (Perfect on Paper) published, and for a while there I didn't think it was ever going to happen. That kind of rejection can take a toll on the self-esteem. Daphne also feels insecure when she sees how wealthy her friend Skylar has become since college. I also know what that feels like. I gave up a solid career in PR to focus on writing novels, and while I'm extremely proud that I've been able to make a living off that, many of my college friends now have closets larger than my bedroom.
What message do you want readers to take away from Bridges?
No one's life is perfect no matter how great things might appear from the outside, so don't be afraid to open up to your friends!
Do you currently have anything in the works?
I'm currently in the process of figuring out what to write next. I think I need to have another dinner with Annie! ☺
---
Thanks for reading everyone! Let me know what some of your favourite fictional friendships are!!! And give a shout out to your besty because…why not?
Happy reading!
~ Rendz