Greetings readers!
Sometimes I like to take a moment and think about how much easier my life would be had I not picked up Throne of Glass by Sarah J. Maas. Had I avoided this overly-hyped series and steered myself in different fantastical direction.
But no.
Rendz succumbed to the pressure and read this overly hyped, fantasy series that has gone so down in her books. So, so down.
After having tolerated Heir of Fire and Queen of Shadows, I avoided reading Empire of Storms since it came out. I didn't even care if the spoilers rolled out left, right and center. I was done with this series.
Then I remember the reason I continue on with the series. I remember the character that keeps me going.
Chaol Westfall
*boos from the crowd*
You can hate him all you want. Rub his name in the dirt, but I LOVE him. He is one of the few reasons (the main reason) that I put up with this series!
I dreaded taking this book out of the library. I dreaded having to put my TLC reread on hold for this! I hated that I would sit for two hours and not even make a dent in my reading because the pages were so thin and this book was 700 pages long!!
Please prepare yourselves for a rather long and rant-y review.
*deep breaths*
Empire of Storms by Sarah J. Maas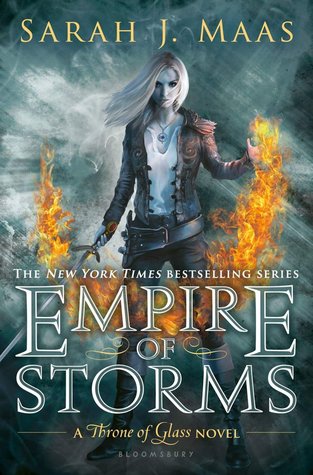 KINGDOMS WILL COLLIDE.

The long path to the throne has only just begun for Aelin Galathynius as war looms on the horizon. Loyalties have been broken and bought, friends have been lost and gained, and those who possess magic find themselves at odds with those who don't.

With her heart sworn to the warrior-prince by her side, and her fealty pledged to the people she is determined to save, Aelin will delve into the depths of her power to protect those she loves. But as monsters emerge from the horrors of the past, and dark forces become poised to claim her world, the only chance for salvation will lie in a desperate quest that may mark the end of everything Aelin holds dear.

In this breathtaking fifth installment of the New York Timesbestselling Throne of Glass series, Aelin will have to choose what—and who—to sacrifice if she's to keep the world of Erilea from breaking apart.
I was never going to love – or even like – this book. I forced myself to read this. Forced. However, it would be false to say that I didn't enjoy some parts of this book, but I definitely (as a whole) did not enjoy reading this. It was a completely different tone, mood, and overall story from the first books. I just wanted to get this agony over with.
The Very Few Things I Liked
Side Characters: (You will find the MCs in another section….down below!)
Manon: A LITERAL QUEEN. Another one of the reasons I stick around this mess, is for her. A blood thirsty, conniving and kickass witch!!! I love that despite all her "I have no heart that cares" she actually cares! She can be compassionate without being too gooey. I also loves when she tells Aelin to stop being such a sap and get over herself. (Golden moment)
Lysandra: Another queen! After being kind of iffy about her in QoS, I absolutely adored her in this one. She is so strong, intelligent and able! She is not just a pretty thing on the side, NO. She is upfront and ready to bear her teeth if necessary! Do not disrespect Lysandra! SHAPESHIFTER FOR THE WIN!
Elide: Cinnamon roll, who you want to protect, but your efforts are futile because she can do it (mostly) herself! I liked her a lot. I found her parts of the story the most interesting and I wanted to read more about her! She is deceiving, a fast-thinker and doesn't let her disability keep her from playing the game! I really want more of her!
Fenrys: Fenrys…Fenrys…Fenrys. I really do like him. I'm not sure exactly why. Yes he is hot, but there is something else there too. Also his past…just…heart breaking.
Gavril: He's okay. Not really explored as a character. I do hope he makes up with Aedion though and we actually get a good parent/child relationship going on.
Lorcan: Lorcan. Lorcan. Lorcan. (I totally forgot who you were, while I was reading the first chapters of this book.) I love you, but you've got issues. Fix them and figure out, hun. He's the kind of character that I want to hug and at the same time strangle. Depending on his actions or words. Still love him though!
Dorian: My poor baby. Got ZERO respect from the other characters. ZERO. I felt bad for him. He wasn't exactly the Dorian, I remember and love, but I still liked him more than certain others.
Female Friendships: The female friendships are still going strong in this series. There isn't just one, there are several so I really appreciate that. The ladies work strongly together, they help each other through thick and thin! They are such goals!!
Action: I will not deny the large chunks of action scenes and suspenseful events in the book. They did keep me on my toes for the most bit, so I was sucked in at points. However, I do have have to complain about the magic used in battles. It's very vague and how it is wielded did not vary from character or type of magic. It's all the same and it got boring.
The Longish and Rant-y List of Things I Disliked
Main Characters:
Aelin (gags):
I just can't muster up any sort of good feelings towards her. None. "She is so out of this world" *rolls eyes* Conniving and cunning and not to forget drop dead gorgeous *rolls eyes some more* Not gonna lie I have some respect for her and her cleverness but other than that she was nothing to me. She hasn't been since book 3. She's sooooo arrogant that it irks me! Like, hello the world will not fall at your feet! She's not even remotely redeemable in my eyes and not fit to be queen, the one point I agree on Darrow with (who was in this book for 2 seconds).
Rowan (vomits):  *tomatoes thrown at Rendz*
I honestly have never and will not ever see the appeal. I just don't get why people like him so much. I don't! I don't even find him that attractive. Silver hair? Ummm NO. Abs? Sure. Territorial and jealous if another dude just so happens to look at his queen? Ew gross. I thought maybe in this book he might be able to keep it in his pants because let's be honest that was his whole purpose in QoS. That so did not happen. I just don't like him. I don't understand him. And it irks me to see that so many people fawn over him and get all googly-eyed whereas I'm like; if he dared bite my friggin neck I chuck him out soooooo fast. That ain't cute! I don't care if he's FAE, it ain't cute!
Romance AKA The Sudden Evolution into NA: This is no longer a YA series. Not with that amount of sexual content. Now, I know more people are opening discussion about having sex in YA: should it or should it not be done. Here is where I stand. It can, but not like it was in this book. Not with these descriptions. First of all, I don't ship Rowaelin so I knew I wasn't going to like this aspect of the book. Aelin and Rowan's sexual tensions and romance scenes literally made me want to gag. It was atrocious! And for those of you thinking "Rendz isn't mature, she can't handle this stuff" Honey no. I have read sexy scenes, ok. From NA books. I have watched sexy scenes in movies, but you know they are targeted to older audiences!! And these scenes. Ugh. They were so cringy. I was laughing at how absolutely ridiculous they were while going through them.
All I thought about while reading, NO skimming those scenes were the two little girls, barely 12 or 13 who went to the SJM signing who were carrying this book (obviously having read or are going to read it) and thinking about them reading chapter 38 or reading about the freaking blow job (yes I said it and its in the damn book). Just nope. Nope. NOPE. Even I was scarred.
And it's not just Rowaelin with the sexy times, they just get a lot more of it (with more descriptions) but Manon and Dorian suddenly because sex crazy too and have to hook up. Also Lorcan and Elide (who I do ship) had to have sexy times as well, but I'm glad theirs was less detailed.
I just couldn't people. Trust me when I say I was cringing and laughing at every sex scene. I was red in the face of embarrassment because I couldn't believe I was reading that. It was so not what I signed up for.
And to think that this is probably going to happen in Tower of Dawn too! At least in that one, I ship the ship.
Nothing happened: It's not that nothing happened at all, some battles, some betrayal some conquests. But it took forever to finally feel like something was happening! The grand revelation wasn't so grand to me. *Spoiler* I knew she was going to have to die and I won't lie: I laughed. Laughed because I know that she probably won't die and it will probably be Dorian and I hate that. *End spoiler*
Some epic battle scene and boom I just read 700 pages of flipping view points.
Trying to Sprinkle in the Diversity (and it's not even that great): At least she tried. SJMs world is white. Perhaps Nesryn is a poc or she'll just be tan. Not the sun kissed gorgeous tan of the FAE (code for sun burnt white) or the haunting porcelain white of the witches. She'll just be tan. (So wonderfully descriptive!) Every character had to be so damn beautiful, not a single thing can mar their perfectly toned muscles and abs. Their thin bellies and lush breasts.
Then she's starts to sprinkle (and when I mean sprinkle I mean sprinkle) lgtbq characters here and there. One side character's bisexuality is mentioned, but not developed. Just to say "hey I like dudes and girls, ok! Moving on". A super duper minor gay character and there you have it.
Would it have made a bigger impact to have characters of colour and different sexual orientations up front. Yes. But were they there? No.
Territorial Fae: I know that some people find these controlling relationships as sexy and oh so romantic, ya me no. I don't want to be claimed. I don't want to be bitten/marked as though I were a piece of land. I don't see the appeal. I don't find it romantic. If Lorcan and Elide end up being like that well I'll be very disappointed!
*Spoiler ahead*
The Conversation of Colonialism  and Conquest: In the book, Aelin and Rowan have a literal conversation about conquering more lands after taking back Terrasen. She legit said that if she gets "bored" of being queen she will conquer and gain more land to be empress! So her damned children can inherit the stars. EXCUSE ME! How dare you even think that. If you get bored go find a fucking new hobby! How can she possibly think that she would go out to conquer? After having her own land conquered and suffering at the hands of others she would dare to think that's she would do that to others. She can't possibly think that people will say "yes conquer us and takes what is ours!" Hell no! They will fight and there will be blood. I was so disgusted by this scene! Horrible. At least she admits its a dumb idea, but the fact that she even considered it. IRKED. ME.
*End of Spoiler*
---
So yeah, I'm gonna say one more thing: After reading it (like after turning the last page) I liked it. A lot. The ending was great and I had to applaud Aelin, even Rowan for their actions. But then I simmered and thought. I found myself knocking down stars. For the reasons mentioned above. Some things were just too much for me and it ruined the story sorry.
Rating: 3 / 5 ( Tempted to lower it) 
Recommend: I stopped recommending this series after book 3, I leave it up to you to decide. O_O
I know a lot of people out there love this series, this book even more. But I just could not deal with it. If you do love this book, that's great! I hold no rancour against you. But personally, I didn't like this.
I only read it so I could read CHAOL'S novel, Tower of Dawn. And to be honest I'm very worried. If that book is just as sexy time filled and empty in every other aspect, I will be very disappointed.
End of rant. *pants*
Happy reading!
~ Rendz