Greetings readers!
I honestly wanted this to be one of the most exciting posts I have ever written. It is not. I wanted this to be thrilling, fun and entertaining for you all. It probably still is, it's just that it is a sad kind of funny. As in my weekend was not great and I felt really bad for most of my Sunday!
This picture, this kid!, summarizes my entire expression and all my emotions that I felt last Sunday! 
What can I say? I had been anticipating this event for MONTHS!
Sarah J. Maas, a huge, huge author coming to my hometown. I was going to be able to meet SJM! WHAT?!?! When I found out I couldn't even concentrate on my school work anymore, which made me miss an entire chemistry lesson. I still aced the test. *flips hair*
SO why did it turn out to be so sucky?
Let's start at the beginning.
*all gifs via giphy.com*
---
Sunday May 21st @ 4 a.m.
The Carbon Monoxide detector in my house starts to beep and holler.
My family wakes in a panic, thankfully nothing happens.
We go back to sleep and I notice the hard pounding of the rain outside.
Same day @ 8:00 a.m.
My alarm goes off!
Time to get dressed for SJM.
Rendz is crazy excited.
Heads downstairs and makes breakfast. I check my iPod and notice that my wifi is wonky.
Damn it! The internet got cut from the rain, so I go down and fix it.
My dad says he'll drop me off two hours before the mall opens so I can go stand in line.
9:00 a.m.
Internet is back.
Twenty different messages flood in from those hours I was away.
Most from a friend who was already at the signing.
She asks me where I am?
I tell her home and ask her how long the line is, should I rush.
She tells me that the line has reached capacity and there are no more wristbands left.
No wristband means no meeting SJM.
Heart sunk.
Family takes pity and we drive there anyways.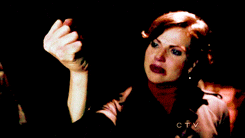 9:30 a.m. at the mall
Over 250 people in line.
Indigo employees are kindly turning away any people who still try to stand in line.
There is no hope.
But I stand in the overflow line anyways.
Until angry looking security guards start glaring at us to move on and leave the line.
I leave the line.

10:00 a.m. to 12:30 p.m.
I sulk.
And have lunch because I am hungry.
12:35 p.m.
Standing in Indigo with a million other people,
Craning my neck to see over tall heads.
I don't see anything.
I overhear that there are Americans in the signing line who flew to Toronto to meet  SJM.
I get real bitter. (Are you serious how many events does she do in the US?)
1:15 p.m.
SJM shows up and you guessed it!
I cannot see her.
BUT I can hear her fine!
So I listen to her talk for 45 minutes.
She is funny and charming.
Here is what she talked about!
---
Discussion:
Musical Inspirations
Wrote ToG when she was 16 from listening to Cinderella's "run away" song
Huge Lord of the Rings fan (president of Lotr club in her high school)
Fanfic writer of Harry Potter and Sailor Moon crossover!
Feyre came from listening to the first song on Princess Mononoke soundtrack  (She saw the whole first chapter in that one song)
Last scene in ACOWAR was inspired by final song in Princess Mononoke
SJM doesn't have any talent in music whatsoever
At 12 she convinced her parents she wanted to take piano
Piano instructor was a witch with a B
They always fought
She had mortifying recitals (even her parents were mortified)
Played a very bad rendition of "my heart will go on " at her last recital
After that no more lessons
Aelin plays piano because it's  failed dream
No musical talent, yet music inspires her writing
Men on the Page 
When she writes a male character "it's like how can I find a way to get his shirt off "
She still has her battered copy of Pride & Prejudice with gel pen hearts and all around the pages with Mr. Darcy
Real life conversations with her husbands often begin like this: "let me tell you about this hot man I saw!"
A little bit about Writing 
She had ACOTAR written since 2008, and in the middle of writing books for ToG she said she would share that story instead of waiting
She always said Rhys was the one.
SJM would never talk about sex to anyone (especially her parents)  but leaned about positive sex in books
Husband and Rhys not the same but they do share the quality that they love their partner unconditionally
"People who love you on your bad days are your family and friends" 
She is her own cruelest critic!
SJM doesn't believe in guilty pleasures you, love what you love there is no shame
Side Character Details 
Nesta and Manon were gifts
Books would have been shorter without Manon but SJM fought and fought her editor to keep her
Likes writing all kinds of women, not all are sweet but some cold and nasty
Was there a brutal scene u wrote where you cried? 
ToG -last section of Empire of Storms destroyed her and she was in hysterical tears
Tower of Dawn: "talk about tears"
(A little bit about ToD)
Book that was supposed to be a novella
She sat down in November to write novella about Chaol
She ended up writing 4 chapters with 20000 words after 5 days 100000 words
7 months later
it's a novel
Takes place during EoS
Major stuff happens to understand last book
Chaol and Nesryn are MCs
AND Irene towers!
She loves this book
ACOTAR- Mist and Fury was emotionally hard to write
Chapter 70 onward she was cod tangly crying
In ACOWAR there is a certain event on  Pg 666….it's so emotional and  she laughed laughed laughed!
What is Rhysand's last name?
Hot pants
Harry Potter houses 
Rhys- Ravenclaw (because he looks good in those colours)
Cassian-  Gryffindor
Feyre-  hufflepuff
Aelin – slytherdor
Rowan – slytherdor
Manon – (Queen) slytherin
Aelin or Rhys who would win in a fight (Verbal or physical)?
Aelin would be too distracted by his good looks
Rhys would be too interested in magic: "show me those fire powers"
Of the 3 Night Court men order them in biggest to smallest Wingspan 
She won't say
Where do you write/perfect place to write?
Wrote ACOWAR at desk in home office
Acts out all scenes in giant mirror
If you could ho anywhere with one character, where and who? 
The Louvre in Paris with Feyre
The Metropolitan Opera House in NYC  with Aelin
What are you currently reading? 
Flame in the mist by Renee Ahdieh
"So hard to put down"
*Yeah I was lazy so I just copied and pasted my notes how they were… but it makes sense, right?!*
---
2:00 p.m.
Overflow crowd a.k.a the parents of the kids in the signing line and the suckers who didn't get wristbands (me) depart from the store.
This was my chance.
I crept slowly to the side of the store so I could get a visual of SJM.
My pictures don't do any justice to what I saw, but I saw her at least.
My horrible pictures are shown below.
I was still so far away and these were taken with zoom!
Walked away from this mean-looking security guard who was staring me down for taking pictures.
And I went home.
---
I didn't buy any books that day. I feel really dumb for not buying because there were some good deals I could have taken advantage of. However, I felt so deflated after the discussion, my neck hurt from trying to see over the heads of people and I had a headache emerging at the base of my head. I was tired and felt bitter. So I went home. I know now that there are some extra signed copies at that bookstore, but who knows when I will have the time to go back and get one!
I saw a couple girls, younger then me crying after they met SJM and my bitter mood elevated several levels. However, the worst part was definitely doing the walk of shame as I passed all the people in line and I got looks of pity from them. I couldn't stand that.
So it was not my favourite event. The Lady is a Champ still holds that title. I know I shouldn't be too upset, it's not anyone's fault. Just mine for not thinking about how passionate people are, that they would go and wait outside of a mall at 3 a.m.
I have not been able to look at any SJM book without cringing, but I know one day I will laugh about this. I also know that one day she will come back and I will get another chance.
I also know that if Marissa Meyer comes to Toronto I will be camping outside of whatever store a week in advance. She is my true queen, I cannot miss her. But she hasn't announced any tours yet and I'm crossing my fingers for Renegades. 
---
SO yeah…a rather long and sad post. ( I totally understand if you skimmed) But I think I shall start laughing about this day now! I still have money to spend on books so at least that is a plus!
Did you ever have any bad signing experiences or actually tell me about the good ones! Let's keep the comments cheery!
Happy reading!
~ Rendz