Greetings readers!
This is the fifth book I finished in April! I actually cannot believe it. I didn't even plan to read this book, but I got my hold from the library so I went ahead and read it instead of Empire of Storms…hehehe. (I'm really avoiding that book!)
Done Dirt Cheap by Sarah Nicole Lemon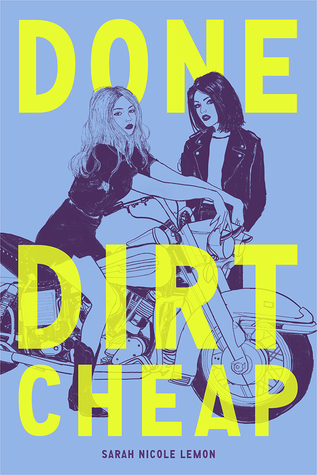 Goodreads Summary

Tourmaline Harris's life hit pause at fifteen, when her mom went to prison because of Tourmaline's unintentionally damning testimony. But at eighteen, her home life is stable, and she has a strong relationship with her father, the president of a local biker club known as the Wardens.

Virginia Campbell's life hit fast-forward at fifteen, when her mom "sold" her into the services of a local lawyer: a man for whom the law is merely a suggestion. When Hazard sets his sights on dismantling the Wardens, he sends in Virginia, who has every intention of selling out the club—and Tourmaline. But the two girls are stronger than the circumstances that brought them together, and their resilience defines the friendship at the heart of this powerful debut novel.
I went in really excited and I came out not so satisfied. I really, really wanted to love this book. I mean motorcycles, friendships and hot dudes. YES! But no. This just didn't give me what I wanted. That is not to say I completely disliked it, there were some good times but overall it just was not as entertaining or engrossing as I thought it would be.
What I Liked
Characters
Cash: He is literally the only character who made some sense at the beginning of this book. Even though he had only appeared in the beginning of the book for two seconds, I found him intriguing. He didn't talk in circles like all the other characters. As the only black person in a predominantly white motorcycle club, he had his struggles. He is a conscript (a soon-to-be member) and basically he is finding his rightful place in the club that his father began. Also, he was very swoony!
Tourmaline: There were times I liked her and other times where I was just annoyed of her. I liked her when she was trying to figure out her life in this club that occupied her father's attention. I liked her when she tried to come up with ways to fix the mistakes she made in her past. I liked her when she would bond with Virginia. I liked her when she tried to fix her own bike. I didn't like her when she would whine and mope and pity herself.
Virginia: I liked Virginia, she had a rough past life and made some big mistakes. She tried her best to find a way to fix her errors, which often led her to more trouble but at least she tried. She was snarky and calculating. She knew how to make people run circles around her, which was exciting to read about. Yet, I felt no connection to her. She was still a stranger to me by the end of the book.
Honourable mention to Jason, who is still a little vague even though we know about his past. He gets points for being broody, swoony and smart!
Friendship: The friendship development between Virginia and Tourmaline was the best aspect. They went from not trusting to trusting. They had their bumps in the road, but in the end they stuck it through. They helped each other navigate their future and forge a new path for themselves despite their rough past. They helped each other grow into the people they needed to become.
Motorcycles: I know nothing about motorcycles, but the premise of motorcycles is always intriguing. I liked how the motorcycle club in this book was not what I expected it to be. It was a family and although they did engage in rides and parties with women, their actions always had a purpose. Everybody saw them as bad guys, but were they really?
What I Disliked
Romance: It was insta-love-like. Cash and Tourmaline had met once–once–and in the next bit she was already thinking about throwing herself at him. It was the typical forbidden romance because she was daughter of the club president and he was the new-guy. They worked for me and at the same time it was a little too cliché and rushed. Jason and Virginia, although not forbidden were still too rushed. They had seen each other a couple times, spoken–mainly argued a couple times, he saved her life a couple times and then they started living together. I mean both couples were cute, but the relationships were far too rushed!
Writing: Apparently it is supposed to be lyrical and compelling. I didn't understand the first quarter of this novel. The characters would talk circles, mentioning things that I didn't understand, events that I didn't know about. I was just so lost. The writing didn't feel lyrical or compelling to me.
Anti-climatic ending: I was expecting so much more from the final chapter. It was a measly arrest. No good action (except a fist fight), no suspense (even though I suppose it was supposed to be suspenseful), it didn't grab me. I just finished it because I was almost done. The epilogue made up for it a little bit because, it gave me some closure to other things, but it was still so vague!
Romancing things that aren't Romantic: I'm hesitant to write about this because I'm not sure exactly how to explain it. I'm also worried that perhaps I read this bit wrong because I had trouble understanding what was going on. But I felt like this romanticized rape in a way. It might not be, but it came off in that light to me. At one point after a confrontation with Cash alone in the dark woods, Tourmaline was disappointed that he wasn't following the rules and taking advantage of her. UMMMM…excuse me. At another point Virginia felt disappointed after her boss left her alone after caressing her head and cheek. Honey, NO. She gets over that quickly though. Unless, I read their fear/disgust as disappointment, this sorely ruined the novel for me.
---
Overall, I liked the book. I did enjoy a lot of the scheming and humour that was put into it. But I never really felt connected with the characters. I was interested in finding out what happened next, but I never had a desperate need to find out. It was a mellow read. I liked it, just not love.
Rating: 3.5 / 5 stars
Recommend: If you want a fast read, with a good friendship story.
I'm off to read something else now! Some questions though! Have you read this book? Do you think I read their voices wrong-ish, please let me know!
Happy reading,
~ Rendz