Greetings readers!
As part of my March TBR, I listed The Midnight Star by Marie Lu as one of my need-to-reads. I have had this book since October. I even got it signed that same month when Marie Lu came up here for her tour. Let me tell you, I'm a huge Lu fan. And when I found out she was coming I literally screamed! You can read more about the signing event here.
The Young Elites is the second Marie Lu series I have read. It is a fantasy series that follows the journey of a villain. It is really dark and gruesome, but I have been enjoying them so far. The first one was great, the second instalment The Rose Society, lacked a little umph for me, but it is a good book over all!
The Midnight Star by Marie Lu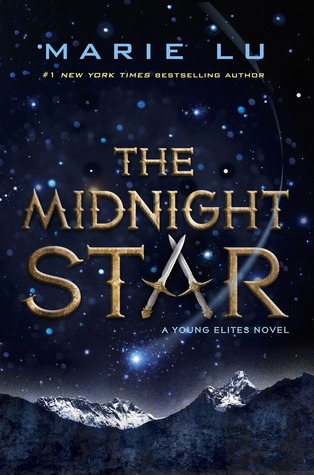 Goodreads summary:There was once a time when darkness shrouded the world, and the darkness had a queen.

Adelina Amouteru is done suffering. She's turned her back on those who have betrayed her and achieved the ultimate revenge: victory. Her reign as the White Wolf has been a triumphant one, but with each conquest her cruelty only grows. The darkness within her has begun to spiral out of control, threatening to destroy all she's gained.

When a new danger appears, Adelina's forced to revisit old wounds, putting not only herself at risk, but every Elite. In order to preserve her empire, Adelina and her Roses must join the Daggers on a perilous quest—though this uneasy alliance may prove to be the real danger.
Okay, so a little note here. Regarding a series end, Lu is a heart-twister. She likes to yank on your feels and make you cry. I fell victim to her "Finale F*** Me Ups" before.(Pardon my language) If you have read Champion, from her Legend Trilogy, you know what I mean. Thus, going into this series finale, I carefully guarded myself, as to not have too much hope for a happy ending. Especially since this is a villain's story.
What I liked
Characters: This series has an abundance of characters, some that I like and others that are kind of just meh. I shall highlight those of greater importance though!
Raffaele Laurent Bessette : My sweet, beautiful, lovable and dear Raffaele. I really love this guy. He is so kind hearted and caring. Despite his mishaps with Adelina and the struggles he faced, he stayed true to who he was and worked with compassion.
Magiano : My love. After my initial distrust and coldness towards him in book 2, I really came to love him by the end. And in this book I was all heart eyes for him. He is funny, charming and brave. His character was a little vague, he kind of just popped out of no where. But then we get a glimpse of his backstory and my heart breaks for him! Even though he supports Adelina through and through, he understands that he has to push to change and show her that the path she is headed down is dark. However, he loves her regardless.
Teren Santoro : I know he is the bad guy. Like a really bad guy, but I couldn't help but like him. Not like him as in book boyfriend, but as a paradoxical character. He is a malfetto, who hates, hunts and kills malfettos whom he considers abominations like himself. He is an interesting character and I really enjoyed seeing his descent into madness.
Violetta Amouteru : Although she is barely in the first one and hardly in the third one, she is still my favourite character. I identify with her in many ways. The most prominent is that we are both younger sisters. Although my sisters are nothing like Adelina (you know…evil tyrant queens) , they still mean the world to me and I want to protect them as much as they protect me. All Violetta wants to do is save Adelina. The one thing she failed to do before while their father tormented her. She was voiceless but now she wants to grasp what courage she has to save her sister. Does she? Well…yes…kind of…maybe…no…eh? You have to read it!
Adelina Amouteru : Oh, mi Adelinetta. My troublesome lady. My White Wolf.  Adelina lived through Hell, survived Hell and then became Hell. A hell of an adventure this was to share with her. I loved this girl, despite her many, many, MANY flaws. She is the embodiment of what happens to us when we get angry and let the anger consume us. She is the picture of vengeance at its most gruesome level. And she falls. She falls, but her deep, deep moral saves her. If only ever so slightly. She is not a character you look to to be heroic, you look to her to understand and learn that the path we choose will affect our conscious and that our actions define us.
The World: In this one we get to see more of the surrounding lands, apart from Kenettra. There is one particular setting that I really enjoyed exploring. (Though I wish it had been explored longer) It was thrilling and added to the dark atmosphere that the entire book was set in.
Dark, Gruesome and Scary: Not scary, like thriller scary, but scary in that I know I would not survive ten minutes in that world. The mood is very eerie and dark. It adds to the journey as we see Adelina fall to the whispers' directions and develop her villainy ways. Reading this story through the perspective of the villain made me feel uncomfortable at times. What she thought and how she justified it made some sense and at the same I agreed with her. That's what scared me. It made me think like a villain but also retrace my steps and find the wrongness in her thinking.
Romance: Lu has been very open in that she has tough times writing romance scenes. She spends hours on them, but I think she deserves a big round of applause because although the romance is subtle it is swoony. Yes I'm talking about the bath scene. Very steamy, very much appreciated.
The History Snippets: I'm not sure what to call them…so I'll just call them snippets. Before every chapter from Adelina, there is a short paragraph or line that gives detail into what is happening elsewhere in that world or how the rest of their world perceives the story of the White Wolf.  It is a poem, a letter, a few lines from a history record, or in one case a grocery list and they all give detail about the going-ons in the rest of that world. It shows how Adelina's villainy spreads, how it affects others and the thoughts of the people. It gives insight on the story of their gods and how they also play an important role.
The Ending and the Epilogue: First of all, I would like to say I didn't cry outwardly. Inside, I was dying. My eyes did get misty, but no tears shed. The ending had me nuts. So much went down in those final chapters. Some of it expected, some of it not expected. It had me dazed and a little choked up. The epilogue is what really broke me. It left me hopeful and also sad. (A true Marie Lu ending) I like to think of it as the introduction to the story of how the world will interpret Adelina's story. The story of a tyrant or the story of a scarred girl. Also MAGIANO 😭😭😭😭😭 HE IS PERFECT! JUST SO PERFECT!
The Title Epiphany: I love it when I find meaning in titles. And this title! THIS TITLE HAD ME…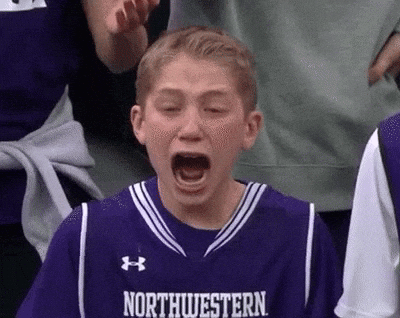 This kid says it all for me. As I explained this epiphany to my friends I noticed how cheesy it sounded. But it was the BEST cheesy I have read!
What I Disliked:
It Was Mellow: This one did not have the same action and thrill as the previous books. A lot of it was just walking and talking, but there were not too many battle scenes or epic fights. I mean this book was about a bloody war, but it focused more on the politics of it. There are bloody scenes, just not enough.*tries not to sound like a blood thirsty maniac?*
I Felt Some Disconnect: There were times in the book where I felt that it was just dragging and the characters were going through the same situation over and over. Even though this book is mostly told in the perspective of Adelina, I felt that she was going through the same struggle every chapter. I don't even think I'm explaining this right…but I just wasn't completely enthralled with the story.
---
Overall, I really enjoyed this series. It has wonderful magical elements and creative world building. There are creepy creatures and gory scenes that will make you flinch and recoil on the inside. I was so captured by Adelina's story and her descent into villainy. This story really shows that the the face and action you show to the world can be interpreted in any way, good or bad. You may be a hero to one and a villain to another. It is about facing your mistakes and embracing your error.
Rating: 4.5 stars (That title epiphany still has me reeling)
Recommend: For those looking for a really dark, fantasy give this series a chance!
That is all for me! Now I wait for Marie Lu's new novel WARCROSS which comes out in October! I cannot wait to read it!!!
Happy reading!
~ Rendz