Greetings readers!
Today is going to be a little different. Only ever so slightly. We are talking movies.
And not just any movie.
THE movie of the year.
That's right you know (it is in the title of the post!)
Beauty and the Beast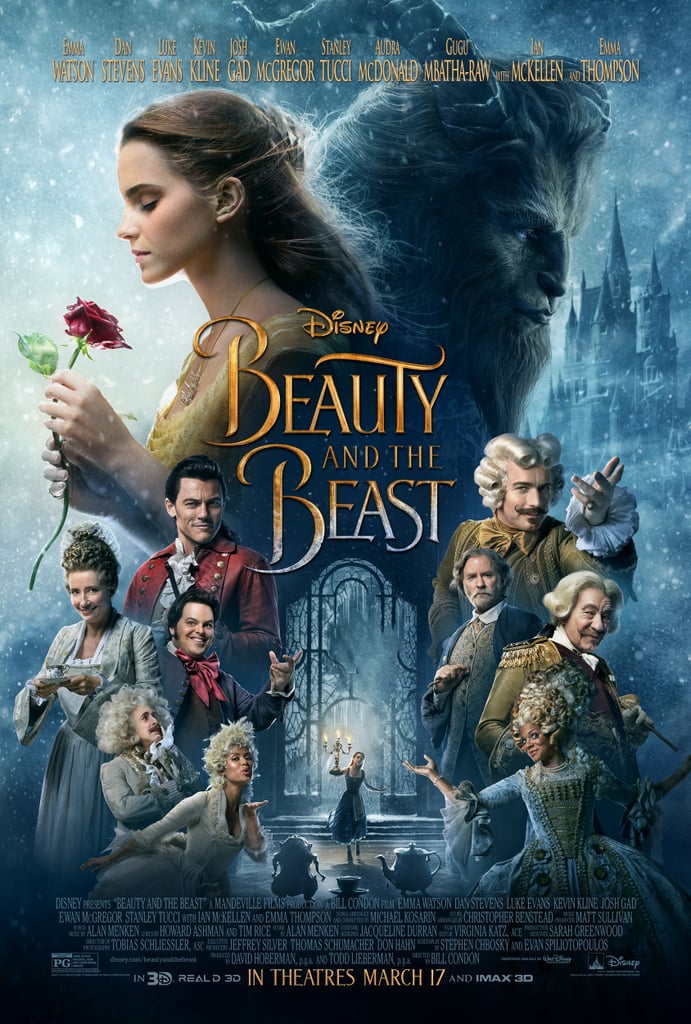 A Disney adaptation of their 1991 adaptation of this tale as old as time….
Like most kids, in today's age, yesterday's age and tomorrow's age, I grew up with Disney movies, but most fantastical of all I grew up with Disney Princess movies! A company which has graced us with a total of thirteen (or fourteen? correct me if I am wrong) Disney Princesses, which have been enjoyed by children everywhere.
Growing up, I watched Disney movies non-stop. My favourite (cliche…but oh so true to myself) is Cinderella. I'm telling you, I had that movie m e m o r i z e d. But today we are not here to talk about Cindy! This is all about Belle!
When I first heard they were making a live action Beauty and the Beast I flipped out! (Really I get excited over any Disney movie) I had been a fan of Beauty and the Beast as a child, it did not share the same grand love as I had for Cinderella, but still! A LIVE ACTION film! Considering, I really enjoyed the live-action Cinderella from 2015, I was so excited for this one and my expectations for it skyrocketed.
This movie had to be amazing. It could be nothing less than dazzling!
I was not disappointed!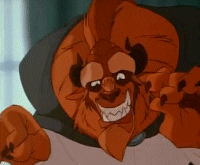 What I liked:
The Backstory:
YES! YES! YES! In this film, we get to see the Beast become a beast as well as reasons behind why the town has no idea of this mysterious palace in the woods. All our Whys? are answered. We get to know more about Belle's backstory with her family. There are new characters introduced that fill in the missing holes from the 1991 version.  I really liked how they explained why the things became the way they were. It made sense and added the extra depth the original adaptation was missing!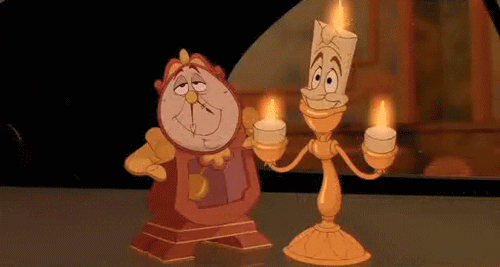 The Oldies & Newbies: 
Alongside the original characters there were also new characters introduced. Let's start with the old characters. Emma Watson's Belle was (as expected) ever so clever and bookish. She has a grand affiliation with Romeo and Juliet in this movie, so be prepared to listen to a bit of Shakespeare. The Beast was just as hard-headed, stubborn and barbaric like the original. I mean, on the inside he is a softy and Dan Stevens did a great job of playing him. Lumiere, Cogsworth and Mrs. Pots were just the same. Nothing changed too much about them and I loved that! Then there are the new characters! Such as Cadenza and Agathe who added more humour and insight into the story! Some of the original characters got bigger roles in this movie like Madam de la Grande Bouche and Plumette. I really enjoyed watching their characters be involved more in the story and on Belle's journey.
Also Chip is the cutest!
The Be Our Guest Scene:
This was probably one of WAS the most important scene in the movie for me. I loved, LOVED, the 1991 version because of A) the song and B) the animation. It has so much colour, fun and magic that I was worried about how they were going to replicate it to look more realistic. THANKFULLY, IT WAS AMAZING! Thank the Lord for technology and animators and colours and magic! It was a great replication of the old song. It was just as fun and fantastical. The song was changed a little in that they slowed it down in some parts, but I still really loved it!
The Cast:
Belle: Emma Watson, although not my first pick as actress, did a splendid job of acting as Belle. She was smart and brave just like Belle should be.
The Beast: Dan Stevens, did a great job as the beast. The voice was on point! The transformation is always a little odd to see because I am so used to seeing the beast!
Gaston: Luke Evans was perfect for this role! I really enjoyed his portrayal of Gaston. Evans does justice to his cocky, brute and selfish personality.
Le Fou: Once again. Perfect casting for this character. Josh Gad was amazing. They did change his character in that he had more of a conscious and was actually able to think for himself and not simply  be a fool. I really enjoyed that bit.
Mrs. Pots, Lumiere, Cogsworth: JUST PERFECT!
The rest of the cast was great too! I really enjoyed the acting and portrayal of all the original characters and the new ones as well.
The Animations:
A huge congratulations to the animators of this movie. This film required a lot of hard work in animation and special effects. From the Beast, to the live kitchen and house hold items, these people had a lot of work ahead of them. They did an enchanting job! There were so many elements that were executed perfectly and they really enhanced the beauty of this movie. (i.e. the be our guest scene)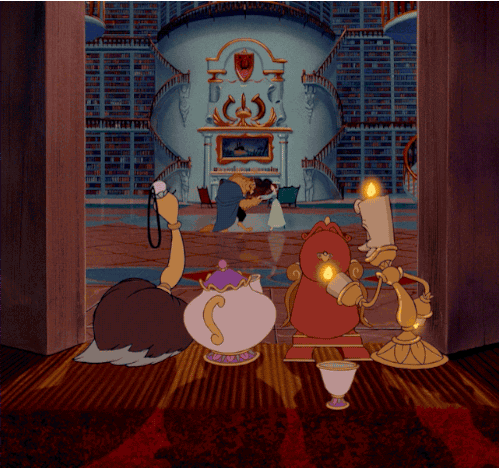 The Music/Soundtrack:
I know that Disney released the soundtrack on YouTube before the release of the film, but I didn't dare listen to it. I wanted to be surprised. Okay….maybe I listened to one song. But it was sung by Josh Groban and not a replication of one of the original songs. ANYWAYS….The music was amazing! Watching the film and hearing the melodies of the songs I knew gave me chills! I didn't know all the words, but I knew enough to silently sing-along to myself. The music had a little old-french flare as well, so that was neat to hear! The only tiny thing that maybe bugged me a little was that everybody sounded a teeny bit auto-tuned……I understand that not all actors are singers and that Watson, Stevens and the rest of the crew only had a few short months of training, but still. I could tell.
The soundtrack has some extra songs that are not in the movie but still related to it! I have some favourites that I would love to share with you:
Days in the Sun sung by the cast (New song added to the movie that makes me tear up)
Evermore sung by Josh Groban (So good)
If I Can't Love Her sung by Josh Groban (Can you tell I have a thing for Josh…)
It is still A Tale as Old as Time:
Despite the changes made, this film was true to the 1991 version. It was magical, funny, romantic, and adventurous. The changes that were made did not take away from the story and I really enjoyed them. Watching this movie literally gave me chills! That is a good sign.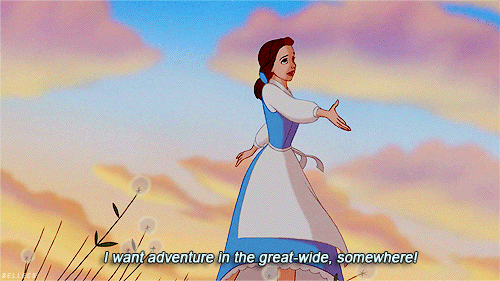 What I Disliked:
There is just one, that probably you will disagree on with me…but I speak my mind so…
THE DRESS WAS NOT UP TO STANDARDS!
As soon as I saw the movie poster, I already did not like it. Belle's dress is one of my favourites and the version they made for the live-action is nothing compared to it. Sorry Emma Watson, but I did not like it.It is a pretty dress, but it is not Belle's dress. It does not have the same poof, sway and pick ups. The neckline is wrong and those layers on the side are not the best, in my taste. I did like how they added extra shiny designs to it and the making of the dress was magical in the movie. However, it did not change my mind about it.
Feast your eyes on what it should have looked like…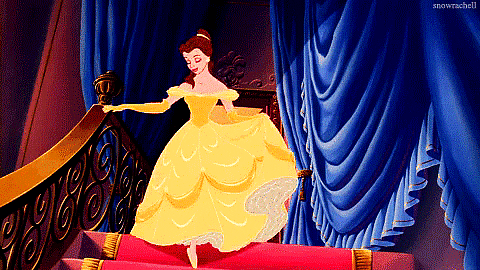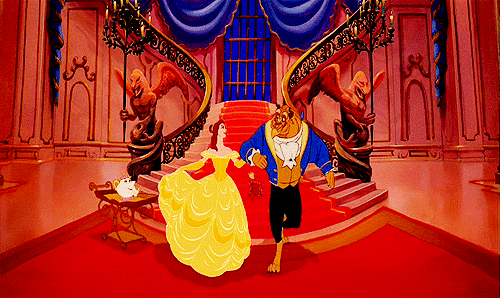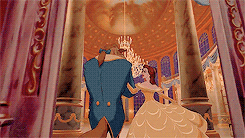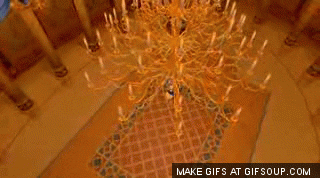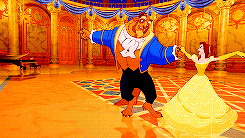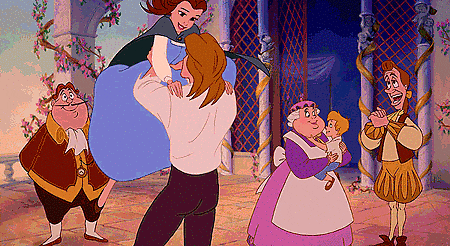 All that poof and swoop and sway….
But in reality they made it look like this
It is nice, but it was just not up to my standards of dress.
*End of rant*
Overall, this movie was great! I really enjoyed and I would love to watch it again. Of course, it will never replace the 1991 version, but it still gave me chills and nostalgia from watching it!
4.75 Stars! (0.25 knocked off because of some audible auto-tuning and the dress)
I'm not even gonna say I recommend it because I know EVERYONE is going to watch it. AND EVERYONE MUST WATCH IT!
So, GO ON AND ENJOY! Let your inner child come out and savour this movie that takes a childhood classic and brings it back to life!
Happy watching!
~ Rendz
*All gifs via giphy.com*