Greetings readers!
So like the excellent student I am who has just started a new term, I am here writing a review. This review is being written in the time I should be using to prepare some notes and practice questions for my AP Calculus class. However, considering I have been away from my blog for so long and I just finished one of my most anticipated reads of the year, I thought why it put off any longer if I have some time to spare now. (When I actually don't)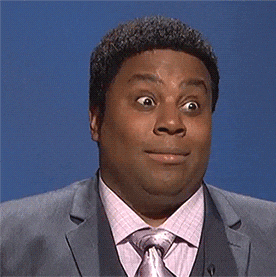 First a little story….
Wires & Nerve by Marissa Meyer was released a week ago whilst I was in the midst of writing my math exam. Which-if you would like to know-went very well. Anyways that night I did not go out to buy my most anticipated release, no instead I stayed up studying for another exam the next day. Which-if you would like to know-did not go as well.
However, on THURSDAY, FEBRUARY 2nd, 2017, I took a trip to my local bookstore and found no copies of Wires & Nerve on the Marissa Meyer shelf. My heart dropped. Then, like the intelligent person I am, I went to search on the store computer if there were any copies available. There were 6 copies in store, in the GRAPHIC TEEN NOVELS section.
So, as quickly as I could I made my way to the graphic novels section and found it looking sparse. On one side the books were not stacked neatly and were bent (a horrid sight) and the other side was just full of Manga (not exactly what I was looking for). I searched the shelves looking for that beautiful blue spine that says "Wires & Nerve", but I could not seem to spot it. Then I found the Legend and Prodigy graphic novels by Marie Lu (Broke my heart just looking at them).
I thought to myself, "M" comes right after "L", the book must be here. Beside the Lu graphic novels there was a large empty space, where it appeared as if 6 copies of Wires & Nerve had been taken off the shelf. I got very sad in that moment. Very disappointed. And when I hung my head in defeat I saw it…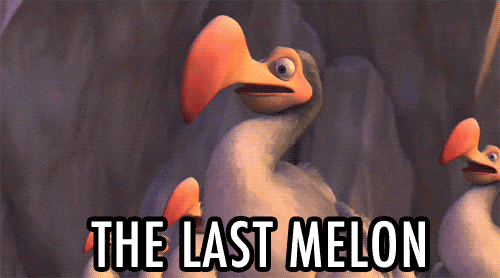 I couldn't contain myself! I grabbed my copy, THE LAST COPY of Wires & Nerve and a copy of Caraval by Stephanie Garber and sped my way to the cashier. My heart full and cheeks rosy with excitement, I finally had Iko's story in my hands! On my way to the cash, I passed by a display of teen books where there oh, so happened to be five copies of Wires & Nerve set out.
Awkward.
On to the Review…
Wires & Nerve by Marissa Meyer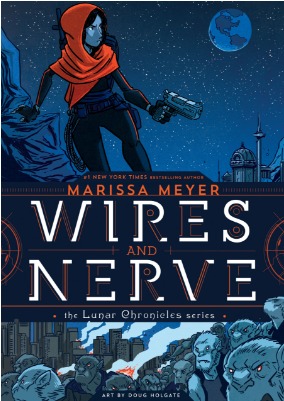 In her first graphic novel, #1 New York Times and USA Today bestseller Marissa Meyer follows Iko, the beloved android from the Lunar Chronicles, on a dangerous and romantic new adventure — with a little help from Cinder and the Lunar team.

In her first graphic novel, bestselling author Marissa Meyer extends the world of the Lunar Chronicles with a brand-new, action-packed story about Iko, the android with a heart of (mechanized) gold. When rogue packs of wolf-hybrid soldiers threaten the tenuous peace alliance between Earth and Luna, Iko takes it upon herself to hunt down the soldiers' leader. She is soon working with a handsome royal guard who forces her to question everything she knows about love, loyalty, and her own humanity. With appearances by Cinder and the rest of the Rampion crew, this is a must-have for fans of the bestselling series.
So as many of you know I have been waiting a whole year for this book to arrive. The Lunar Chronicles being one of my favourite series ever, I was pretty excited to read it. So excited that I finished it the night I bought it. So, yes you can assume I loved it very much!
What I liked
The Plot: So, this story is Iko's story. We learn about her life after Winter and what she went through as she chased down the rogue wolf-hybrid soldiers. I thought the story was very well plotted out. The beginning couple of pages give a quick summary of the entire main series (Cinder, Scarlet, Cress and Winter). It was funny, cute and fast-paced in Queen Meyer's typical Lunartic style. Although this may be Iko's story, the other characters from the previous books make appearances and have significant roles as well.
The story was well drawn out (pun intended) and I thought that the overall role of Iko in this story was clear from the beginning. It was fast-paced, there was lots of action with the "bang" and "boom" graphics present every time.
It ended, predictably, I will say that. I saw it coming and there was no twist there. However, I thoroughly enjoyed every bit of the action, nostalgia and humour the other chapters in this book brought.
The Characters: WHO DOESN'T LOVE IKO?! She was an amazing side-kick to Cinder in the main novels but as a lead character she is even more fabulous and fierce than ever before. She is passionate, funny, smart and caring. She knows the prejudice put against her because she is an android, but she rises above. She proves her worth to the world in this one and as readers we anticipate the world's reactions to her heroism. Iko is still Iko, fashion-obsessed, Kai-obsessed, kick-butt and ambitious. Iko is not a faulty chip she is a hero and a unique one at that.
The rest of the Rampion crew makes an appearance as well, even Konn Torin! I absolutely loved every second of their dialogue. It was fun to see them interact with Iko and go on a new adventure with her as the leader. And once again you get to see the diversity of the cast, something that is beautiful in itself!
Oh, did I mention KINNEY has a very significant role too. 😉
The Romance: I don't want to give to much away about a possible, new ship. That is more or less (leaning towards more) going to happen. BUT the other ships steal some of the spotlight as well. If there is anything my Queen Marissa Meyer can do is write romance that makes you gush. There is so much gush and sweet in this one, but not too much to take away from Iko's spotlight. It's adorable! I couldn't contain myself. Especially fans of Cresswell (MANDY!!), you will be thoroughly pleased by this novel! Only Scarlet and Wolf have a very minor appearance, but I can tell that big things are in store for them in Volume 2! Big things!
The Illustrations: I was iffy about these illustrations at first. I didn't particularly like the style of Doug Holgate. I thought the drawings were too simple and not as detailed and beautiful as I wanted them to be, but reading the story along with the pictures gave them beauty. There were some images that were absolutely stunning (I'm looking at you page 12 and 134) The pictures added to the humour and expression of the story altogether, like they are supposed to!
What I disliked
The wait: I have to wait another year to find out how this story ends. *sigh*
There's no colour!: The colour scheme of the entire novel is monochromatic. Just blue. I really would of liked to see more colour. I mean this book was very expensive, I guess adding full colour would have made the price sky-rocket high! Still, it wasn't too bad, I just would have preferred more colour.
---
Over all, I loved it. I really did. It was a cute story, with action and adventure. It has everything I expect from a Lunar Chronicles book. I cannot wait for the next one to come out. You all already know what my highly anticipated read of 2018 will be!
Rating: 4.75 / 5 stars (0.25 taken off just because I felt the predictable ending made it slightly underwhelming)
Recommend?:

YES! And if you have not read the rest of the Lunar Chronicles do that first, then read this!

That is all from me, today. I apologize if I haven't responded to your tags or award-tags yet. I have so much piled up and I want to give a variety of posts, rest assured I will get to them!

Happy reading!

-Rendz