Greetings readers!
I'm BACK!
I have not posted in a while and it feels great to be writing for you all again. It has been a crazy month but it's February now and I have time to sit down relax, blog and above all else READ!
So a long time ago, I was tagged by the lovely Brittany from Beauty and the Bean Boots to do the Book Personality Tag. This tag basically is about matching your personality type to different bookish ideas! I had a lot of fun with it and I hope you enjoy!
I'm tagging:
Mandy from Book Princess Reviews
Maya from Maya Hearts Books
Angelica from The Book Cover Girls
and anyone else who wants to have a go at this cool tag!
So without further ado..
___________________________
What is your MBTI personality type?
(For a free MBTI personality test, check out Sixteen Personalities or Personality Page!)
I am an INFJ-T also known as The Advocate.
According to the 16 Personalities website:
The Advocate personality type is very rare, making up less than one percent of the population, but they nonetheless leave their mark on the world. As members of the Diplomat Role group, Advocates have an inborn sense of idealism and morality, but what sets them apart is that they are not idle dreamers, but people capable of taking concrete steps to realize their goals and make a lasting positive impact.
What is your personality like?
I totally see why I would have gotten this personality. It does seem like me, there are definitely things I might disagree with, but it is a good overall picture of who I am as a person.
I am definitely introverted, so I would expect nothing less. I have a hard time being social in places where I do not know anyone and have to talk so I don't look like a loner. I am very awkward with small talk and have a difficult time thinking of things to talk about even with my own family!
Advocates are known to be caring, sensitive, soft-soken (100% me in public),  decisive, strong-willed, imaginative and creative. We are known to be enthusiastic, great at making human relations, friendly and insightful.
I think this passage is the best line I read!
Advocates often pursue expressive careers such as writing, elegant communicators that they are, and author many popular blogs, stories and screenplays.
#relatable
I think the biggest disagreement I have is that Advocates are apparently decisive and it is one of their greater strengths. That is not me. NOT AT ALL. I am the most indecisive person ever.
If you were a character in a book, what would be some of you character strengths and flaws?
So as an Advocate character in a book my strengths would lie in creativity, decisiveness and altruism. My character would be determined, convincing, passionate and insightful. All good things that keep my characters morals in the light. We want to change the world and make it equitable to all.
Weaknesses include sensitivity, this isn't a bad thing but sometimes it can get in the way of moving forward in life. Advocates are perfectionists and must have everything how they desire it to be which can be detrimental in relationships. Also, they are extremely private, it is difficult for them to fully open up and they could have some trust issues.
Do any authors share your personality type?
Well according to a quick google search (which is probably not accurate) some authors that are INFJs are:
Jane Austen, C.S. Lewis (He wrote Narnia, I feel so proud), Emily Brontë, Ayn Rand, Lewis Carroll, Friedrich Nietzsche, Stephen Hawking, Isaac Asimov, Christopher Hitchens, and Karl Marx
Other famous people include:
Martin Luther King Jr., Mother Theresa, Nelson Mandela, Morgan Freeman and Alanis Morissette.
What fictional characters share your personality type?
Galadriel, Lord of the Rings
Atticus Finch, To Kill a Mockingbird
Jon Snow, Game of Thrones
Clark Kent, Man of Steel
Jane Foster, Thor
Tinman, The Wizard of Oz
If you were a character in a book, what job would you have?
My Advocate character's job could be many things such as an Artist, Writer, Librarian, Teacher, Psychiatrist, Professor, Musician, Photographer and Human Resource Worker.
I think I would either be an Artist or a Writer, for reasons I think are pretty clear if you are reading my blog where I love to talk about books and sometimes art.
What personality type would complete your OTP?
According to The Personality Page I would match best with ENTP and ENFP
Who are some fictional characters that would complete your OTP?
Oh gosh well, there are not many characters that are ENTP that I have read of, so I'm thinking of characters that I think would compliment and who would compliment me.
Elias Veturius
I think Elias and I would be great together. After all I identify with Laia in many ways and sparks are starting to fly between those too. Also Elias is compassionate, strong-willed, hardworking and brave. All qualities I admire and think would work with my own personality.
Carswell Thorne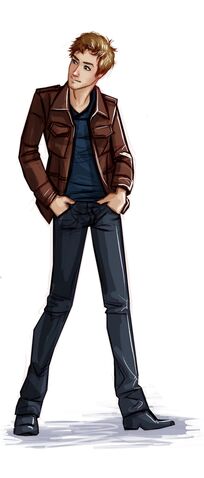 Portrait of Thorne drawn by lostie815
Now, Thorne is the complete opposite of me. He is definitely extroverted and not afraid to be in the spotlight. (Which matches the ENT/FP personality) He is funny, charismatic but deep down he cares about others. He knows the difference between right and wrong, he just has trouble acting out right instead of his habit of doing wrong. However, I think he would push me out of my comfort zone and allow me to explore different interesting things that I could enjoy.
*This was not biased, and based on my own personal preferences, whatsoever*
I hope for anyone who tries to tag has fun. And thank you Brittany for tagging me again!
Happy reading!
– Rendz